CloudSuite CRM (Customer Relationship Management) is a cloud-based Integrated CRM application that includes sales, customer service, marketing analytics, and reporting; and integrates easily with Infor ERP solutions, Birst Networked BI, other products in Infor's Customer Experience Suite, and more.
CloudSuite CRM enables you to manage the full customer lifecycle in one environment, capitalise on future sales opportunities, and deliver exceptional customer experience.
If you are seeking a powerful and fully integrated CRM that's user friendly and cost effective, then Infor's CloudSuite CRM is the answer for your Business.
The software can be accessed from anywhere in the world from a web browser, with all the information you need at your fingertips.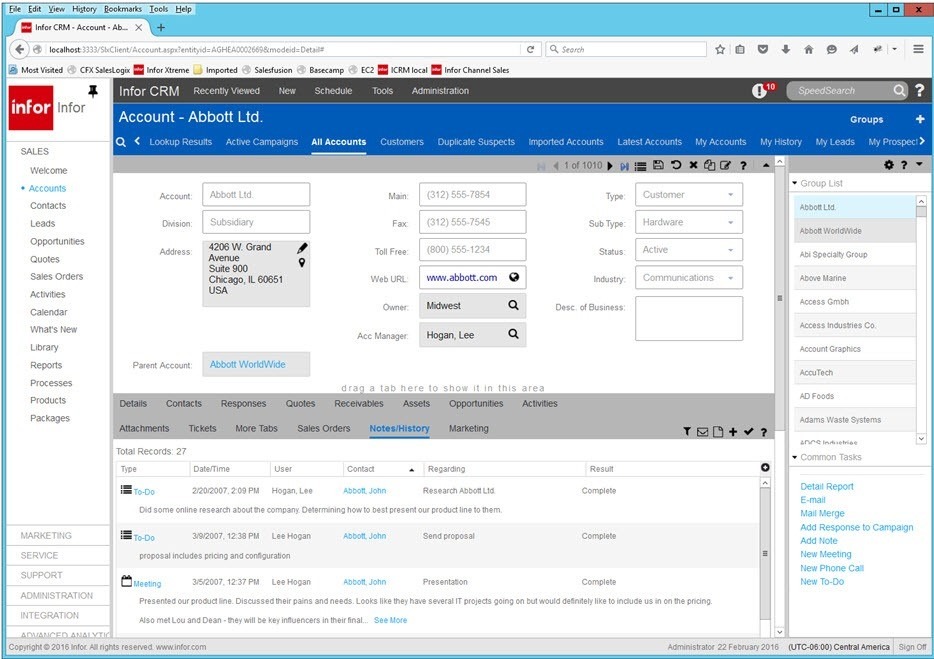 Gain a complete view of your Customers
• Back office integrated CRM with multiple ERP systems
• Enterprise-wide visibility in a single management and modelling environment
• Deeply integrated, unified platform for social, mobile, and cloud
Maximise Customer Interaction
• Rich customer profiles created through internal and external sources
• Integration to business management, desktop productivity, e-marketing, and social media tools
• Sales intelligence application that puts customer data to work
Boost Sales Team Productivity

• Opportunities easily identified and sales activities streamlined
• Proactive alerts to drive accurate forecasting
• Sales management tools to effectively manage teams and territories
Add meaning to your data with Birst Embedded Analytics
• Reports, dashboards, and analytics provide better visibility into the sales process
• Real-time access to both operational and sales data
• Automation of manual processes
For an overview of Infor's Integrated CRM check out this YouTube video:
https://youtu.be/HXXslLG9rDA
Keep an eye out for future blogs from the team at AlphaLogix!
Your CRM System | Our Expertise | Let's Talk…
---
Our team of Accredited Infor CRM Product Specialists have many years of experience and are here to help, from initial consultation through to: development, implementation, training and on-going support.
If you would like any further information or a demonstration of Infor CRM, please contact us:
Email: info@AlphaLogix.co.uk
Tel: 0845 259 3141