Infor CRM Xbar Outlook Integration
Increasingly, businesses rely on their email inbox to manage day-to-day activities. For this reason, Xbar offers seamless integration with Outlook, helping Infor CRM users to operate more efficiently.
Infor CRM Xbar for Microsoft Outlook means never toggling between applications again. Xbar for Outlook makes it easy to access detailed information such as client communications, open opportunities, tickets and next steps, all without ever having to leave your inbox.
Infor CRM inside Microsoft Outlook for a cohesive solution.
Purposeful innovation empowering your mobile workforce.
Defined tasks, opportunities, leads, accounts, social media conversations and more, built from your unstructured email information
Lead, contact, account, and history information from Infor CRM accessible directly within Outlook to improve your email communications.
Drag and drop email signatures from Outlook to quickly create new contacts, leads, tickets, and more in Infor CRM.
Read our blog about the power of Infor xbar, the Outlook CRM integration.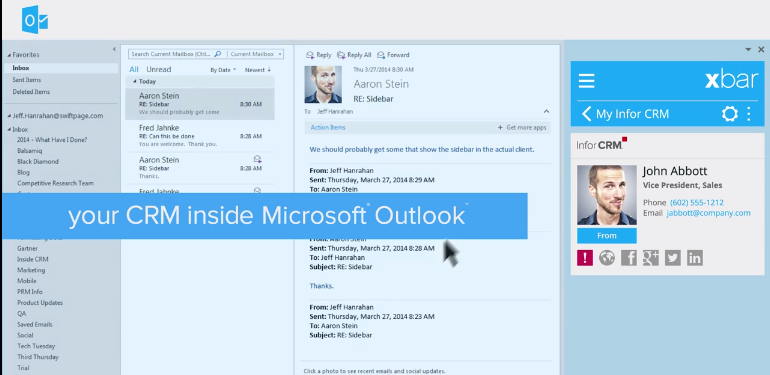 If you would like to see how Xbar for Infor CRM can benefit your business call us today on 0330 043 0140 or email us at info@alphalogix.co.uk