---
What is Sage 50 Payroll?
---
Sage 50 Payroll is the main payroll software product offering by Sage for small to medium sized businesses. Sage 50 Payroll is part of the Sage 50 Accounts range of products and over half of all UK businesses use Sage Payroll to pay their staff, they also use it to manage payroll processes including payslips, employee pay, pensions, expenses, statuary pay, tax calculations, HMRC submissions and a lot more.
The Sage 50 Payroll software can be deployed online in the Cloud or installed on your own servers by purchasing the on-premise version.
One of the key strengths of Sage Payroll is that it integrates with Sage's other flagship products such as P11d, Sage Pensions module, Sage 50 Professional and Standard, and Sage's Employees Benefits module.
Related Information
What is Sage Accounting Software? Cloud Accounts from Sage
What is Sage Online? Cloud Accounting Software & Payroll

Sage 50 Payroll
What are the Key Features and Benefits for Sage Payroll?
The Sage 50 Payroll software allows you to manage and automate many of your Payroll processes within your business, the main benefits and features include:
Manage payroll processes for employees
HMRC submissions
Keep track of PAYE/ NIC liability to HMRC
Automatic calculation of National Insurance and tax
Manage employee holidays and absences
HM Revenue and Customs (HMRC) compliant
Receive the latest legislative updates electronically
Real Time Information (RTI) submissions
Email or print professional payslips to you employees
Employees can access their payslips securely online
Manage employee pension schemes
Pay employees electronically with e-Banking
Works in conjunction with Sage 50 Professional and Standard versions
Manage statuary payments
Comprehensive reports and dashboards
Plus lots more…

Sage 50 Accounts
Which Version of Sage 50 Payroll is Right for My Business?
There are two versions of Sage 50 Payroll, the Standard version and Sage 50 Payroll Professional.
The Sage 50 Standard Payroll version is the entry level version and is only available for 1 user and 1 company, but you can manage the number of employees from up to 15 employees to unlimited employees.
                                                             Standard                                            Professional

Sage 50 Payroll Professional is the top of the range version of payroll, it has options to manage unlimited employees, unlimited companies and unlimited users. Both Standard and Professional can only be purchased through a subscription plan.

What Features Are in Sage 50 Payroll?
Sage 50 Payroll is designed to manage and automate all of your payroll processes, just some of the features found in the software include:
Let Sage Payroll Manage Your Payroll Processes
Process weekly, two-weekly, four-weekly and monthly payrolls.
Print or email payslips to employees, or view online
Record and calculate holiday pay
Pay employees using e-banking
Calculate payments & deductions & PAYE and NI
Post salary journals to your Sage 50cloud accounting software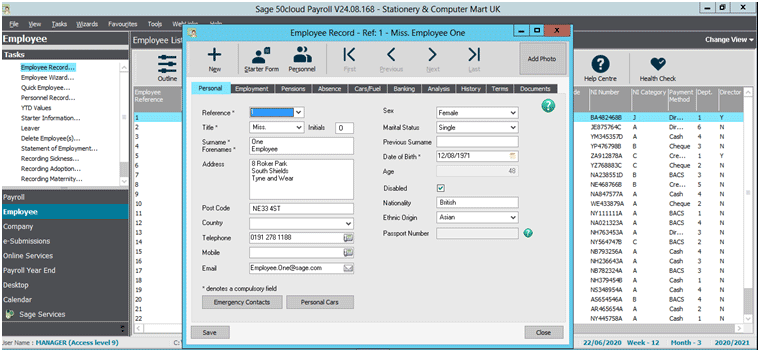 Manage Pensions
Automate auto enrolment processes
Manage employee pensions
Calculate contributions & cost to your business
Create your personalised action plan
Easily set up your pension with Pension's Fast-Track
Optional Sage Pensions Module (at additional cost)
Use Sage 50 Payroll HMRC Submissions and RTI
Sage's Payroll is HMRC recognised software
Send submissions to HMRC Securely Online
Comply with the latest legislation
Directly submit PAYE and employee data to HMRC online
Keep track of NIC and PAYE liability to HMRC
Automate the sending of RTI data to HMRC
Sage 50 Payroll - Enter Your Employees' Pay
Pay Employees Directly From Within Sage Software
Manage staff payments directly from within the software
Significant reduction in admin time
Pay staff quickly with e-banking
Reduce the risk of making payment errors
Manage sensitive staff payments on a secure platform
Keep Your Payments Accurate and Secure
Store and Manage Employee Information
Track holidays and absences
Manage staff appraisals
Store disciplinary records in Sage
Keep job and salary records/history
Written statements of employment
Attach documents to staff records
Record statuary payments (SMP & SSP)
Report on Your Payroll Data
Run statuary reports such P60, P11, P35
Report on data by department and cost centres
Create your own professional reports
Choose from a wide range of standard reports
Run cashflow and future budget reports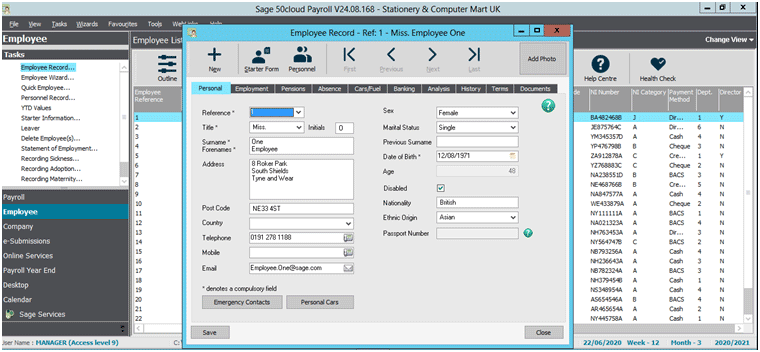 Keep Data and Payments Accurate and Secure
Backup and restore accounting data easily
Store payslips, timesheets and docs securely
Roll your data back to correct errors
Control and apply user access rights
Restrict user access for certain software features

What are the Costs for Payroll?
There are two versions and pricing plans to choose from, Sage 50cloud Payroll Standard costs starts from £29 per month for a single user, single company and up to 15 employees. Payroll Professional starts from £91 per month for a single user, single company and up to 50 employees.
Normally there is discount on the first 3- 6 months, call us for a detailed quote, further information on costs.


Why Choose AlphaLogix – Organise a Free Demo
Our accountancy experts will help you discover how Payroll can be setup to improve the way you manage your payroll processes. We will provide you with a Free initial personalised Sage 50 Payroll demo as well as fully justified costs and pricing for your requirements.
Contact AlphaLogix to Discuss our Sage 50 Payroll Services or to Book a Free Consultation Call or Meeting
AlphaLogix is one of the largest and most established Sage business partners in the UK, our accounting experts are all fully accredited for Sage 50 Payroll and will help you with your Sage software requirements.
We provide a wide range of Sage 50 Payroll services for businesses including software setup, installation, configuration, report design, integration, data migration, upgrades, add-on apps and bespoke training courses.
If you are considering Sage 50 or Payroll for the first time or are looking to upgrade we will provide you with a free initial consultation and personalised Sage 50 demo as well as fully justified costs and pricing for your requirements.


Sage 50 Payroll Services
Our dedicated Sage 50 Payroll experts are committed to ensuring you get the most from your software investment and we offer the following professional services at affordable prices.
Sage 50 Payroll setup and implementation
Configuration
Report design service
Bespoke Sage training
Sage 50 payslips design
Data repairs and data migration services
Sage e-mail setup
Integration with Sage 50 accounts
Hosting Sage in the Cloud
Installation and setup of add-on apps
Help desk and technical support
Plus, lots more.
­Call us today to organise a demo on 020 8050 3216 or email us at info@alphalogix.co.uk. We will help you through every step of the implementation process, including training and support. We support all versions of payroll including older versions such as Sage line 50.
Related Information
Sage 50cloud Payroll Pensions Module