---
What is Sage 200 Commercials?
---
Sage 200 Commercials module is part of the Sage 200 suite of accounting software that works across your company managing all aspects of your stock and supply chain.  The Sage 200 Commercials module feeds into Sage 200 Financials so your accounts are always up to date.
The Sage 200 Commercials module has advanced features for managing purchase order processing, sales order processing, invoicing, price book and advanced stock management, so you can make sure products and goods are despatched quickly and efficiently.
You can run advanced reports and dashboards using Sage 200 Commercials so you have up to date information on stock, orders, purchases and lot more. Commercials is available for both Sage 200 Standard and Professional.
Download the NEW Sage 200 Brochure in PDF format
Godminster Cheese Sage 200 Success Story Download
Download the Sage 200 Datasheet for Commercials
Download the Sage 200 Commercials User Guide
Sage 200 price list download
Sage 200 Commercials
Tight Integration with Other Sage Products.
Features and functionality has improved considerably for Sage 200 Commercials over recent years, one of the biggest improvements is its tight integration with other Sage products. It now integrates with E-invoicing with Sage Page, Mo and has seamless integration with Microsoft Office 365.

Review and Testimonial for Sage 200
Sage 200 customer review and testimonial from the firm Fracino. With a pioneering track record of more than 50 years of manufacturing traditional coffee machines, Fracino grows and continues its legacy. Fracino has trusted Sage solutions to help ensure growth remains manageable.
"It became perfectly obvious that Sage 200 would do everything we needed and possibly a lot more, so now we have one system that does CRM, stock control, works orders, production planning, and serial numbers - it controls everything."
Adrian Maxwell, Managing Director, Francino
Sage 200 Customer Success Case Study - Francino
Key Features of Commercials
Features Available for Sage 200 Commercials Sales Order Processing
Sage 200 Commercials allows you to manage and grow the sales of your goods and services by combining your customer information with a sophisticated sales order processing tool.
Enter a sales order in very little time using the rapid order entry feature, ideal for order taken over the phone or counter.
Whilst raising your sales order, automatically raise purchase orders for those items that aren't in stock.
Manage discounts and margins giving your authorised staff the tools to negotiate prices with your customers.
Analyse your products, viewing profitability month by month.
Use existing accounts and quote templates to quickly create a new account and quote for a new customer.
What is Sage 200 Used For?
Features Available for Purchase Order Processing
Fully integrated with stock control, purchase ledger and sales order processing, take control of your supply chain and respond to your customer's demands more efficiently with purchase order processing.
Source your goods from around the world, purchasing in over 100 different currencies.
Flag 'disputed invoices' to stop them posting to the Purchase Ledger.
Enter different delivery addresses for individual order items.
Compile lists of suggested orders based on item shortfalls.
Apply order authorisation rules to carefully manage your purchasing at employee level. Orders can be authorised remotely via the web for times when you're not in the office.
Sage 200
Stock Control in Sage 200 Commercials
Optimise your stock levels, keep costs down and deliver what your customers need with this sophisticated warehouse management solution.
Manage your stock across multiple locations, controlling each location independently with sales, replenishments and valuations.
Get the best prices for your stock by analysing item price trends, lead times and purchase histories.
Fully control your important stock with batch and serial numbering, and with sell-by and use-by dates.
Purchase and sell your stock in varying units of measure, for example buying items in large crates, breaking them down and selling them individually.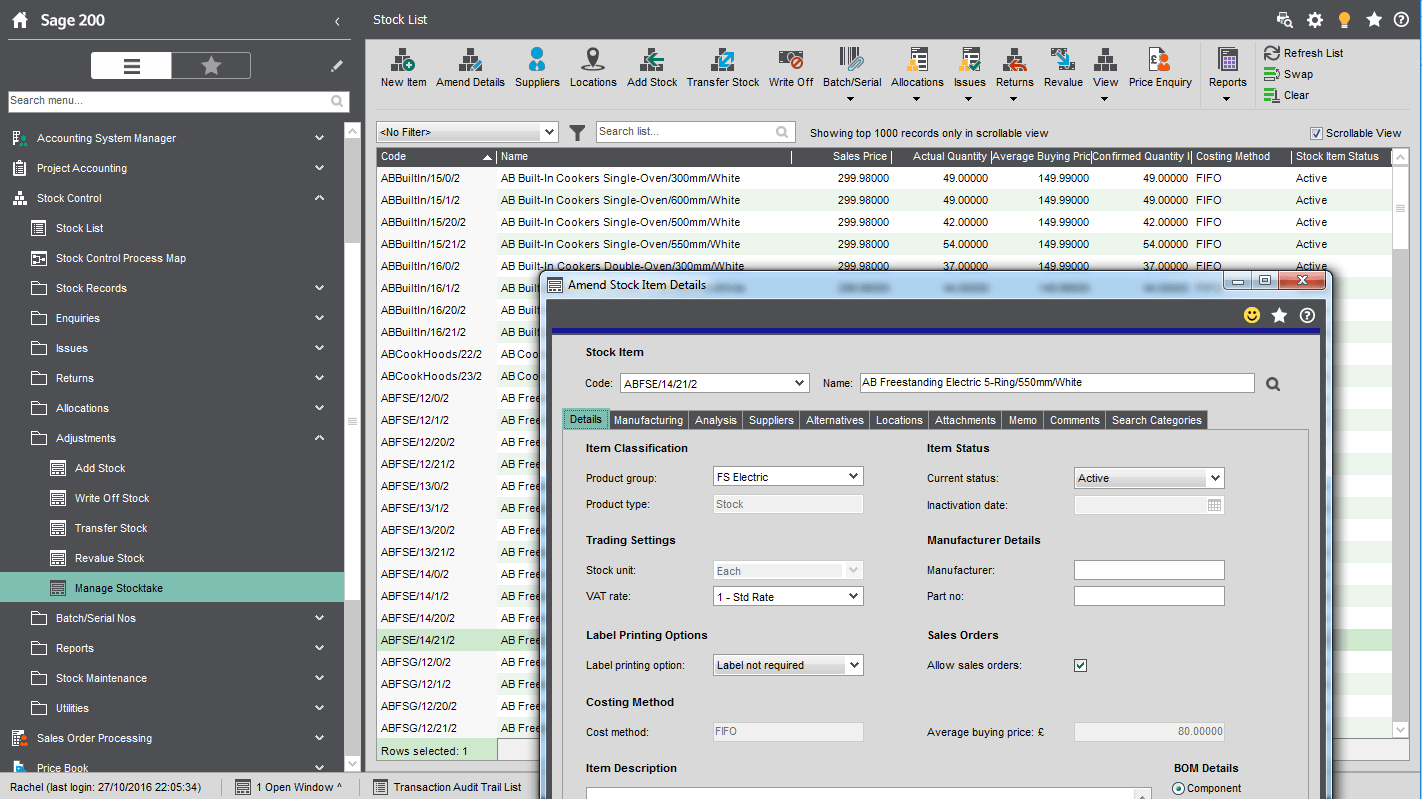 Sage 200 Price Book
From simple price lists to more complex pricing structures, the price book heavily compliments the sales order processing module with a flexible stock-pricing solution.
Validate your entire product range at any time to ensure you're not selling any products at a loss and you're getting the margins you expect.
Export, edit, and re-import your price lists in Microsoft Excel to make significant pricing changes in very little time.
Create and apply an unlimited number of price bands to stock items and customers.
Maintain prices by units of measure giving you more flexibility.
Sage 200 Overview – Sage 200 Standard and Professional
Organise a Demonstration
To learn more about the Commercial's module read our guide "What is Sage 200 Commercials?" or contact us to arrange a personalised demo, either at your offices or via the web.

How Much Does Sage 200cloud Commercials Cost?
Sage 200 Commercials can now only be purchased on a monthly subscription plan. You need to have purchased the Sage 200 base platform first (£280 per month) before you can add the Sage 200 Commercials module to your installation. Sage 200 Commercials costs £115 per month for Sage 200 Professional, for full pricing details read our Sage 200 costs guide.
Sage 200 Customer Success Case Study - Playdale
Playdale Playgrounds is in the business of delivering fun. Playdale prides itself on designing exciting, innovative and educational playgrounds, with Sage 200 powering everything behind the scenes.
From improved customer satisfaction rates, an 18% reduction in costs from defects, to a 22% increase in quote conversion, Playdale continues to grow.
""Fundamentally, Sage is the 'business master operating system.' It powers how we communicate with our customers in CRM, how we quote our products, how we process our orders, and in production, how we plan for materials and resources."
Barry Leahey MBE, Managing Director, Playdale
Sage 200 Customer Success Case Study - Playdale
Sage 200 Commercials Training
AlphaLogix provides a range of Sage 200 Commercials training for both beginners and advanced users. We can tailor the training for your business requirements or we can offer an off the shelf training course using our agenda.
Commercial's training covers all areas of the module including:
Navigation
Searching
Workspaces
Sales order processing
Allocating stock
Despatching orders
Purchase order processing
Receiving stock
Amending orders
Stock locations and suppliers
Manage stock levels
Running standard reports
Creating customised reports
If you would like to discuss how your business will benefit by implementing Sage 200 Commercials, please contact us or talk to a member of our team on 0845 259 3141