---
What is Sage 50?
---
Sage 50 Accounts is now Sage 50cloud Accounts and is the UK's bestselling accounts software for small to medium sized businesses. Sage 50 (previously known as line 50) is a sophisticated accounts solution that gives you complete financial control of your business.
The Sage 50 Accounts software solution is highly flexible and configurable and can be used online via the Cloud or installed on your own server as On-premise. Sage 50 can be further enhanced by adding extra modules from the Sage 50 suite of products or adding apps from the Sage marketplace.
One of the major strengths of Sage 50 is that it integrates seamlessly with other modules in the Sage 50 range, such as: Payroll, HR, Sage 50 P11D, Manufacturing, Forecasting and CRM!, this brings you all the advantages of a streamlined and fully co-ordinated business.
As your business develops and grows you can upgrade your Sage software or add different modules from the Sage 50 range to provide a complete and flexible business management solution.
Related Information
What is Sage Accounting Software? Cloud Accounts from Sage
What is Sage Online? Cloud Accounting Software & Payroll
Download the Brochure in PDF Format
Contact us on 020 8050 3216 or email us at info@alphalogix.co.uk for a personalised competitive quote or to organise a demonstration.


Sage 50 Accounts
What is Sage 50 Software Used For?
Managing your company's finances can be a complicated and time-consuming task, and by using a sophisticated accounting solution such as Sage 50 accounting will help you manage all aspects of your financials, from creating professional looking invoices to submitting VAT returns online to HMRC.
Easily manage your Cash flow and Invoicing
Sage 50 enables you to easily manage your cash flow and invoicing
Quickly see what you're owed, manage late payments, and schedule supplier payments.
Speed up processing using Sage 50 by connecting to your bank account and download information directly into Sage.
Create and send personalised invoices and quotes, and give your business documents a professional edge
The Sage 50 accounts software allows for simple, powerful VAT management.
Quickly and easily calculate VAT.
Reconcile to only pay what you owe with Sage 50
Automatically file returns securely online with HMRC.
Relax knowing that you're up to date with the latest VAT legislation Is MTD ready.
Sage 50 Accounts (UK) - VAT - Online submissions
Save time, and work from anywhere with Microsoft Office 365
Keep your Sage 50 data secure through automatically backing up to the cloud. Stay connected, access key information and process transactions on the go.
Surface Sage 50 Accounting data in Outlook, and get powerful financial reporting in Excel.
Integrate Sage 50 with Microsoft Office 365
Open up to integrated payments
Get paid on time, every time by automating payment collection using Direct Debit from GoCardless within Sage 50
Get paid directly from the Sage 50 accounting invoices that you send with a simple "Pay now" button that allows your customers to pay with just a click via PayPal, Stripe or Sage Pay.
Keep on top of your cash flow and make reconciliation simple by downloading transaction data from your bank to Sage 50 using direct bank feeds.
Control Stock and Inventory with Sage 50
Perform stock takes with Sage 50 Standard and Professional and automatically update stock levels.
Create multi-product builds with Sage 50 Professional and keep control of your assets with stock valuations and audits.
Know when stock is running low and create orders quickly
Sage 50cloud Accounts (UK) – Submitting Your MTD VAT Return
Just some of the many features and benefits of Sage 50 include:
Manage income, cash flow, expenses and payments
Connect to your bank account for easy reconciliation
Create quotes and professional looking invoices
Seamless integration with Office 365
Submit VAT returns online to HMRC
Manage stock and product information
GoCardless integration
Powerful dashboards and financial reports
Create purchase orders and sales orders
Trade in multiple currencies
Manage multiple departments and budgets
Secure cloud access and backup
Track project expenses, profits and project revenue
Connected Users
Sage 50 Overview
Is Sage 50 Actually in the Cloud?
Sage has now rebranded Sage 50 accounts as Sage 50cloud to reposition itself as a major online and cloud provider of accounting software. However many companies still want to install the software on their own servers and desktops as they prefer to have control over all aspects of their IT.
There are two different deployment methods for Sage 50, many businesses are now choosing to use the Cloud version which is hosted by Sage using their secure datacentre, and the other popular deployment method is to use the on-premise version which allows you to install the software on your own servers and networks.
What is the Difference between Sage 50 Accounts and Sage 50cloud?
Sage 50cloud is basically the same as Sage 50 Accounts, Sage rebranded Sage 50 to focus more on the fast growing Cloud accounting software market, they initially named the software Sage 50c but later changed the name to Sage 50cloud.
Because Sage 50cloud covers all the latest product releases it has many new features and product enhancements over older versions of Sage 50 Accounts
What is the Difference Between Sage 50 Professional and Sage 50 Standard
There are two versions available for Sage 50, Standard and Professional (previously there were three, Essentials, Standard and Professional).
Sage market the Standard version as a simple desktop accounting solution with invoice and cash flow management, whilst Sage 50 Professional is the top of range accounts solution with in-depth stock, multi-currency and advanced reporting.


Contact us on 020 8050 3216 or email us at info@alphalogix.co.uk for a personalised competitive quote or to organise a demonstration.
Both Standard and Professional have all the features you would expect in an advanced accounts software solution however Professional allows you to create sales and purchase orders, trade in multiple currencies and track project income, expenses and profit, read more about Sage 50 Professional features.
Sage 50 Standard - Straightforward, simple to set up and easy to use.
Add up to 2 users & manage up to 2 companies
Easy to set up and manage your accounts
Manage invoices, cash flow, banking, customers
Manage sales, suppliers, stock and VAT
Sage 50 Professional - Advanced accounting and invoicing solution.
Add up to 20 users & manage unlimited companies
Ideal for growing businesses who trade abroad
Advanced software offering the ultimate in financial control
Bank reconciliation, automatic VAT submissions and advanced stock control
Manage customers and suppliers, including creating and processing sales and purchase orders
Track project finances
Trade in multiple currencies
Sage 50 Customer Success Case Study – DPR Motorsports
British motorsports company DPR shows its winning streak with Sage 50. DPR has built thirty of the top-performing cars in the Caterham Motorsport Championships. Operations are split between the workshop and the main UK racetracks.
Thanks in part to Sage 50, DPR is excelling. The company has developed a winning formula for business success based on a deep understanding of the customer and a firm commitment to team excellence.
DPR Motorsports uses Sage 50 to keep a close eye on its business both on and off the race track, with powerful stock and inventory management updated in real-time from any race location, plus simple but effective bank reconciliation that provides improved financial transaction accuracy.
"We could not run our business without Sage, efficiently or otherwise."
"When customers ask you a question, you've got to be able to provide the answers. Recording the customer data in Sage gives you the ability to get the information out accurately."
Derrick Rowe, CFO, DPR Motorsports
Sage 50 Customer Success Case Study – DPR Motorsports
Contact us on 020 8050 3216 or email us at info@alphalogix.co.uk for a personalised competitive quote or to organise a demonstration.


Does Sage 50 use SQL?
The simple answer is no. One of the most common reasons why Sage 50 users move to other accounts systems is because of database performance when handling large amounts of financials transactions, it uses its own propriety database and does not use a high performance database such as Microsoft's SQL (Sequential Query Language).
Because Sage 50 does not use SQL, over time the speed and performance of the database might decline as the number of transactions in the database increases. This can also create challenges for your business if you want to run advanced queries, consolidate information or run detailed reports on your accounts data.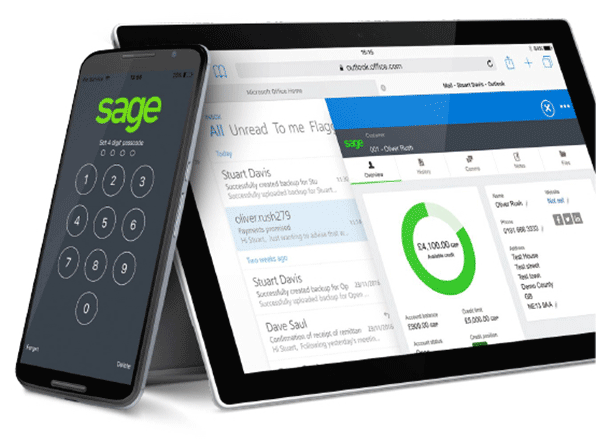 How Much Does Sage 50 Cost?
Sage has changed the way you can purchase Sage 50 recently. You can now only purchase either the Cloud version or the On-premise version via a monthly subscription pricing plan (you can also pay using a pre-pay annual plan which will save you some money), read more about costs.
The cost of purchasing Sage 50 depends on the number of users that you require as well as the number of companies (Standard has up to 2 companies, and Professional has the option of unlimited companies) you want to manage the accounts for, example pricing below:
Sage 50 Standard Pricing – For Two Companies
1 Core User £65 per month
2 Core Users £77 per month
Sage 50 Professional Pricing – For Ten Companies
1 Core User £132 per month
5 Core Users £139.50 per month
10 Core Users £147 per month
20 Core Users £157 per month
Sage 50cloud Accounts (UK) – Fast Start
Sage 50 Integration with other Sage Products
One of the key strengths of Sage 50 is its ability to seamlessly link in with other Sage products and add on modules. By integrating Sage 50 with other Sage products further enhances its flexibility and functionality. Sage 50 links in with the following Sage products.
Sage Pay
Sage Salary and Employee Payments
Sage CIS Module
Sage Pensions Module
Sage 50 HR
Sage 50 P11D
Sage 50 Payroll Overview
Contact AlphaLogix to Discuss our Sage 50 Services or to Book a Sage 50 Consultation Call or Meeting
AlphaLogix is one of the largest and most established Sage business partners in the UK, our accounting experts are all fully accredited for Sage 50 and can help you with your accounting software requirements.
We provide a wide range of Sage 50 services for businesses including software setup, installation, configuration, report design, integration, data migration, upgrades, add-on apps and bespoke training courses.
If you are considering Sage 50 for the first time or are looking to upgrade we will provide you with a free initial consultation and personalised Sage 50 demo< as well as fully justified costs and pricing for your requirements.
Sage 50 Consultancy and Services
Our dedicated Sage 50 accounting experts are committed to ensuring you get the most from your software investment and we offer the following professional services at affordable prices.
Sage 50 setup and implementation
Configuration
Report and dashboard design service
Bespoke Sage 50 training
Sage 50 accounts layout services
Data repairs and data migration services
Sage e-mail setup - you will no longer need to print and post your documents such as statements and invoices
Integration with other business applications
CIM 50 for Manufacturing
Hosting Sage in the Cloud
Installation and setup of add-on apps for Sage 50
Website integration
Sage e-commerce andAmazon integration
Help desk and technical support
Sage payroll setup and integration
Plus, lots more.
Contact us on 020 8050 3216 or email us at info@alphalogix.co.uk for a personalised competitive quote or to organise a demonstration.

Sage 50 Consultancy and Services
Our dedicated accounts experts are committed to ensuring you get the most from your software investment and we offer the following Sage 50 services:
Implementation
Support from our technical help desk
Sage 50 Development services
Consultancy
Sage 50 Dashboard and Report Design Service
Training
Migration from other accounts systems
Software integration
A proactive and dedicated support team
Ecommerce and website integration
Call us today to organise a demo on 020 8050 3216 or email us at info@alphalogix.co.uk. We will help you through every step of the implementation process, including training and support.
Further Information
Upgrade from Sage 50 to Sage 200