There are three product versions of Act!
Act! CRM Professional – The Pro version of Act! CRM contains all the full featured CRM functionality as well as marketing automation (send up to 10,000 emails a month), further information on Pro.
Act! CRM Premier – Includes CRM for customer management, track your sales pipeline to close more deals, as well as marketing automation with the ability to send up to 50,000 emails per month, see the full features.
Act! CRM Ultimate – This is the most sophisticated version of Act! with full CRM functionality and you can also send out 100,000 emails each month.
The software helps you to identify new business opportunities, drive sales peformance and marketing and provide a unique customer service.
Act! CRM simplifies the management of your business by keeping all of your customer information in one place, giving you a 360-degree view of all your customers, companies and relationships.
See a feature comparison between the different versions of Act!
Download the Act! Growth Suite PDF Brochure
Contact us on 0330 043 0140 or email us at info@alphalogix.co.uk to discuss Act! CRM or to organise a meeting, demonstration or consultation call.

Introducing the New Act! Growth Suite
Act! Growth Suite is an all-in-one contact management sales and marketing platform, providing everything you and your team need to successfully run and grow your business!
Outstanding Customer Management
Store and manage customer details, emails, documents, notes, history, activities, and more in one easy to find place. The Act! contact record provides rich customer management enabling you to maintain a 360-degree view of your customer relationships in a centralised, shared CRM database.
Use powerful functionality such as Customer Tables to manage industry specific data like service contracts, projects, insurance policies and more.

Powerful Marketing Automation
The Act! Growth Suite software provides powerful Marketing Automation capabilities to help you optimise the ways you communicate with prospects and customers.
Act! Marketing Automation enables you to automate manual tasks and processes to help drive complex marketing campaigns and generate leads to drive business growth.
With advanced marketing functionality Act! Marketing Automation enables you to send out high quality email marketing campaigns and track website visitors. Campaigns can be automatically followed up with sales tasks to help improve the ROI on every campaign.
Detailed dashboards and reports enable you to monitor the success of your marketing activities to build a comprehensive picture of prospect engagement.
The Act! CRM database will hold vast amounts of data for marketing using an SQL database.
Drive business growth with Act! Marketing Automation
Dynamic Sales Pipeline Management
Managing sales opportunities is the key to closing more deals whilst driving revenue growth, see how Act! CRM can help sales. Act! enables you to manage opportunities using a simple out of the box sales process or configure it to fit your business requirements.
Track revenue forecasts, probability to close, days open, follow ups and more with every sales opportunity.
Use powerful dashboards and reports to monitor key sales metrics (KPI's) to help you gain better insights into the health of your business pipeline and future revenues.
See a complete, visual representation of your sales pipeline to project revenue, adjust your strategy, and quickly focus your efforts. In-context KPIs help you understand the health of your pipeline at-a-glance.
Further information can be found in our guide, what is Act! CRM Software used for.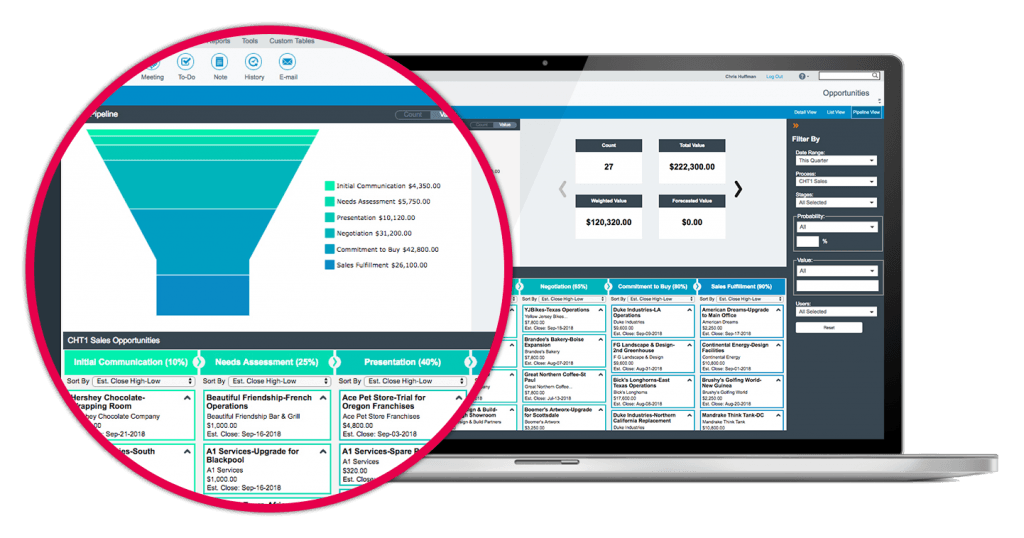 Sign Up For Your Free 14-day Trial Of Act!
It's quick and easy to start your free 14-day trial of Act. It'll come complete with demonstration data, so you can fully explore the features and functionality of the software. All you need to do is call us on 0330 043 0140 or complete the trial form by clicking on the below banner and we will setup your free trial.


Our Act! and CRM experts will help you discover how the Act! Growth Suite can help improve you sales and marketing processes. We are also able to provide an initial 1-1 demonstration as well as fully justified Act! pricing and costings for your CRM and marketing requirements.
Call us today to organise an ACT! CRM demo on 0330 043 0140 or email us at info@alphalogix.co.uk. We will help you through every step of your CRM implementation, including support and training