---
What is Act CRM Sales?
---
Act! CRM Salesforce Automation
Act! CRM was initially developed as a contact management system to help companies manage customers and prospects. Since its conception, it has been further developed into a comprehensive customer relationship management and sales force automation solution that enables companies to manage all interactions with contacts and to manage sales opportunities.
Recent developments have added a range of new features and functionality to help mobile sales staff work remotely with its mobile sales force application which works on all smartphone platforms including Apple's iOS (iPhone's and iPad's) and Google's Android.
Act CRM Brochure - pdf Download
Act CRM How to Choose the Best CRM Solution - pdf Download
Act CRM Marketing Automation - pdf Download
Act! CRM
Act! Manages Your Sales Processes and Sales Pipeline
Act! enables you to manage all your sales opportunities which helps you to analyse the health of your pipeline and access critical business metrics from across the business. The software provides accurate projected sales forecasts for the business so managers can make strategic decisions that positively impact your bottom line.
A study by the Harvard Business Review showed that businesses who follow a sales process can see up to a 28% increase in sales revenue as compared to those that do not.
Act! enables you to manage the sales process for every stage of the opportunity. You can either use the out of the box sales process or configure the system to fit your own and complete activities for each stage of the sales process, to keep your opportunities moving forward.
Upsell and Cross-Sell to Existing Customers
Maximising sales revenues by upselling and cross-selling can have a big impact on your bottom line. Act! enables your business to easily cross-sell and upsell to customers and prospects. This is made possible because Act! stores all contacts and customers in a central database and sales teams are able to access account history and contact notes and suggest additional products relevant to individual customers.


Act! Mobile Sales Application – Managing Customers on the Move
Modern smartphones and tablets have had a massive impact on the way businesses operate, they facilitate users to: work remotely, increase productivity and enable sales staff to remain in constant contact with customers, suppliers and the office.
The Act! CRM Mobile application further improves the productivity of mobile users as it lets users have critical business data on either their hand-held phone or tablet whilst on the move. The mobile application helps users to:
Instantly access customer data anywhere 24/7
Organise their day and manage to-do's and tasks whilst on the move
Collaborate with customers and colleagues
Pull up the latest sales figures in real time
Close deals faster and quickly see where they are in the opportunity sales process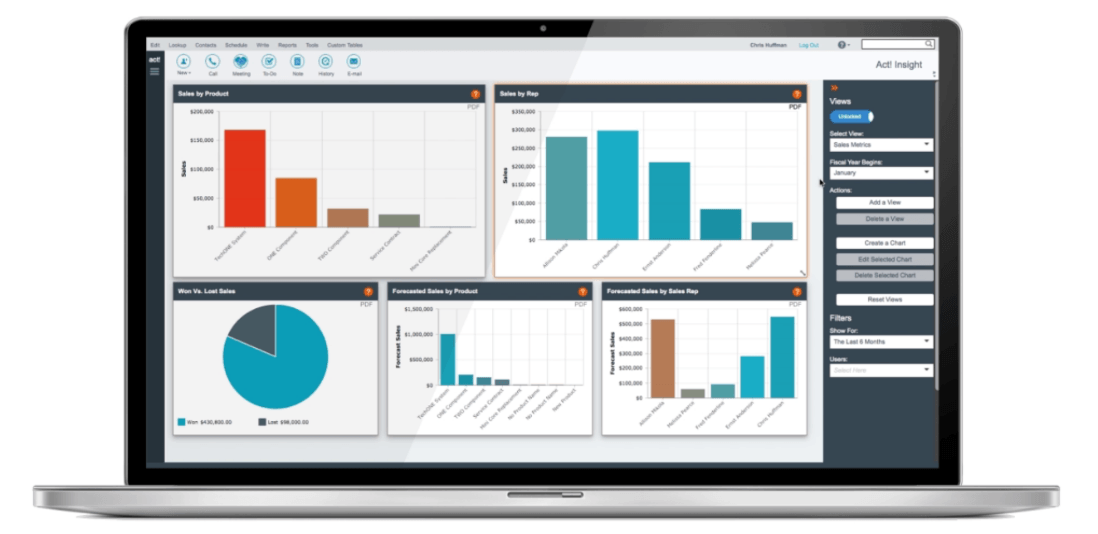 Sales Reporting and Dashboards
The importance of sales reporting cannot be underestimated as studies have shown that companies who use sales analysis reports can boost their returns by more than 15-20%.
Act! comes with over 40 pre-configured reports and dashboards to help sales teams review their performance, with reports such as: opportunity by status, won opportunities by reason and sales process by stage to provide invaluable business insights for managers and sales individuals.
The software also allows users to configure custom sales reports using the Act! Report Designer, reports can be easily exported to Excel, PDF, HTML or email.
Act! CRM also provides a variety of sales dashboards for users to access, interact with and analyse up to date sales information to monitor and measure performance and sales metrics in real time.

Sign Up For Your Free 14-day Trial Of Act!
It's quick and easy to start your free 14-day trial of Act. It'll come complete with demonstration data, so you can fully explore the features and functionality of the software. All you need to do is call us on 020 8050 3216 or complete the trial form by clicking on the below banner and we will setup your free trial.

Get in Touch
To find out more about how Act! CRm can help Sales - Contact AlphaLogix for an Act Cloud Online Pricing on 020 8050 3216 or Contact Us Here