What is Act CRM Marketing Automation?
Act CRM Marketing Automation is powerful marketing software available in the Act CRM product range. The Act CRM Marketing Automation module offers a wide range of marketing features that enables you to generate leads, manage marketing campaigns, communicate with prospects and customers using the Act CRM email marketing module. The Marketing Automation software was launched when Act released the Act CRM Growth Suite.
The Act CRM Marketing Automation software is available for all of Act's product range, including Act! Starter, Act CRM Professional, Premier (previously known as Premium) and Ultimate versions. Depending on which version of Act you have provides you with varying levels of marketing functionality to help grow your sales pipeline, with Premier and Ultimate offering the most sophisticated marketing functionality, see comparison of marketing features.
The list of features and functionality found in the Act! Marketing Automation module is impressive, it includes sophisticated campaign management, visual marketing workflow tools, social media integration, email marketing, designer email templates, powerful marketing dashboards and reports, marketing assets, A/B testing, landing pages and many lead generating features including drip feed marketing.
Act CRM Marketing Automation – pdf Download
Act CRM Brochure – pdf Download
Act CRM How to Choose the Best CRM Solution – pdf Download
Act! CRM Marketing Automation

How Does Act CRM Marketing Automation Benefit Your Business?
Marketing automation software brings a wide range of benefits and added value to your business, the technology enables you to manage campaigns across multiple channels in order to generate leads and grow your sales pipeline.
More Effective Lead Generation – Act CRM Marketing Automation helps you generate more new business leads and time-consuming tasks automatically run in the background.
Harmonise Your Sales And Marketing – allows your sales and marketing teams to work together more closely and sales opportunities are not missed.
Automate Customer On-boarding – Marketing software such as Act! CRM Marketing Automation helps get new customers on board, whilst reducing customer attrition rates.
Improve Customer Retention Rates By Keeping Service Levels High – Marketing software helps retention rates and improves customer service levels.
Measure Marketing Effectiveness And Impact – improves marketing ROI spend.
Choose From A Wide Range of Email Templates In Marketing Automation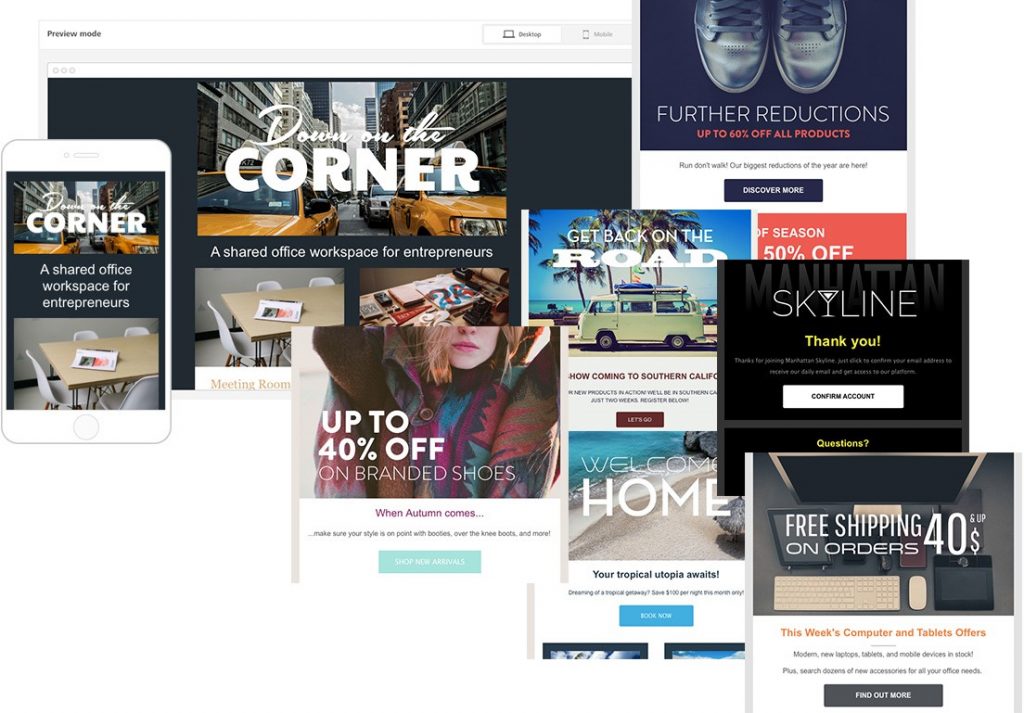 Other Key Marketing Automation Software Benefits And Functionality Includes:
Generates new marketing leads for your business
Boosts your sales pipeline and helps shorten the sales cycle
Manages marketing campaigns across multiple channels
Never miss a marketing campaign activity by automating tasks
Sophisticated marketing campaign workflows
Improves marketing communication with prospects and customers
Boosts customer lifetime value
Communicate with leads in real time using social media integration
Improves marketing processes
Increases marketing Return on Investment (ROI) and reduces overheads
Encourages prospect and customer subscriber engagement
Increases email open rates and click through rates (CTR)
Target customers using email, text, web and social
Harmonises sales and marketing processes
Decreases drop-off rates
What Is Marketing Automation?
Features For Act! CRM Marketing Automation
There are common marketing automation features found in all pricing plans for the Act! Product range these are,
Interactive template editor
Campaign management
Mobile & desktop preview
Social sharing
Landing pages & lead capture
Surveys
Visual workflow designer
Real-time campaign metrics
Marketing calendar
Deliverability & compliance tools
Drive Business Growth With Act Marketing Automation
Additional Marketing Automation Features Found in both Act! CRM Premier and Act! CRM Ultimate:
CRM workflow
Drip feed marketing
Nurture marketing
HTML email editor
Advanced lead capture & surveys
Lead management & scoring
Event and email marketing
Website activity tracking
Asset tracking
Contact us on 0330 043 0140 or email us at info@alphalogix.co.uk to discuss Act! CRM or to organise a meeting, demonstration or consultation call.

The main difference between Premier and Ultimate is that you can send more emails per month with Ultimate (100,000 emails/month) whilst Premier allows up to 50,000 emails/month, see Act CRM comparison of features for each product.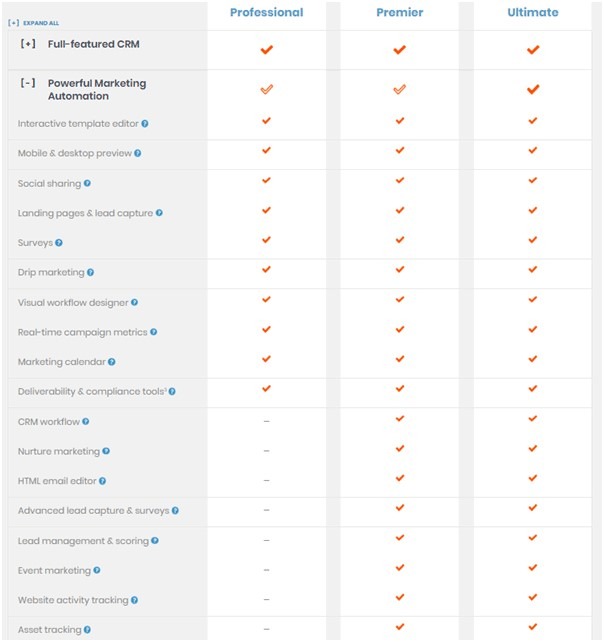 Act CRM Email Marketing and Surveys
Act CRM Marketing Automation has a sophisticated Email marketing module which remains one of the most cost-effective ways to generate leads and grow your business. Because Act! email marketing directly integrates with Act CRM you can quickly access your existing contacts to build lists and groups to target and then send email campaigns to them on any device.
Act! emarketing provides you with the tools to create stunning email designs using an easy to use drag and drop template designer, once the email has been created you can quickly send and track directly from within Act! CRM.

Once the email marketing campaign has been sent you can easily view campaign results, open rates, bounce rates and levels of interaction. Email campaigns will automatically schedule follow up activities, so users of Act! CRM can hone their efforts to chase hot leads. Act CRM marketing automation has a large amount of email templates to use, or edit, it also has over 170 plus designer mobile email templates to choose from.
Surveys can also be sent our using marketing automation via email, this is a great way to get feedback from clients and prospects whilst collecting vital information to help with sales opportunities and judge customer satisfaction, for further information can be found on the best survey customer satisfaction questions to ask.
Marketing Campaigns and Workflows
The marketing campaign features in Act! enables you to create new campaigns to generate leads. Marketing campaigns can be triggered on criteria you define using the powerful campaign workflow tool. The campaigns visual workflow tool enables you to create sophisticated automated campaigns that are multi-channel and have many phases and many triggers.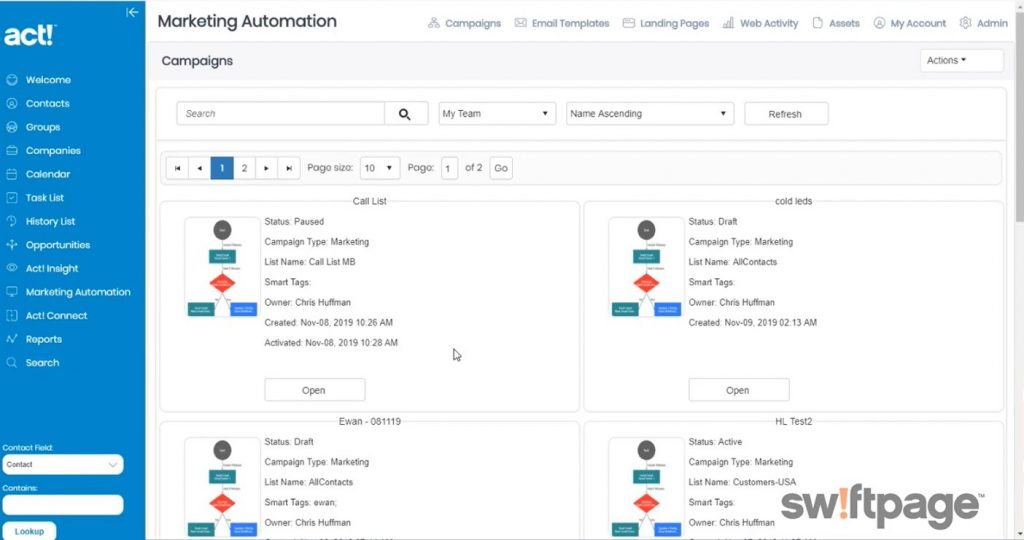 Campaigns can be multi-channel which enables you to use email, text, telemarketing and social media to create leads. Setup simple ad-hoc email blasts or drip feed marketing campaigns for one-off or single path communications as needed.
There are a wide range of dashboards and reports available in Act CRM that enables you to track campaign effectiveness, conversion rates, ROI and a lot more, reports and dashboards can be edited and customised for your specific marketing reporting needs.
Act CRM Social Media Integration
The Act CRM Marketing Automation module can be integrated in with the most popular social media platforms such as Twitter, Facebook, Snapchat, LinkedIn, Instagram and products like Buffer. Integrating Act CRM with social media channels enables your business to engage with prospects and customers in real time.
Social media integration with CRM helps sales teams monitor activities, sales can use social media to keep followers informed, resolve issues, increase conversions and answer questions further information on Act CRM Social Media Integration.
Integrating social media with Act CRM marketing automation campaigns provides an extra channel to track and communicate with suspects, prospects and customers. Your most vocal customers can help build your brand. You can use platforms such as Facebook, Twitter, LinkedIn etc. in multi-channel campaigns that can help improve lead conversion rates.

Contact AlphaLogix to Discuss Act! Or Book a Web Meeting
Our CRM experts can help you discover how Act CRM can be setup to improve your sales and marketing processes within your business. We will provide you with a Free initial personalised demo as well as fully justified costs for your requirements.
Call us today to organise a demo on 0330 043 0140 or email us at info@alphalogix.co.uk. We will help you through every step of the implementation process, including training and support.