---
What is Contact Management Software?
---
A contact management system (also known as a Contact Manager) is software commonly used by companies to store contact, customer and prospect records. Using a contact management database allows you to quickly find contact information, such as phone numbers, emails, addresses and names.
Act CRM Brochure - pdf Download
Act CRM How to Choose the Best CRM Solution - pdf Download
Act CRM Marketing Automation - pdf Download
Contact Centric Database
Contact management systems allow you to store all data in a centralised contact-centric database so that users can track all information and communications (such as phone calls, emails, meetings, follow ups, etc.) that are linked to contacts.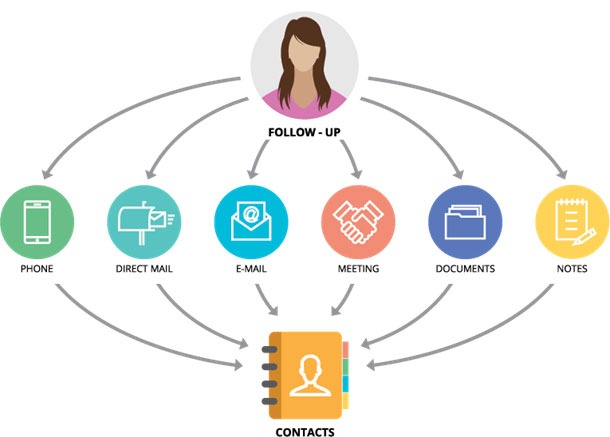 Simple contact managers can be found everywhere in the technology we use on a daily basis, such as on smart phones (and tablets) as well as commonly used apps such as Google Contacts and Microsoft Outlook contacts.


Sophisticated Contact Managers are Now Available
There are a wide range of very sophisticated contact managers now available to choose from. Advanced contact managers like Act!,  provide calendar sharing and a whole host of advanced features.
Modern contact managers also share their functionality with full blown CRM systems, and are a preferred choice for many businesses seeking an enterprise wide contact management system.
Act! CRM
The Benefits of Using Contact Management for Your Business;
Centralised database repository of contact information
Ready to use powerful databases (even SQL) with searching
Sales and opportunity tracking
Email integration (e.g., integration with Microsoft Outlook, and Gmail)
Scheduling of appointments and meetings using a shared calendar
Document management (i.e. store Word documents, emails against contact records)
Notes and conversation management
Customisable fields
Import/export utility
Meet Act! - Contact Management for Businesses
What is the Difference between Contact Management and CRM?
The main difference between CRM (Customer Relationship Management) and contact management software is that a contact management system provides features and functionality for storing and tracking contact records for customers, prospects and suppliers. Whereas CRM software provides greater functionality to manage all aspects of the relationship with a customer including activities with sales, marketing, customer service and support.
Act CRM for Sales
The Gap between CRM and Contact Management Software is Closing
In recent times the functionality gap between CRM and contact management systems has narrowed, with many well-known contact management solutions re-branding themselves as CRM solutions. Most people do not realise that many of the market leading CRM solutions we know today started off life as a contact manager. Such examples include Goldmine, SuperOffice CRM and Act! CRM (which has turned into a powerful CRM solution to manage sales, marketing and customer service).


Summary
In summary contact managers are good at managing contact information and tracking communications with contacts, whilst CRM systems manages all aspects of the client relationship for all areas in your business including sales, opportunities, customer service, support and marketing. CRM systems also offer more sophisticated reporting capabilities such as interactive dashboards and highly advanced reporting tools.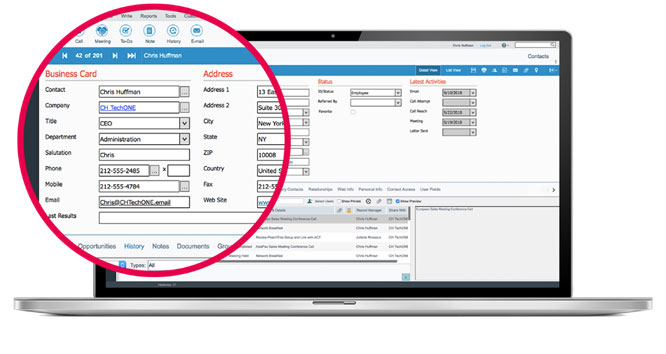 What is the Best Contact Management Software?
The answer to this question depends on what you want to use a contact manager for, if you just want to manage personal contacts for your iPhone, or personal email etc. then Apple, Google, Android and Microsoft offer great apps for simple contact management.
If you are a business and need to manage your contacts and customers across your whole enterprise then you will need to look at choosing a more sophisticated contact management system.
Act CRM Marketing Automation
How do You Choose?
Choosing the best contact manager for your business depends on the features and functionality you need, your available budget, deployment options and ease of use. With hundreds of solutions available in the market, many businesses chose to go with the most popular brands that offer the best features and are reasonably priced.
Perhaps the most popular choice for the best contact management system for your business is Act!. The system has won many awards, including recent awards from Capterra and G2 Cloud, awards have been won for the most popular, most affordable and also as a leader in software for small businesses. With over 4 Million users to date Act! has established itself as one of the best choices for contact management for small businesses, read more by downloading this PDF.
What is An Alternative to Microsoft Outlook Contacts and Business Contact Manager?
Microsoft Outlook is one of the most popular email systems for business users around the world, and the system has the ability to add and manage basic contacts. Microsoft also released Business Contact Manager for Outlook to enhance the functionality, but the system has not been updated for a while.
Business Contact Manager Add On for Outlook
Microsoft's Business Contact Manager for Outlook was an add-on to Outlook, so small business owners can use Outlook 2013 to store personal information and manage their calendars, while using Business Contact Manager for Outlook to help them run their businesses.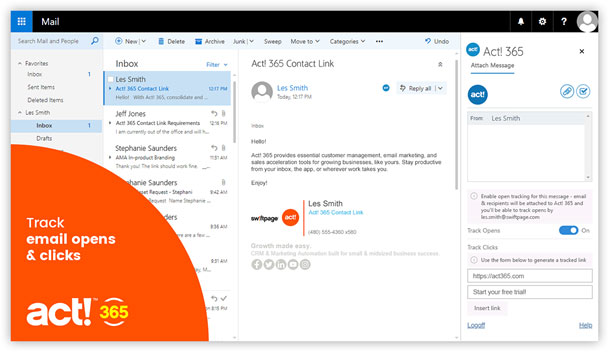 Since Business Contact Manager does not run in Office 2016 anymore, many businesses are now looking for an alternative. Act! is a great BCM replacement as it does much more, it also has seamless integration with Microsoft Outlook, for more information view the demo below.
Contact us today on 020 8050 3216 or email us at infor@alphalogix.co.uk  to organise a demonstration of the differences between Contact Management and products for CRM, such as Infor CRM.
Sign Up For Your Free 14-day Trial Of Act!
It's quick and easy to start your free 14-day trial of Act. It'll come complete with demonstration data, so you can fully explore the features and functionality of the software. All you need to do is call us on 020 8050 3216 or complete the trial form by clicking on the below banner and we will setup your free trial.

Connecting to Outlook in Act!
Act! Contact Management
There are many reasons why you should choose the Act! contact management system as your enterprise wide solution, just some of the main reasons include;
Flexible contact management available in the Cloud, on mobile devices, on premise and with multi deployment hybrid options
Users can access customer details and data from anywhere
Advanced integrated sales and marketing features with email marketing
Comprehensive contact management features
Email and Marketing automation
Smart integration with Outlook, Office 365 and mobile devices
Activity tracking, shared calendars and alerts for increased productivity
Flexible reporting and interactive dashboards.
For a full features list of Act! see our feature comparison guide for the three main products available from the Act! Growth Suite.
Act! has been developed to be much more than just a contact management system, the software helps you better understand your client's needs and turns your new contacts into lifelong clients, whilst helping you to retain existing customers.

Act! Contact Management Software FAQ's
Can Act! be used in the Cloud (SaaS) for online contact management? - Yes, Act! can be used in the Cloud as a Software as a Service option, it can also be hosted online via your own servers, or via a hosting provider like AlphaLogix.
Is Act! CRM a contact manager for Android™ or Mac? - The system can is compatible with Android and Mac's, it can also be used on Android mobile devices, as well as Apple's iPhone's and iPad's.
What is the cost of Act! Contact Management system? - The cost depends on the pricing plan you wish to choose and offers great affordability for many businesses, see our costs guide.
Does Act! Include a contact manager application? - Act! offers an app called Act! Companion, this allows you to use the system on iPhone's, iPad's and Windows and Android devices.
Organise a Personalised 1-1 Demo Today
Contact us on 020 8050 3216 or email us at infor@alphalogix.co.uk to organise a personalised demo at your offices or via the web. Or request a call back us to discuss your contact management or CRM requirements.