Business Intelligence (BI) for Sage 200

We offer a range of BI training and report design services, further details can be found on this page, alternatively call us on 0330 043 0140 or email us at info@alphalogix.co.uk to discuss your Sage 200 business intelligence requirements.
In addition to the 82 built-in reports you can create and configure your own reports in very little time. New insights into your business trends are only a few clicks away with Sage 200 Business Intelligence, for more information on what BI can do for your business read more.
Create an unlimited amount of BI reports within one Workbook.
Drag-and-drop fields within the Layout Tool to manage your report rows and columns.
Use tools to slide-and-dice your data to get the information you need.
Immediate access to your financial and commercial data, including historical data back from the moment you started using Sage 200.
Combine various summary tables and dynamic charts to create a dashboard, bringing together your most important KPI's and trends.
Contact us on 0330 043 0140 or email us at info@alphalogix.co.uk to discuss Sage 200 or to organise a meeting, consultation call, demonstration or personalised quote.

AlphaLogix Sage 200 Business Intelligence
Review your important financial statements; Balance Sheet, Profit & Loss and Trial Balance, applying filters and analysing trends to get a better understanding of your finances.
All of your Sage 200 custom Balance Sheet and Profit & Loss financial statements are accessible from BI and access the latest data from the Sage 200 Financials
Review financial trends by nominal, group, and report category over long periods of time.
Access crucial values such as Credits and Debits, Movement Balances, Budgets and Variances.
Analyse your trends by Cost Centre and by Department.
Contact us on 0330 043 0140 or email us at info@alphalogix.co.uk to discuss Sage 200 or to organise a meeting, consultation call, demonstration or personalised quote.
Request a Call Back to Discuss Sage 200.
• Request a Free Consultation Call or Meeting
• Organise a Personalised Demonstration of Sage 200
• Request Pricing or Organise a Quote
Analyse your Sales and Purchase ordering history to plan for growth in the future. Get a better understanding of your stock movement trends than ever before.
Drill into report balances to review the individual transactions, useful for investigations and reconciliations.
Review stock levels and movement trends quickly and efficiently.
Use BI to create reports useful to your operation such as quantity in stock and on order and the re-order levels for all stock items.
Use the 'As At' cubes to effectively go back in time and review your stock levels at a point in history.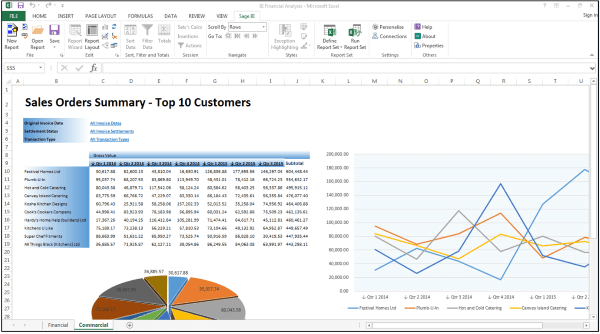 Monitor the costs, progress and profitability of your projects over time with Business Intelligence, enabling you to take action and redirect projects before costs spiral out of control.
Review important project values such as billed values, committed cost values, Gross and Net Profit and Value to Bill.
Get a better understanding of the state of your projects, all from one report or dashboard of reports.
Drill into and interrogate the transactions behind the summary project costs.
Review projects by phase and monitor the resources that have been allocated to the project.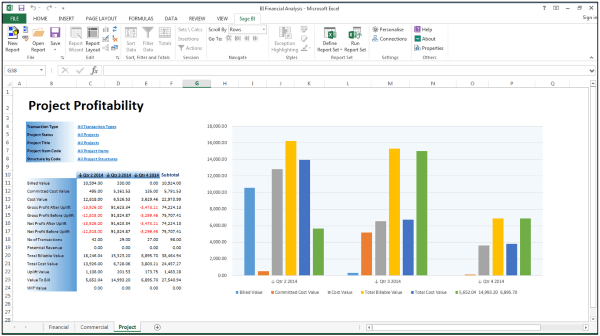 Sage 200 Business Intelligence Training
Sage 200c Business Intelligence comes free when you purchase the Sage 200 Financials module. This free reporting tool uses Excel to create a powerful reporting tool to analyse every part of your business finances.
We offer Sage 200 BI training using either a standard syllabus or we can carry out bespoke Sage 200 business training for your exact reporting needs. The training courses can be done at our offices, or we can travel anywhere in the UK. Alternatively, we can carry out training via the web, read more about our Sage training.
Our training courses cover all the relevant areas of Business Intelligence:
Understanding the Reporting and analytics features for Sage 200 data using Microsoft Excel.
Creating new Sage 200 BI Reports
Understanding Pre-defined data cubes
How to use the Sage BI Tool Bar
How to edit BI Reports
Using the report wizard
Structure of business intelligence reports
We can customise the content of the training courses to be relevant for beginners or tailored for more advanced users of Sage 200. AlphaLogix also offers a range of report design services for Sage 200.
New to Business Intelligence or Sage 200 – arrange a Demo
If you are looking to move to Sage 200 but wanted to learn more about Business Intelligence first, we offer free demonstrations based around your requirements, for more information about booking a demo for Sage 200 BI, read more.
If you would like to discuss how your business will benefit by implementing Sage 200 Business Intelligence BI, please contact us or talk to a member of our team on 0845 259 3141