What is Act CRM Email Marketing?
Using Email marketing for Act! CRM remains one of the most cost effective ways to generate leads and grow your business. Because Act! email marketing directly integrates with CRM, you can quickly access your existing contacts to build lists and then send email campaigns to them on any device.
Act! emarketing gives you the tools to create stunning email designs using an easy to use drag and drop template designer, once the email has been created you can quickly send and track directly from within Act! CRM.
Once the email marketing campaign has been sent you can easily view campaign results, open rates, bounce rates and levels of interaction. Email campaigns will automatically schedule follow up activities, so users of Act! CRM can hone their efforts to chase hot leads.
"With Act! we can quickly setup groups of contacts and deliver electronic brochures to them via email at exactly the right moment, which saves time and effort, while generating significant cost savings." Ben, Commercial Director,
Act CRM Brochure – pdf Download
Act CRM How to Choose the Best CRM Solution – pdf Download
Act CRM Marketing Automation – pdf Download
Act! Email Marketing on YouTube
What's the Best CRM and Email Marketing Software for Small Businesses?
Choosing the best CRM and email marketing software for your business can be a daunting task. Most marketing departments want a reasonably priced CRM and email marketing solution, which is both easy to use and powerful enough to generate leads and engage with prospects and customers.
The best CRM and email marketing software depends on your available budget and feature requirements, such as GDPR, email template design, comprehensive email reporting (open rates, bounce rates) and so on.
With so many email tools and CRM systems on the market it is difficult to decide. The majority of marketers will choose the best email and CRM system based on the popularity of the product and the level of functionality that it offers for your budget.
With over 4 million users worldwide, Act! CRM and email marketing software is probably the best choice for small to medium sized businesses as it provides a host of advanced features for a reasonable monthly subscription fee. For more information on how to choose the best CRM solution for your business download this guide, download PDF.
Contact us on 0330 043 0140 or email us at info@alphalogix.co.uk to discuss Act! CRM or to organise a meeting, demonstration or consultation call.

What's the Difference Between Email Marketing and CRM Software?
Email marketing software and CRM software are two completely different software systems. CRM stands for customer relationship management. CRM deals with managing relationships with clients and prospects, whereas email marketing deals with the management and sending of emails to lists of contacts and customers.
When you integrate both systems together you have a powerful email marketing and CRM system. Integrating email marketing with CRM works well when both systems are connected to each other with a two way synchronisation. New contacts and customers in your CRM system helps future email campaigns with fresh, updated data.
Once email campaigns have been sent out, the returning information for your completed marketing campaign will automatically update the CRM database with valuable information. The Act! CRM email marketing software is totally integrated between email and CRM, it is available as part of the Act! CRM Growth Suite, read more for features.
Act! CRM and Email Marketing Functionality and Features
With Act! emarketing, it's easy to drive business sales and communicate with your prospects and customers using stunning professional emails, the software allows you to send and track campaigns from within Act!.
Create Professional Looking Emails – Act! allows you to create attention getting emails using an intuitive drag and drop template editor, add eye catching images or use a design from over 100 pre designed templates.
Send Emails to Act! Contact Groups – Create new contact groups for campaigns (based on advanced search criteria) or use your existing customer and contact groups in Act! for your email recipient lists. The system allows you to schedule emails for future delivery or just send them out immediately.
Track Email Results – Easily track and report on the effectiveness of your email campaigns with priority call lists and easy to use dashboards and reports, report on open rates, clicks, bounces, opt-outs, and more.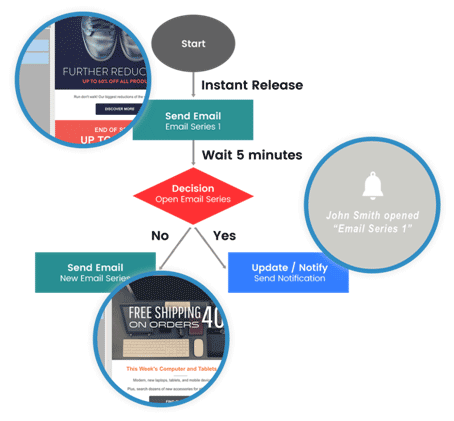 Features of Act! CRM Email Marketing.
Interactive email template editor
Email deliverability & compliance tools
HTML email editor
Real-time email campaign metrics and reports
Over 100 professional email templates
Email landing pages & lead capture
Mobile & desktop email preview
Surveys
Drip marketing
Visual workflow designer
Marketing calendar
CRM workflow to plan and execute email campaigns
Advanced lead capture & surveys via email
Lead management & scoring
A/B testing
Progressive profiling

There are 3 pricing plans to choose from to use email marketing, each plan offers different levels of functionality, based on your choice of product, Pro, Premier or Ultimate versions. To see the pricing plans see our costs guide, or call us for a quote. #actcrm #crmmarketing #alphalogix
Contact Us to Organise a CRM and Email Marketing Demo
To organise a personalised 1-1 demonstration of Act! email marketing either at your office's or via the web, call us on 0330 043 0140 or email us at info@alphalogix.co.uk. We will also be able to show you other CRM and email systems such as Sage CRM, Dynamics and Infor CRM.
Sign Up For Your Free 14-day Trial Of Act!
It's quick and easy to start your free 14-day trial of Act. It'll come complete with demonstration data, so you can fully explore the features and functionality of the software. All you need to do is call us on 0330 043 0140 or complete the trial form by clicking on the below banner and we will setup your free trial.