What is Sage 200 Manufacturing?
Contact us on 0330 043 0140 or email us at info@alphalogix.co.uk to discuss Sage 200 or to organise a meeting, demonstration or personalised quote.
Request a Call Back to Discuss Sage 200.
• Request a Free Consultation Call or Meeting
• Organise a Personalised Demonstration of Sage 200
• Request Pricing or Organise a Quote
Streamline Your Manufacturing Processes
Sage 200 Manufacturing module from Sicon is the preferred choice for production-oriented businesses and contains all the features found in the original Manufacturing module and a lot more.
This enterprise resource planning system helps streamlines your manufacturing processes whilst providing the core features found in the Sage 200 Suite, including Accounts, Nominals, Sage 200 Financials, Commercials, Sales, Marketing and Customer Service.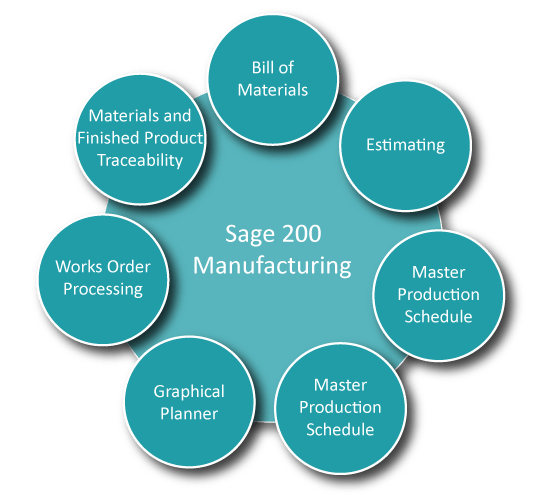 Key Features Essential for Every Manufacturer
Improves production control and maintains maximum productivity.
Job scheduling and sequencing to keep your manufacturing processes on track.
Helps manage your cash flow by ordering raw materials and stock (just in time) and enables prompt deliveries, it also helps to create a lean supply chain.
Whether you are a simple manufacturer or make (something) on a large scale using complex machinery, the module supports master planning, fabrication, assembly, resource planning, production control and the scheduling of raw materials and work.
Tracks all items through production and delivery and allows you to control product quality.
Save valuable time by creating works orders and purchase orders automatically from the MRP planning recommendations.
Track deliveries accurately with GRN matching.
A sophisticated labour, tooling and machine register allows you to feed BOM costs and perform MRP.
Share information needed to stay in control of the supply chain, from raw materials to finished products.
Raise purchase orders, sales orders, change orders to specific jobs and monitor with work-in-progress (WIP) reports.
Reduce costs by helping you become more efficient through improved planning.
Track stock in multiple locations with full batch and serial number functionality
And much more…
If you currently use Sage 50 manufacturing or the original version of Sage 200 Manufacturing you can upgrade to the latest version of Sage 200 Sicon Manufacturing.
If you are coming from Sage 50 to Sage 200 read more from our upgrade guide.
Sage 200 Sicon Manufacturing Module Overview
The Key Features within Sage 200 Sicon Manufacturing Include:
Material Requirements Planning (MRP)
Estimating
MPS (Master Production Schedule)
Works Order Processing (WOP)
Sage 200 Bill of Materials (BOM)
Shop Floor Data Capture
Project Accounting
Material Requirements Planning (MRP)
The MRP feature analyses stock projections in relation to demands and generates appropriate recommendations based on these.
From Supplier and BOM lead times to minimum, current and on-order stock levels, component locations and Batch sizing rules, MRP backs its recommendations with intelligent analysis.
Amend, Combine and Split recommendations to suit your operation.
Automatically generate Purchase Orders and Works Orders from the MRP, this integrates with Sage 200 commercials.
Introduce version control to your MRP so you can review the history at any point in time.
Using information from Stock Control, the labour register, machine register and operations register, the Estimating module from Sicon for Sage 200 can produce quick and accurate estimates for one-off items or non-repetitive item batches in your manufacturing environment.
Print, copy, re-cost, cancel and delete estimates.
Save time by converting estimates directly into Works Orders and BoMs.
Create and manage multiple-item estimates.
Estimates can be converted to jobs and processed through MRP.
MPS (Master Production Schedule)
The MPS feature analyses all of your current Manufacturing requirements and produces a Master Production Schedule of finished items.
Analyse requirements from Sales Order Processing, Estimating, and Make to Stock and Sales Forecasts.
Link Sales Orders with Batch Works Orders in order that specific Works Orders fulfil specific Sales Orders.
Review a summary of items spread across time periods.
Setup and configure MPS to work alongside your existing processes.
What is Sage 200 Used For?
Works Order Processing (WOP)
Works Order records the manufacture of parts using components specified on the BoM or in the estimate.
Works Orders can be automatically generated following a range of pre-defined activities such as raising Sales Orders, actioning recommendations in the MRP module, from the BoM Trial Kitting and by converting an estimate.
Scrap or substitute traceable components for added flexibility.
Enter progress and operation times retrospectively against Works Orders.
Benefit from real time processing, logging in and out of jobs in accordance with your daily activities.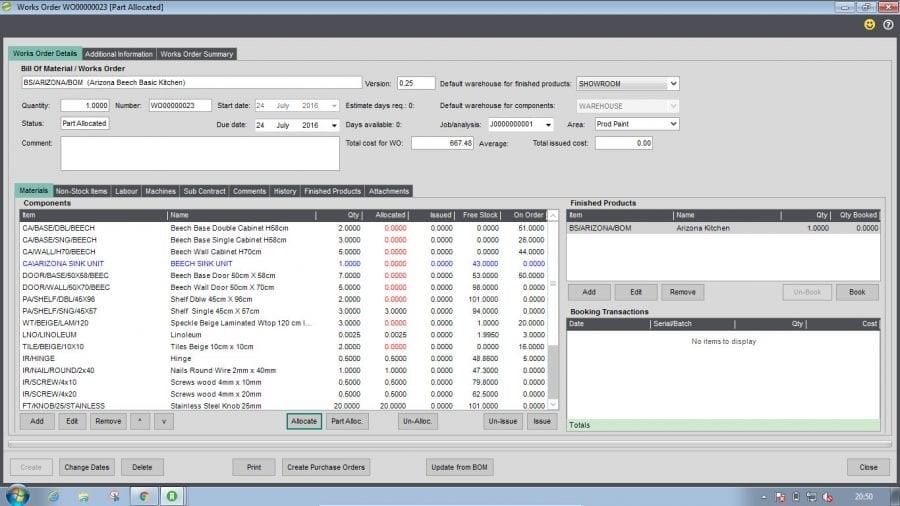 Sage 200 Bill of Materials (BOM)
The Sicon Manufacturing module uses the standard Sage 200 Bill of Materials module to create works orders. The BOM module may alone fulfil your requirements.
From materials and machines, to labour and operations; split your assembly operations into manageable segments.
Create and store multiple BOM templates for future use.
Accurate cost-analysis can be performed from component level, through to the full build.
The Trial Kitting tool forecasts your production capabilities by reviewing current stock levels, against the Bill of Material specification.
Batch and Serial Number functionality can be applied, from component level, through to the full build.
Contact us on 0330 043 0140 or email us at info@alphalogix.co.uk to discuss Sage 200 or to organise a meeting, demonstration or personalised quote.

The Sage 200 Sicon Shop Floor Data Capture (SFDC) works alongside Works Orders and Projects modules to allow real-time capture of Operation progress and elapsed times.
Process stock transactions using handheld tablets, PC and Barcode scanners.
Control your build items, integrates with stock control, works orders and BOM.
The Sage 200 Sicon manufacturing module improves production processes, it tracks stock location transfers and quality inspections.
Sicon Projects
Sicon Projects is designed specifically for Sage 200, integrating with Purchase ledger, SOP, POP, Stock, Time Recording and Works Order Processing. It provides solutions for clients in manufacturing.
Create Jobs manually, or automate from Sales Order Processing.
Enter Purchase invoices and link to one or more jobs.
SOP and POP lines can be linked to jobs and shown as commitments.
Stock can be linked to jobs via Stock Control, Internal Issues and Returns. Allocated stock is shown as committed stock usage.
Sage 200 Sicon Manufacturing software is a powerful solution in its own rights, but it also has tight integration with Sage 200 Financials (nominal ledgers), and the Commercials module for sales order processing, purchase order processing and managing stock. BOM use to be a separate add on, but it is now included with manufacturing software as standard.
The Sicon Manufacturing module replaced the original Sage 200 Manufacturing module back in 2020 but has more features, see the original Sage version video below.
Fracino Case Study for Sage 200
Check out this review and testimonial from the manufacturer family firm Fracino, who finds the right blend for success with Sage 200 and with a pioneering track record of more than 50 years of manufacturing traditional coffee machines, Fracino has trusted Sage solutions to help ensure growth remains manageable.
"It became perfectly obvious that Sage 200 would do everything we needed and possibly a lot more, so now we have one system that does CRM, stock control, works orders, production planning, and serial numbers – it controls everything."
Adrian Maxwell, Managing Director, Francino
Fracino Sage 200 Case Study and Review
Why Choose AlphaLogix as your Sage 200 Business Partner?
AlphaLogix are a leading Sage Manufacturing Strategic business partner who started in 1995 and have over 450 happy customers today.
Our Manufacturing specialists will help you discover how Sage 200 can be setup to improve your manufacturing processes within your organisation. Our dedicated accounting experts are committed to ensuring you get the most from your software investment and we offer the following services.
Scoping
Implementation
Integration with other Manufacturing systems
Upgrades from old versions of Sage 200 Manufacturing to either CIM200 or the Sicon Sage 200 Manufacturing module
A proactive and dedicated Support team
Development services
A wide range of Sage 200 Training courses
Migration from other accounts systems
Software integration
Ecommerce and website integration
Contact us on 0330 043 0140 or email us at info@alphalogix.co.uk to discuss Sage 200 or to organise a meeting, demonstration or personalised quote.
Request a Call Back to Discuss Sage 200.
• Request a Free Consultation Call or Meeting
• Organise a Personalised Demonstration of Sage 200
• Request Pricing or Organise a Quote