From Basic and Advanced Customisations to Automated Process Workflows, the improvements in productivity that a SageCRM system can bring to your business are incredible.
Automate pre-defined business processes across all channels, departments, and employees.
Interactive inbound and outbound telephony automation, providing contact centres with one point of communication.
The single-server installation and web browser access allow employees, partners, and customers to view the information they need from anywhere in the world.
Using the on-screen tools, CRM Administrators can create and modify fields, screens, tabs and security settings without assistance.
Guides and Product Information
Download the latest Sage CRM UK Price List in PDF
Download the latest Sage CRM Product Brochure in PDF
Contact us on 0330 043 0140 or email us at info@alphalogix.co.uk to discuss Sage CRM or to organise a meeting, demonstration or personalised quote.

Basic customisations such as adding new fields to various areas throughout the system can be performed in very little time ensuring your Sage CRM system remains relevant to your Clients' business sectors.
Change the nature of fields, choosing from a large array of field-types such as pre-populated drop-down lists, free-text entry and date and time selectors.
Create Translations to existing fields in order that they are presented to users in a way that is relevant to them without changing the name of database fields.
If you are using the new Sage 200 Connector, this area can be used to bring in new fields from Sage 200.
Edit Summary Reports for each area of Sage CRM, adding new columns of data in little time.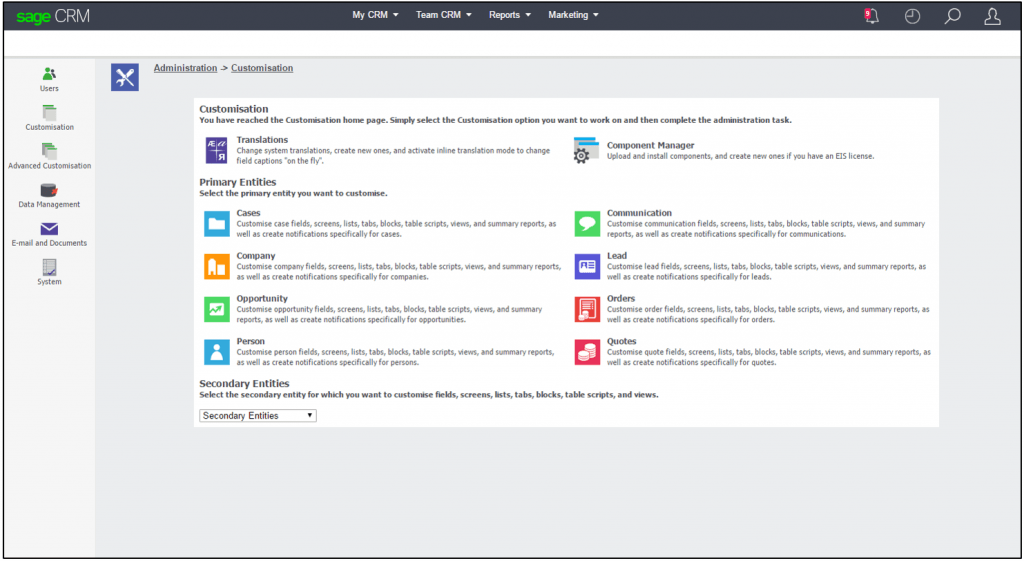 Advanced Customisations provide you with the ability to configure Sage CRM to your exact requirements. From Workflow and Escalation Rules to database integrations, there are very few limits to the level of customisation that can be applied to your Sage CRM.
Add key attribute categories, fields, and lists to record dynamic information about people, companies, leads, opportunities, and cases.
Create new tables and table connections and link to third-party databases.
Customise the look and feel of work areas by making changes totab groups, buttons and forms.
View and add to the list of mobile devices that link toyour Sage CRM.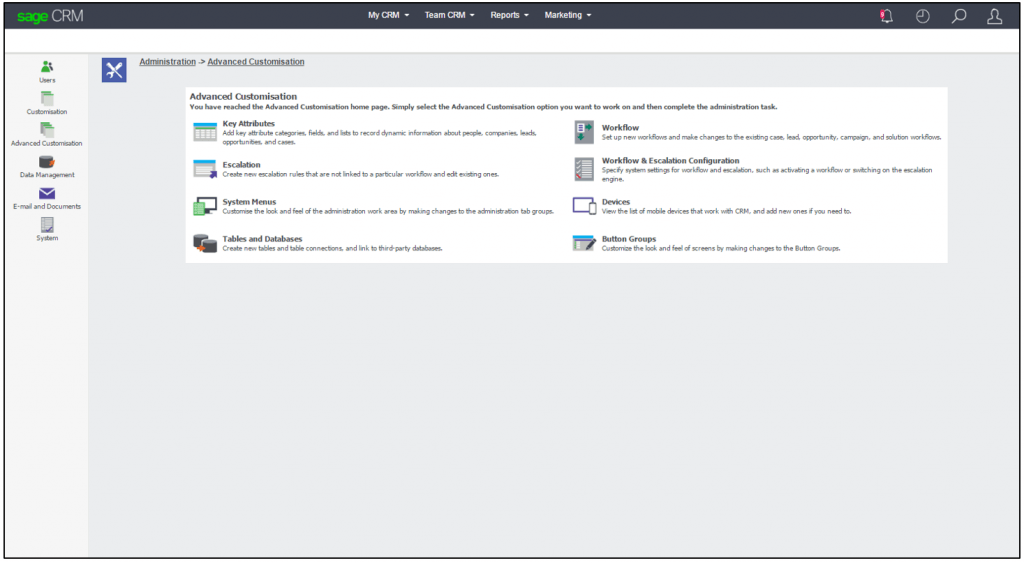 Behind many of the areaswithin Sage CRM there is a pre-defined workflow which determines the follow-up actions. These workflows can be customised to meet the unique requirements of your business.
Add new States and Rules to existing Workflows, or create a completely new Workflow.
Create new escalation rules that are not linked to a particular workflow and edit existing ones.
Turn Workflows on and off to suit your more complex day-to-day requirements.<
Configure the more detailed settings within workflows such as notification intervals, notification display counts and whether email notifications are required.