Sage CRM is the main Customer Relationship Management software product offering by Sage for small to medium sized companies. Sage CRM is a sophisticated CRM solution that includes three key modules, Sage CRM for: Sales, Marketing and Customer Service.
The Sage CRM software solution is highly configurable, flexible and scalable. The software can be deployed online in the Cloud or installed on your own server with an On-Premise software licence.
One of the key strengths of Sage CRM is that it integrates seamlessly with Sage's flagship accounting products such as Sage 50 and Sage 200 (known as Sage 200 CRM). The integration allows you to see valuable accounting data from Sage within the CRM system. The integration between Sage accounts and Sage CRM allows you to create orders in CRM whilst avoiding data-re-entry in Sage accounts.
Guides and Product Information
What Does CRM Stand For?
Download the latest Sage CRM UK Price List in PDF
Download the latest Sage CRM Product Brochure in PDF
Contact us on 0330 043 0140 or email us at info@alphalogix.co.uk to discuss Sage CRM or to organise a meeting or demonstration.

Sage CRM - Manage Sales, Marketing and Customer Service
Users of Sage CRM for Sales are able to manage sales leads and sales opportunities whilst tracking the performance of sales staff and sales teams, it also allows users to manage forecasts, schedule meetings and a lot more.
Sage CRM for Marketing offers a wide range of marketing tools to manage campaigns and generate leads, whilst the Customer Service module enables your business to offer outstanding customer support.
Key Features and Benefits for Sage CRM for Sales
The Sage CRM for Sales module provides a wide range of features and benefits for your sales reps and sales teams, these include:
Powerful salesforce automation
Comprehensive customer relationship management
Contact and account management
Record and action all activities with clients
Powerful follow up scheduling and diary management
Opportunity management
Sales revenue forecasting
Integration with email such as Microsoft Outlook
Manage sales leads from start to finish
Interactive KPI Sales dashboards and reporting
Create quotes and orders from within Sage CRM
Territory management
Manage sales teams and targets
Key Features and Benefits for Sage CRM for Marketing
The marketing module in Sage CRM enables you to generate new leads for your business and communicate with prospects and customers, key features and benefits of Sage CRM for Marketing include:
Marketing campaign management
Sage CRM for Marketing integrates with Mailchimp
Social media integration
Lead scoring
Powerful marketing dashboards and reports
View campaign response rates
Target specific groups from within Sage CRM
Outbound telemarketing activities
Surveys
Website activity tracking
Advanced lead capture
Marketing workflow tool
Nurture marketing
Contact us on 0330 043 0140 or email us at info@alphalogix.co.uk to discuss Sage CRM or to organise a meeting or demonstration.

Key Features and Benefits for Sage CRM for Customer Service
Customer service enables Sage CRM users to provide excellent customer support to clients. The Sage CRM customer service module offers extensive help desk and support functionality so users can log support cases and quickly resolve problems for clients. Benefits and features include:
Sophisticated support knowledgebase
Provide high quality incident-support with case management
Publish reviewed and approved solutions
Manage service levels agreements
Track problems from start to finish
Assign support cases to teams and users
Ticket management
Speed search
Automated workflows
Advanced issue tracking and resolution tools
Customer support web portal
Contact and account management
Powerful support dashboards and reports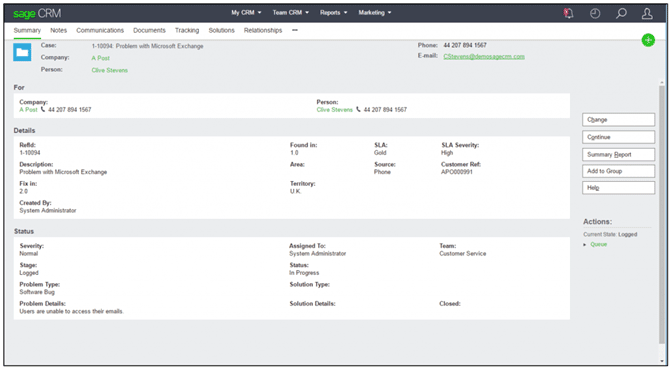 Sage CRM Integration with Sage 50 and Sage 200
Sage has integrated Sage CRM with many of their leading accounts systems, including Sage 50 and Sage 200. Integrating CRM with accounts allows you to empower front office and back office staff so they have a complete view of every customer.
Sales people can see important accounts financial data, such as orders, invoices and outstanding balances within Sage CRM. Accounts users can see a 360-degree view of all activities such as meetings, quotes, phone calls, follow ups and future sales opportunities.
Access Your Sage CRM Data Whilst Mobile
As more and more of us work remotely or whilst on the road, it's crucial to have access to the latest customer information held in your central Sage CRM database on mobile devices such as smartphones, tablets and laptops.
Sage CRM for mobile enables users to access key customer information both online and offline which ensures you can respond quickly to your customer needs. The mobile apps for Sage CRM supports all leading mobile devices including Apple, Android and Windows. It also supports all major browsers so you can get instant access using the web.
Contact us on 0330 043 0140 or email us at info@alphalogix.co.uk to discuss Sage CRM or to organise a meeting or demonstration.

Sage CRM Frequently Asked Questions
In the sections below, we detail exactly what every module does, as well as detailing some of the other questions users want to get answers to, from pricing, Sage CRM hints and tips to topics such as Mailchimp integration.
What are the Costs and Pricing Plans for Sage CRM?
There are 2 types of pricing plans for Sage CRM, purchasing a perpetual license or purchasing an online or on-premise license on a monthly subscription fee. You can buy either a Sage CRM named user license or a concurrent user license,
How Can I see a Demonstration of Sage CRM?
AlphaLogix are able to provide a Sage CRM demonstration at either your offices, or via the web. We demo all the main Sage CRM modules including Sage CRM for Sales, Marketing and Customer service.
How Does Sage CRM Integrate with Mailchimp?
The integration between Sage CRM and Mailchimp enables you to communicate and send emails to your customers and contact data held in the Sage CRM database. Monitor open rates, response rates and get a detailed analysis of which pages recipients have navigated to.
How Does Sage CRM Integrate with Sage 50 Accounts?
Sage 50 can be further enhanced by integrating it with Sage CRM. Integrating the two systems together enables users to see a 360-degree view of all interactions with every customer and supplier, for more information.
Sage 200 has a customer relationship management (CRM) software module (also known as Sage CRM). The Sage 200 CRM module enables you to manage customer interactions, sales opportunities, customer service and marketing campaigns.
What is Sage CRM for Sales?
Sage CRM for Sales puts your business in complete control of your sales pipeline. Manage forecasts and report on all phases of the sales cycle whilst giving your sales team the autonomy they need to effectively manage your customer base.
What is Sage CRM for Marketing?
Sage CRM for Marketing enables you to take control of your marketing initiatives by automating and tracking your campaigns. From one-off Mailshot's to multi-faceted marketing programs, Sage CRM for Marketing will help you to open doors to new opportunities,
What is Sage CRM for Support?
Provide exceptional customer service with Sage CRM Support Case Management, a powerful Sage CRM tool designed around the recording of problems or jobs, updating with progress and tracking them through to completion within a pre-defined timescale.
What Hints and Tips are available for Sage CRM?
If you are an existing Sage CRM user it is always helpful to speak to the UK's leading Sage CRM experts where help is never far away for useful advice, to speak with us or to read some of our useful hints and tips blogs, you can find our more detailed information here.
How Can Sage CRM be Customised?
Sage CRM can be configured and customised for your business requirements. From Basic and Advanced Customisations to Automated Process Workflows, the improvements in productivity that a SageCRM system can bring to your business are incredible,
Why Choose AlphaLogix - Book a Sage CRM Demo Today
Our CRM experts can help you discover how Sage CRM can be setup to improve your sales processes within your business. We will provide you with a Free initial personalised Sage CRM demo as well as fully justified costs and pricing for your requirements.
Call us today to organise a demo on 0330 043 0140 or email us at info@alphalogix.co.uk. We will help you through every step of the implementation process, including training and support.