Sage Intacct is entirely cloud-based financial management and accounting software for businesses worldwide. Sage Intacct manages your accounting processes and finances as well as nominal ledgers, customers, billing, inventory, bank reconciliation and purchasing, and gives you real time financial reporting and analytics to help improve profitability.
Sage Intacct is designed as a modular cloud accounting solution and the main software module is Sage Intacct Core Financials. This central accounting software module is where all other Sage Intacct modules feed financial accounting information into, enabling you to run financial reports to get valuable insights to increase profits and grow your business.
The Sage Intacct Core financials module manages the general ledger as well as accounts payable, accounts receivable, cash management, purchasing and order management. Sage Intacct automates the complete array of accounting processes for your business so you can work more efficiently, improve productivity and collaboration and focus on growing your business.
Sage Intacct Key Software Features
Best-in-class Cloud-based financials and accounting functionality
Access accounting data securely from one source of data in the Cloud
Highly customisable, flexible and scalable
Advanced dashboards and reports, choose from over 200 prebuilt visuals
Additional software modules available, from Fixed Assets, Revenue Recognition, Inventory Management, Project Accounting to Manufacturing
Tailor Sage Intacct for your industry
Multi-country, multi-company, multi-currency and multi-entity
Flexible API's and a large number of 3rd partner add on's from Sage Intacct Marketplace
Handles large amounts of financial transactions using a Oracle SQL database in the Cloud
Salesforce and CRM integration
Making Tax Digital (MTD) compliant for HMRC
What is Sage Intacct used for?
Sage Intacct manages your business finances and accounts in the Cloud, including accounting compliance, financial transactions, sales invoicing, customers, suppliers, inventory, sales order processing (SOP), purchase order processing (POP), cashflow management, project accounting, electronic payments and bank reconciliation. Sage Intacct provides real time financial insights to help improve business performance and profitability.
Managing your business accounts and financials can be a complicated and time-consuming task, Sage Intacct automates your critical accounting processes and procedures across your whole business so you can manage and store all financial transactions in the Cloud and ensure accurate accounting compliance.
Stores financial data securely in the cloud.
Manages your finances and accounts.
Manages your customers and suppliers.
Manages stock, projects, assets, expenses and bank reconciliation.
Consolidates multi-entities, multi-companies, global-entities and multi-currencies.
Easy online access to all financial and accounting transactions.
Submit VAT online as its Making Tax Digital (MTD) compliant.
Access accounting data anywhere 24/7 via the web.
Real time interactive dashboards and reports.
Single source of accounts data and the true position of your finances.
Collaborate with users and your accountant.
Avoids investing in expensive servers and backup hardware.
Contact us on 0330 043 0140 or email us at info@alphalogix.co.uk to discuss Sage Intacct or to organise a consultation call, demonstration, meeting or personalised quote.
Request a Call Back to Discuss Sage Intacct
• Request a Free Consultation Call or Meeting
• Organise a Personalised Demonstration of Sage Intacct
• Request Pricing Or Organise a Quote

What is Sage Intacct Used For?
Businesses who want to move their accounts into the Cloud that will enable them to work smarter, faster and be better connected.
You can see your current financial position in real time.
Businesses who want a flexible multi-dimensional general ledger.
Global multi-entity and multi-currency enterprises who want real time online access to their accounting data.
Business users who have outgrown their current software, such as Sage 50 accountsand Sage Accounting.
Businesses who want cloud software for enhanced security and automated backups.
Manage your business on the move through the cloud, connected to Microsoft 365.
Software updates and upgrades are applied automatically.
Access your accounts data anytime from any compatible electronic device with access to the internet, such as laptops, tablets and mobile devices.
Accommodates Businesses with a large number of users.
Running Sage Intacct in the Cloud helps your business reduce paper use and become more eco friendly
Helps businesses with a very large number of financial transactions.
Cloud accounting software is cost efficient with affordable monthly subscription fees.
Chief Financial Officer (CFO) Business Dashboard
Which version of Sage Intacct is best for your business?
There are two current versions of the Sage Intacct software, Starter Edition and the full version.
Sage Intacct Starter Edition is the entry level version and is limited by the number of users and also additional modules you can purchase, it is targeted towards smaller businesses who have less budget.
Sage Intacct is the main version which enables you to purchase more users and all the additional modules, such as inventory management and contracts and subscription billing.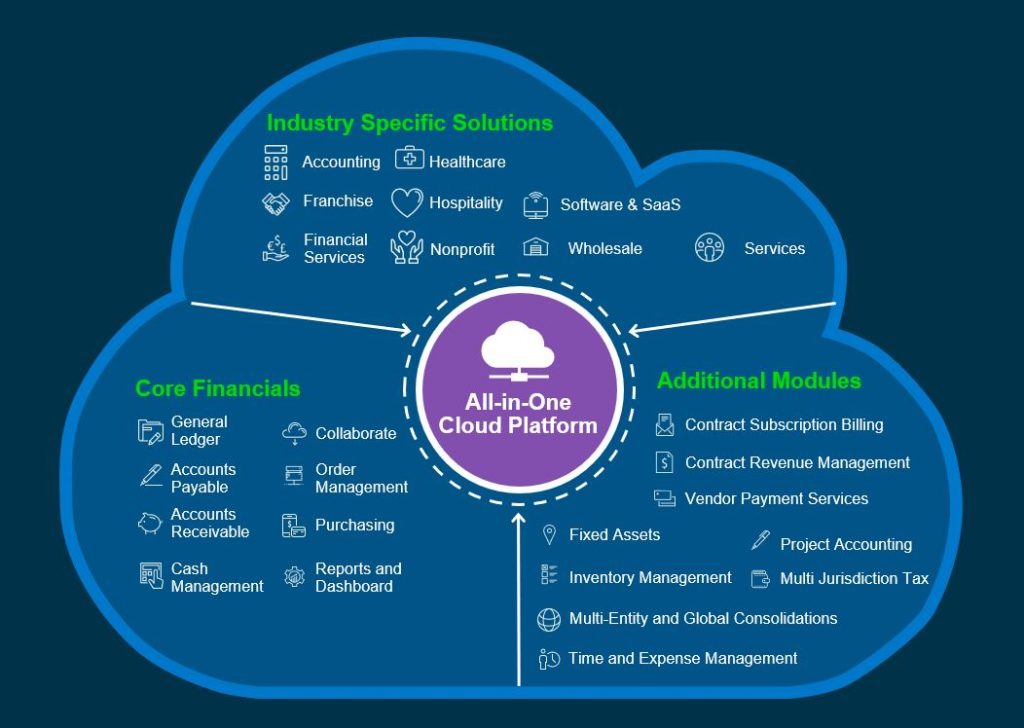 What are the Software Modules and Key Features for Sage Intacct?
Sage Intacct contains a wide range of key features that increases user efficiency, additional software modules also increase functionality in particular areas of the business from project accounting, CRM integration and manufacturing. 3 key features in Sage Intacct include and multi-dimensional intelligence general ledger, customisable interactive KPI dashboards, and automated accounting workflows, further information on key Sage Intacct features.
Sage Intacct Core Financials includes:
Additional software modules are purchased separately:
Platform:
Platform services
Web-services API
Salesforce integration
Advanced Functionality:
Sage Intacct Product Overview - Key Features
Frequently Asked Questions
What's the difference between Sage accounts software and Sage Intacct?
Sage Accounting and Sage 50 accounts are targeted for small businesses, whilst Sage Intacct has virtually unlimited number of Cloud users and because it uses a powerful database it can handle virtually unlimited number of financial transactions, all stored securely in the Cloud.
Is Sage Intacct an ERP system?
Sage Intacct is a modern Cloud-based enterprise resource planning (ERP) software that organisations use to manage day to day activities such as accounting, customers, inventory, procurement, supply chain, project management, business intelligence and compliance.
How long does it take to implement Sage Intacct?
A typical installation of the Sage Intacct starter edition takes between 50 and 80 hours to complete, depending on your accounting requirements and which software modules you require.
How much does Sage Intacct Cost?
The cost of Sage Intacct is dependent on the number of users you require and the additional modules you need for your organisation, costs will also vary dependent on the user access level, a typical starter edition implementation requires an investment from approximately £11K.
Pricing for Sage Intacct is based on a software-as-a-service (SaaS) pricing model and fees are paid monthly or annually, with a set minimum contract term, this gives you access to your Sage Intacct accounts data which Sage maintains and hosts on a secure third-party data server.
Is Sage Intacct Cloud based?
Sage Intacct is a true Cloud only accounting solution and is designed specifically for use online, the software is hosted from one of Sage's secure datacentres.
How to login to Sage Intacct?
Sage Intacct can be accessed via the cloud by going to the url https://www.intacct.com/ia/acct/login.phtml, you then need to input your Company ID, User ID and unique Password. Once you have logged into Sage Intacct you can securely access your accounting and finance data online which is encrypted over the internet.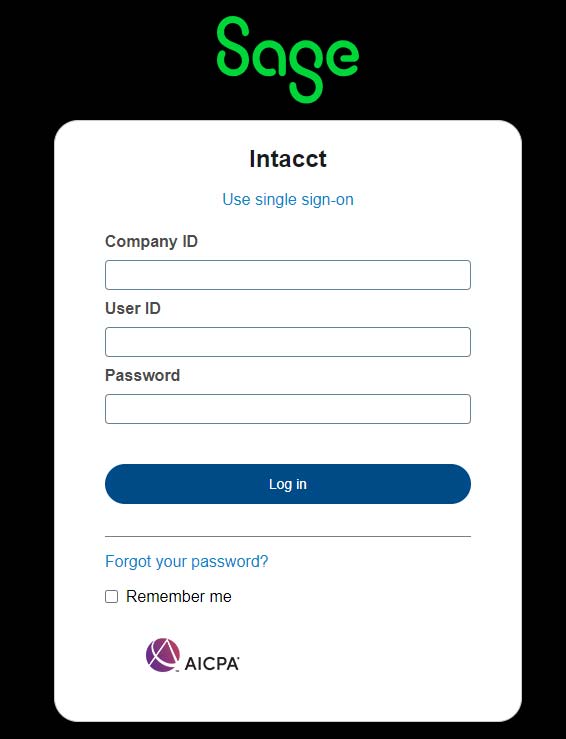 What types of companies use Sage Intacct?
Sage Intacct is widely used across all industry sectors, the most popular use of Sage Intacct of companies by industry type, the Top 10 list includes: Computer Software and IT, Non-Profit (NFP) organisations, Professional Services and Consulting, Healthcare, Financial services, Accounting, Internet, Education, Property & Real Estate and Marketing and Advertising businesses.
What database does Sage Intacct use?
The Sage Intacct solution is built on the highly reliable Oracle database infrastructure which provides exceptional performance and world class security, the Oracle database enables you to store virtually unlimited number of transactions.
Is Sage Intacct available in the UK?
Yes, the UK version of Sage Intacct was first made available in 2017 when Sage acquired Intacct Corporation ("Intacct"). The UK version is the same version that is used worldwide, further information on the acquisition of Intacct.
Sage Intacct - Demo and Product Tour
Summary of the Benefits Sage Intacct
Sage Intacct is powerful yet easy to use – The system is very tailorable, flexible and intuitive to use.
Access accounting data 24/7 securely from the Cloud – Because Sage Intacct runs in the Cloud you can access your accounts data anytime 24/7 from any device with internet access.
Add advanced software modules for additional functionality – Sage Intacct offers a wide range of specific software modules to add extra features for your business or industry vertical.
Secure – Sage Intacct is hosted at Sage's world class secure datacentres. Backups and updates are automated, so you are up to date and compliant with the latest legislation.
Automatic software updates & backups – Because Sage Intacct is only used in the Cloud, Sage automatically updates the software with the latest releases for you, so you do not need to worry about upgrades or backups.
Sage Intacct's database is fast and can handle virtually unlimited number of financial transactions – The system uses the Oracle SQL database in the Cloud.
Better control of financial processes & reporting in real time – Sage Intacct enables you to see information in real time, so you get up to date information on your financial position, KPI's, reports, processes and performance.
Reduce paper use & become Eco friendly – Running Sage Intacct in the Cloud will significantly reduce paper use throughout your business as there is no need for producing paper financial reports, bills or invoices.
Improved collaboration for Sage Intacct users – Because all financial data and accounting transactions are stored in one database in the Cloud across the whole business enables you to improve collaboration with other Sage Intacct users.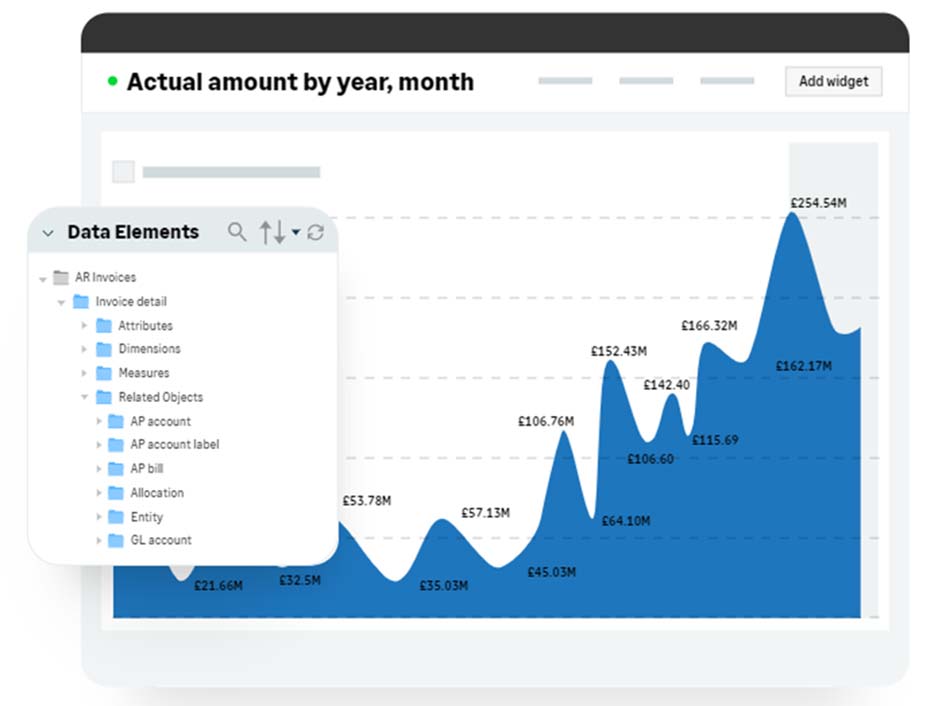 Strengths and Weaknesses of Sage Intacct
Strengths and Advantages of Sage Intacct
Best in its class for Core Financials accounting features
Designed to be true Cloud accounting software
Highly tailorable, flexible & scalable
Handles a large volume of financial transactions in the Cloud
Choose from a wide range of advanced additional software modules from project accounting to manufacturing
Impressive Return on Investment (ROI)
Affordable and Pay monthly – no need to invest in expensive servers or backup hardware
The Sage Intacct starter edition offers very quick implementation times
Trusted and used by over 17,000 businesses
Sage Intacct grows with your business
Disadvantages of Sage Intacct
Not ideal for sole traders or businesses with less than 5 employees
Contact AlphaLogix – Sage Intacct Business Partner
AlphaLogix was founded in 1995 and today we are a leading tier 1 strategic Sage Intacct Business partner in the UK. Our Sage consultants have successfully implemented hundreds of Sage sites across the UK and we understand the need for a well-planned and smooth implementation process.
All of our Sage Intacct consultants are certified by Sage and we pride ourselves in providing outstanding customer service and help desk support, with quick resolutions for your technical queries. You can always call upon us for expert help and guidance for Sage Intacct.
We have Sage Intacct consultants and offices throughout the whole of the UK.
Contact us on 0330 043 0140 or email us at info@alphalogix.co.uk to discuss Sage Intacct or to organise a consultation call, demonstration, meeting or personalised quote.
Request a Call Back to Discuss Sage Intacct
• Request a Free Consultation Call or Meeting
• Organise a Personalised Demonstration of Sage Intacct
• Request Pricing Or Organise a Quote

Sage Intacct Professional Services:
AlphaLogix provides a wide range of professional services and sage technical support with a choice of ongoing Sage Intacct support helpdesk packages.
Project scoping and documentation
Implementation and installation
Customisation and configuration
Sage Intacct training courses
Upgrading existing accounts software to Sage Intacct
Development
Install 3rdparty applications from Sage marketplace
Integrationwith other Business systems
Software development and ecommerce integration
Upgrades and migrations from Sage 50
Helpdesk and technical support

Sage Intacct Help desk telephone access
Quick resolution to issues
Remote access
Log support tickets
On-going annual support contracts based around your requirements and budgets
Switch support contracts from your existing Sage business partner
The support we receive from our Business Partner, AlphaLogix is invaluable
AlphaLogix as our Sage business partner have been professional and efficient in dealing with our needs and issues from the start
Sage gives you a fantastic view of what's happening in real time, so your business can become even more efficient and streamlined
Good, fast response to our queries with Alphalogix