---
What is Sage Intacct?
---
Sage Intacct is the market leading cloud-based accounting and financial management software suitable for small to medium sized businesses. Sage Intacct received the highest score in core financials for lower midsized companies for Gartner's critical capabilities analysis for Cloud accounting.
Sage Intacct financial management and accounting software is highly configurable, flexible and scalable. The software was built by financial professionals for finance users, and the software is designed to be deployed online in the Cloud for a low cost of ownership, further information about costs and pricing.
One of the key strengths of Intacct is that it has an open API architecture, Sage Intacct software enables you to integrate with other business systems such as CRM, ePOS, Salesforce, Payroll, and lots more.
Download the New Sage Intacct Brochure in PDF format
Buyers Guide to Selecting an Accounting Solution Download​
Sage Intacct Salesforce Integration Download
Sage Intacct Dashboards and Reporting Download

Intacct Overview
Why Use Sage Intacct?
Sage Intacct is the market leading Cloud accounts software for small to medium sized companies, and has won many awards over the years.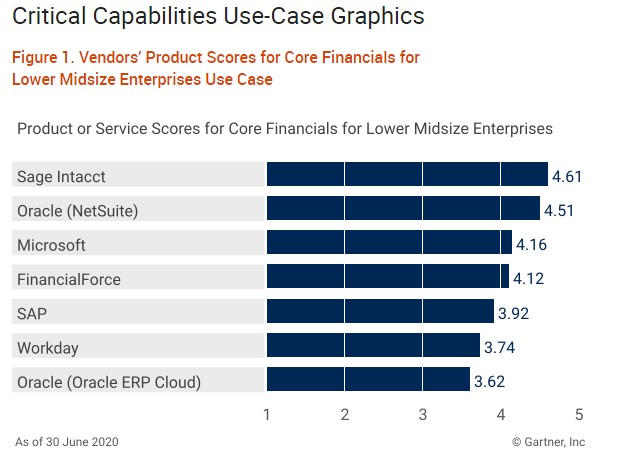 Companies choose Sage Intacct because it automates the complete array of accounting processes so you can improve processes, increase user productivity and boost business growth. A typical implementation achieves a 250% Return on Investment (ROI), achieves a 65% productivity improvement and an average payback time of around 6 months.


Sage Intacct accounting software - #1 in customer satisfaction
Sage Intacct earned the highest customer satisfaction in the industry from G2 since Sage's focus was on delivering an integrated accounting solution that puts your success first.
"We chose Sage Intacct because it delivers everything we wanted—reliable dimensional reporting, with scalability for future growth in an easily accessible cloud environment." Kelly Miller, Director of Finance
Sage Intacct Demo
Is Sage Intacct Actually In The Cloud?
The software has been specifically designed to be used as a Cloud-based accounting solution as this brings many benefits for your business, including;
Lower cost of ownership
Pay monthly rather than paying a large up-front cost
Mobile access to accounts data at any time
Your accounts data is stored in a secure environment
No time consuming backups
Share accounting data easily across your business
Improved collaboration across your business
Access data 24/7 from any location with internet access
Intuitive and easy to use
The software is consistently updated and improved without you having to do anything
Collaborate easily with your accountant
Intacct enables you to quickly add or remove users, and change permission rights
Powerful online interactive dashboards that reduces your paper use
Using accounts software in the Cloud helps you to avoid investing in expensive servers or backup hardware
For more information regarding other online accounting software benefits.

What Are The Core Modules?
The Sage Intacct software uses a modular approach that enables you to meet your accounting requirements today and gives you the flexibility to add more features and functionality tomorrow. There are five main modules that enables you to add extra features, within each major module there are also other modules that provide you with extra features, the core modules include;
Core Financials
Billing software
Dashboards and reporting
Platform
Advanced Functionality
When you purchase the system you start off with the Sage Intacct Core Financials module as standard and extra features can be added to the accounting software by purchasing the appropriate module.
Sage Intacct: Cloud Financial Management for Forward-Looking Finance Leaders
What Industries Can Intacct be Used In?
The system can be used across virtually any industry due to its ability to be customised. Its powerful API open architecture technology enables you to seamlessly link to your existing systems.

Just some of the industries we have worked with include:
Financial services
Professional services
Government
Not for Profits
Manufacturing
Retail
Construction
Creative industries
Real estate
Wholesale
Healthcare
Accountants
Hospitality
Franchise
Tourism
Multi-nationals
Subscription and SaaS
Plus many more businesses that want to put their accounting software in the Cloud
Sage Intacct Financial Visibility

Sage Intacct Customer Success Case Study – L W Cole
L W Cole specialises in supplying and installing appliances to the UK house building community across England and Wales.
The company has recently grown so rapidly, it was clear its financial management processes needed an overhaul to keep up. It chose Sage Intacct for its finance and business management system.
The business needed a cloud-based system that could communicate with its existing infrastructure and fit within budget.
Before Sage Intacct, the financial outlook had to wait until the end of the month. Now, financial insights and projections can be generated at any given moment.
""I genuinely think Sage Intacct is the best finance software I've ever used. The depth and power of the reporting make it a stand out system"
Mike Newton – Finance Director - L W Cole (Distributors) Limited
Sage Intacct Customer Success Case Study
What are the Benefits of Working with a Sage Intacct Partner?
Implementing a new Cloud based accounting system can be a time-consuming and difficult task. Ensuring a successful implementation outcome needs careful planning, documentation and easy access to a certified Sage Intacct Partner who have the right skillsets.
Our certified Sage consultants at AlphaLogix have successfully implemented hundreds of Sage sites across the UK and we understand the need for a well-planned and smooth implementation process so you have a much less stressful and much more successful end result.

Contact AlphaLogix to Discuss Your Sage Intacct Requirements or to Book a Meeting or Consultation Call
Our certified Sage Intacct accounting experts will help you discover how Sage Intacct can be setup to improve your financial processes within your business. We will provide you with a free initial meeting and consultation call as well as fully justified costs and pricing for your requirements.
Call us today on 0208 050 3216 to organise a meeting, demo or to speak with one of our Intacct experts, alternatively email us at info@alphalogix.co.uk.
Our dedicated Sage Intacct consultants are committed to ensuring you get the most from your software investment and we offer the following services.
What Sage Intacct Professional Services Do We Provide?
Related Information