---
What are the Differences between Sage Intacct and Sage 50?
---
Sage 50 and Sage Intacct are both market leading accounting software solutions in their respective target markets. Sage 50 Accounts is great for smaller businesses or start-ups, whilst Sage Intacct is ideal for larger SMB's or medium sized enterprises who are looking for a powerful Cloud based finance management system.
Sage 50cloud is available for up to 20 users and can handle up to 1.5 million financial transactions, whilst Sage Intacct has virtually unlimited number of Cloud users and because it uses a powerful database it can handle virtually unlimited number of transactions, all stored securely in the Cloud.
Sage Intacct is the natural progression for Sage 50 users who are looking for a more advanced Cloud based accounting solution. Many Sage 50 users who have outgrown their existing software move to Sage Intacct.
What is Sage 50 and what is Sage Intacct?
Sage 50 was developed in the UK and is a set of accounting and payroll software products. The system was initially known as Sage Line 50 and in the 2000s is was rebranded as Sage 50, later on the software was renamed Sage 50cloud after cloud-connected functionality was added. The software is a market leading accounts solution for small businesses with over 400,000 companies using it in the UK.
Sage Intacct was developed in the USA as a Cloud-based Financial Management solution and is now available in the UK, Canada, South Africa and Australia. The software was initially developed by Intacct Corporation in 1999 and it was acquired by Sage in 2017 for $850 million.
Download the Sage 50 Brochure in PDF Format
Download the New Sage Intacct Brochure in PDF format


Sage Intacct vs Sage 50 Feature Comparison
Both Sage 50 and Sage Intacct will enable you to take control of your business finances, the products are intuitive and easy to use and have many innovative features. Sage 50 is ideal for small companies and start-ups who want basic accounting software features.
Sage Intacct is an advanced Cloud based accounting solution that can manage complex accounting processes for your business. The solution is highly configurable, flexible scalable and innovative, whilst also being easy to use with its intuitive user interface.
Sage 50 Accounts Intro
Sage 50Cloud Features
Manage income, cash flow, expenses and payments
Connect to your bank account for easy reconciliation
Create quotes and professional looking invoices
Seamless integration with Office 365
Basic stock and product information
Financial reports
Create purchase orders and sales orders
Trade in multiple currencies
Manage multiple departments and budgets
Up to 20 users
Up to 1.5 million transactions
For further information on the features found in Professional.
Sage 50 Customer Success Case Study – DPR Motorsports
British motorsports company DPR shows its winning streak with Sage 50. DPR has built thirty of the top-performing cars in the Caterham Motorsport Championships. Operations are split between the workshop and the main UK racetracks.
Thanks in part to Sage 50, DPR is excelling. The company has developed a winning formula for business success based on a deep understanding of the customer and a firm commitment to team excellence.
DPR Motorsports uses Sage 50 to keep a close eye on its business both on and off the race track, with powerful stock and inventory management updated in real-time from any race location, plus simple but effective bank reconciliation that provides improved financial transaction accuracy.
"We could not run our business without Sage, efficiently or otherwise."
"When customers ask you a question, you've got to be able to provide the answers. Recording the customer data in Sage gives you the ability to get the information out accurately."
Derrick Rowe, CFO, DPR Motorsports
Sage 50 Customer Success Case Study – DPR Motorsports
Sage Intacct Features and Modules
The Sage Intacct product is an advanced feature rich Cloud accounting system that offer businesses much more flexibility and functionality than basic accounting software.
Sage Intacct is a popular choice for larger SMB's and medium sized businesses because it can manage complex accounting processes and requirements.
Sage Intacct Received the Highest Score for Core Financials for the 5th year Running
Sage Intacct received the highest score in Core Financials for Lower Midsize Enterprises Use Case in Gartner's 2021 Critical Capabilities for Cloud Core Financial Management Suites for Midsize, Large, and Global Enterprises.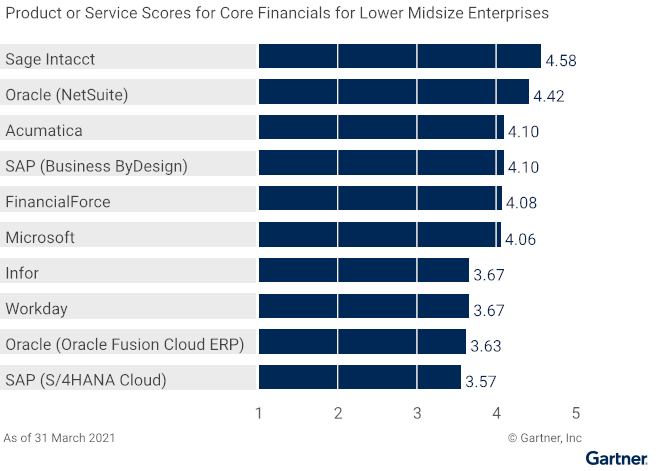 Sage Intacct Core Financials is the main module for Intacct, the module is commonly referred to as just Sage Intacct Financials and is the central accounting software module where all other Sage Intacct modules feed financial accounting information into, enabling you to run financial reports to get valuable insights to increase profits and grow your business.
Additional modules can be added to Intacct Core financials, popular modules include the following:
Popular Additional Modules for Sage Intacct
Billing software
Fixed Assets
Project accounting
Multi-entry and global consolidations
Vendor payment services
Inventory Management
Salesforce CRM Integration
Revenue recognition
Spend Management
For detailed information on the full range of features available in Sage Intacct.
Buyers Guide to Selecting an Accounting Solution Download​
Sage Intacct Salesforce Integration Download
Sage Intacct Dashboards and Reporting Download
Sage Intacct Demo
Sage Intacct Customer Case Study
L W Cole specialises in supplying and installing appliances to the UK house building community across England and Wales.
The company has recently grown so rapidly, it was clear its financial management processes needed an overhaul to keep up. It chose Sage Intacct for its finance and business management system.
The business needed a cloud-based system that could communicate with its existing infrastructure and fit within budget.
Before Sage Intacct, the financial outlook had to wait until the end of the month. Now, financial insights and projections can be generated at any given moment.
""I genuinely think Sage Intacct is the best finance software I've ever used. The depth and power of the reporting make it a stand out system"
Mike Newton – Finance Director - L W Cole (Distributors) Limited
Sage Intacct Case Study
Is Sage 50 Accounts Right for My Business?
With over 400,000 companies in the UK using Sage 50 accounts shows that the software can be used by virtually any kind of business. The Sage 50 finance system is aimed at smaller companies and start-ups who want basic accounting functionality.
Sage 50 was not designed to be a company wide ERP system nor was it designed to automate very complex accounting processes, yet it does offer great accounting features for smaller companies.
Typical businesses that use Sage 50 include:
Smaller companies
Start-ups
General businesses
Retailers and food shops
Online retailers
Construction
Manufacturing
Not for Profits
Wholesalers
Accounting and Bookkeepers
Professional services
In fact, most business industry types use Sage 50 accounts
Sage 50cloud Accounts (UK) - VAT - Online submissions
Is Sage Intacct Right for My Business?
Sage Intacct is a popular accounting solution for companies looking for an advanced Cloud based finance system. The software is targeted towards SMB's and medium sized businesses who want to run their finances in the Cloud.
The Sage Intacct system is a modular design which means that you can add extra features and functionality as and when you require it by adding the modules you require.
Intacct is an advanced Cloud accounting solution with a high level of functionality which enables you can manage complex accounting processes.
The software is used in virtually every industry type and by businesses of every size, popular business users include the following industry sectors:
General business
Financial services
Healthcare
Technology
Not for Profit
Software as a service (SaaS)
Hospitality
Professional Services
Wholesale distribution
Accounting
Plus, many more...
Sage Intacct Cloud Financial Management
What are the Key Strengths of Sage 50 and Sage Intacct.
Sage Intacct
Sage Intacct has many key strength's and has won many awards and was voted best in its class by Gartner. One of its main key strengths is its ability to handle Multi Legislation and Multi Currencies, the system also has advanced reporting and dashboard capabilities.
The software also has a wide range of additional modules, such as its ability to integrate with Salesforce.
Other Key Strength's Include:
Sage Intacct Financials is the best in its class
Scalable and highly configurable financial management software
Modern Cloud based flexible architecture
Achieved the highest product score in the marketplace
Designed By financial experts for accounting professionals
Built exclusively for use in the Cloud
The software achieved the highest customer score in the marketplace
The accounting solution is extremely flexible
Outstanding and powerful financial reporting
Sage 50 Accounts
The main key strength of Sage 50 is that it offers easy to use accounting functionality for smaller companies at an affordable price.
Another major strength of Sage 50 is that it integrates seamlessly with other modules in the Sage 50 range, such as: Payroll, HR, Sage 50 P11D, Manufacturing, Forecasting and CRM, this brings you all the advantages of a streamlined and fully co-ordinated business.


Contact AlphaLogix to Discuss Your Sage Accounting Requirements
Our Sage experts will help you discover which Sage Accounts software is best suited for your business based on your requirements, business size and industry type.
We will provide you with a free initial consultation call, and we can also provide you with a free demonstration on both products.
Call us today on 0208 050 3216 to organise a demo or to speak with one of our experts, alternatively email us at info@alphalogix.co.uk. We will help you through every step of the selection process, implementation process, including training and support.
Related Information
Sage Intacct Blog
Sage 50 vs Sage 200
Sage 200 vs Sage Intacct
Sage Intacct vs Sage Business Cloud