What is Sage 200 Project Accounting?
What is Sage 200 Used For?
Contact us on 0330 043 0140 or email us at info@alphalogix.co.uk to discuss Sage 200 or to organise a meeting, consultation call, demonstration or personalised quote.

Gain better control over your costs and profits by understanding all of the details and transactions associated with your projects.
Collect timesheet and expense information (through Sage 200 Web Time and Expenses) from anywhere online, saving time and ensuring accurate payments are made.
Customise your project structures to suit your business with an unlimited number of parent and sub projects.
Large variety of project costing reports and cost breakdowns are available to better manage your project costs.
Name and configure additional fields to further improve your tracking and reporting of project costing.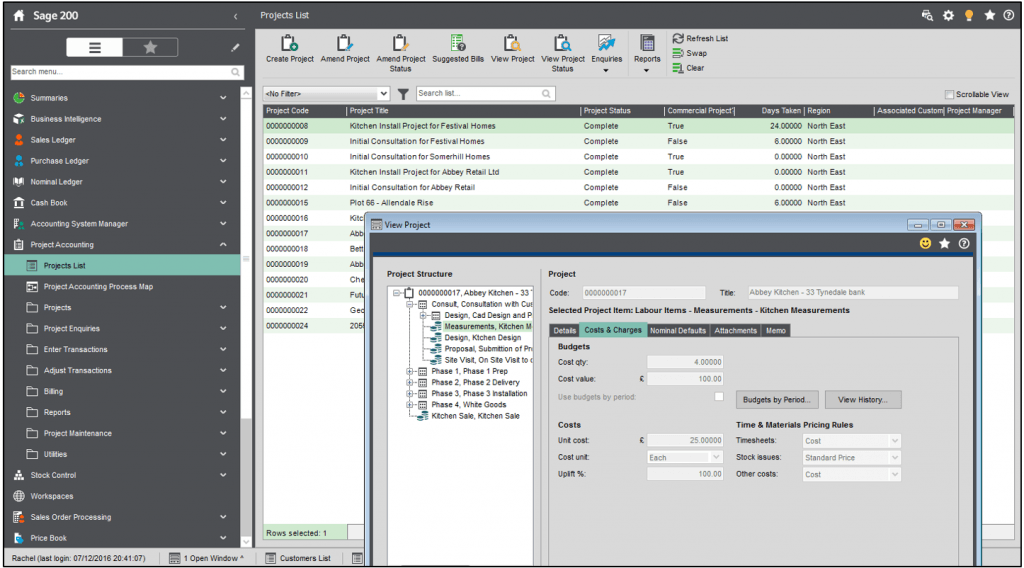 Project Resource Management
If your projects involve charging for people's time, Sage 200 is well suited to capture this information quickly and securely.
Capture timesheet and expense information via batch entry or remotely online.
View and authorise timesheets and expenses online.
Pay and work with contractors in the same way as suppliers if required.
Give your Project Managers greater autonomy by allowing them to raise and authorise Purchase Orders
Financial & Commercial Integration
Throughout Sage 200 integration between modules is key and this also applies to Project Accounting, which links to Sales and Purchase Order Processing, and Sage Payroll.
Convert Sales Orders and Quotations into projects whilst ordering and allocating the stock for those projects.
Track time and resources and link the results to Sage Payroll.
Work In Progress (WIP) allows you to post costs to associated nominal accounts and display costs as finalised alongside revenues posted to the Profit and Loss.
Choose the level of integration to suit your requirements
Sage 200 Overview – Sage 200 Standard and Professional
Billing schedules can differ between projects and customers, and Sage 200 Project Accounting was designed and developed taking this into consideration.
Flexible billing schedules to suit your projects and customers, showing you when a customer should be invoiced and by how much..
Choose from manual or automatic bill production to streamline your processes.
A variety of simple to use templates that simplifies the management of billing.
Improve customer satisfaction, producing accurate and timely bills by capturing and allocating project costs.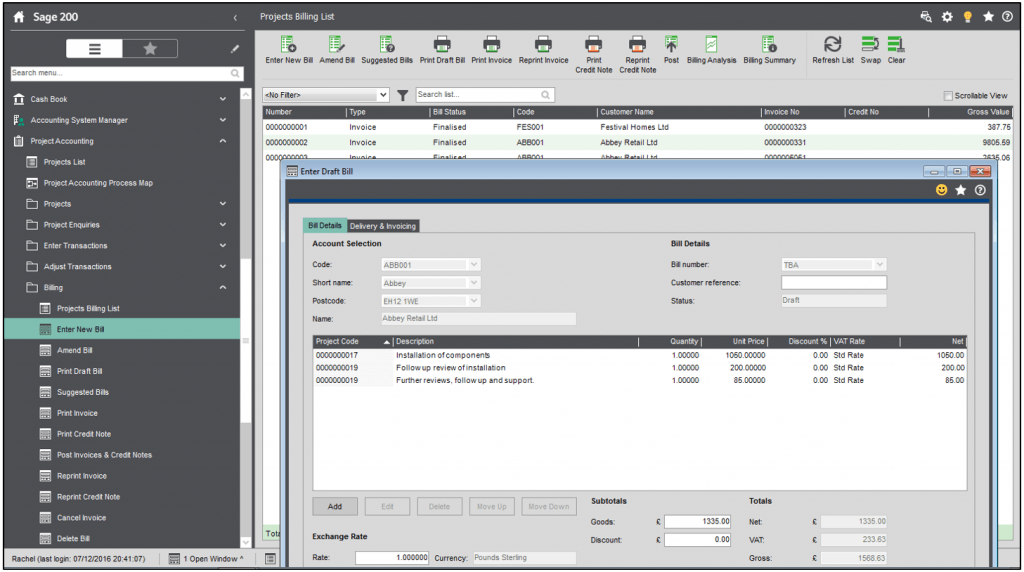 Sage 200 Customer Success Case Study - Playdale
Playdale Playgrounds is in the business of delivering fun. Playdale prides itself on designing exciting, innovative and educational playgrounds, with Sage 200 powering everything behind the scenes.
From improved customer satisfaction rates, an 18% reduction in costs from defects, to a 22% increase in quote conversion, Playdale continues to grow.
""Fundamentally, Sage is the 'business master operating system.' It powers how we communicate with our customers in CRM, how we quote our products, how we process our orders, and in production, how we plan for materials and resources."
Barry Leahey MBE, Managing Director, Playdale
Sage 200 Customer Success Case Study - Playdale