---
Sage 200 Bill of Materials
---
The full Manufacturing Suite is an incredibly powerful and comprehensive set of modules, but for many businesses involved in assembly, the Sage 200 Bill of Materials (BoM) module alone may fulfil your requirements.
From materials and machines, to labour and operations; split your assembly operations into manageable segments.
Create and store multiple BOM templates for future use.
Accurate cost-analysis can be performed from component level, through to the full build.
The Trial Kitting tool forecasts your production capabilities by reviewing current stock levels, against the Bill of Material specification.
Batch and Serial Number functionality can be applied, from component level, through to the full build.
Download the Free Sage 200 Brochure.
Godminster Cheese Sage 200 Success Story Download
Dowload Sage 200 Bill of Materials Datasheet
Sage 200 price list download

Trial-Kitting
Analyse your capability of producing a BoM before committing it to production, taking into account various elements such as build costs and your current stock levels.
nclude an unlimited number of BoMs in your trial-kitting analysis
Review the quantity of each individual component required to produce your BoM's, and whether you currently have enough of these components in stock..
nalyse the labour resources, or types of labour by how much time will be required for each labour-type.
Review the Machines, Tooling and Subcontractor work required for your BoM.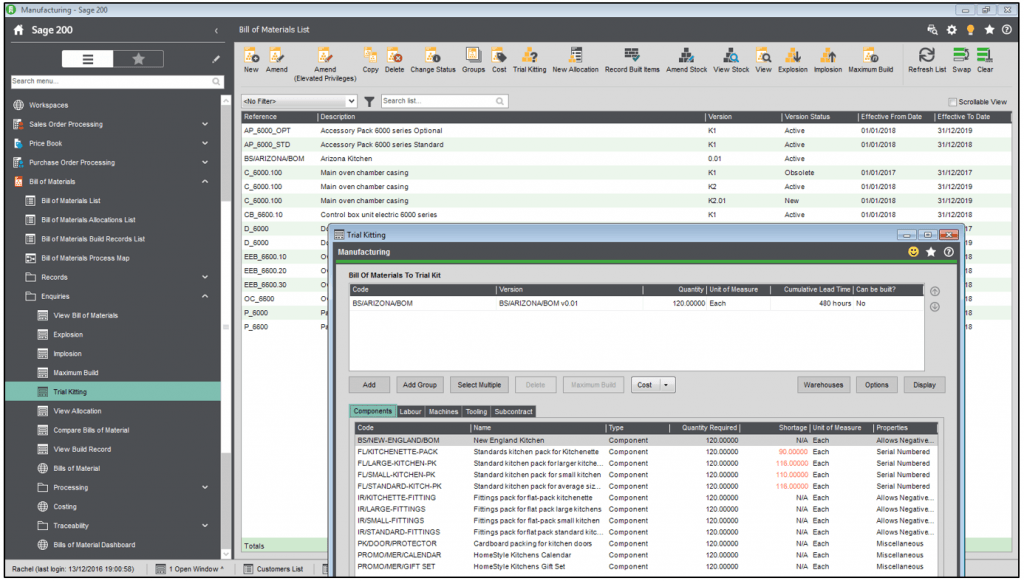 Production Automation
There are areas within the BoM module that can be automated, saving your operation a considerable amount of time and alleviating your workforce from repetitive and error-prone tasks.
Automatically generate Purchase Orders when stock levels reach a pre-defined level.
Automatically save multiple versions of BoM records for better control and traceability over your production process.
When multiple BoMs are being allocated you can choose whether to automatically continue, stop immediately, or stop after producing the BoM.
Automatically print picking lists after the creation of allocations.
Production Costing
The Costing option allows you to analyse potential and actual costings for individual or groups of BoM records.
Gain a good understanding of the timings and costs associated with your BoMs.
Use the Costing feature to help manage your selling prices.
Use the comprehensive built-in reports to review production costs from many areas of your business separately such as operations, machines, materials and labour.
Analyse your post-production margins to ensure your processes are sustainable.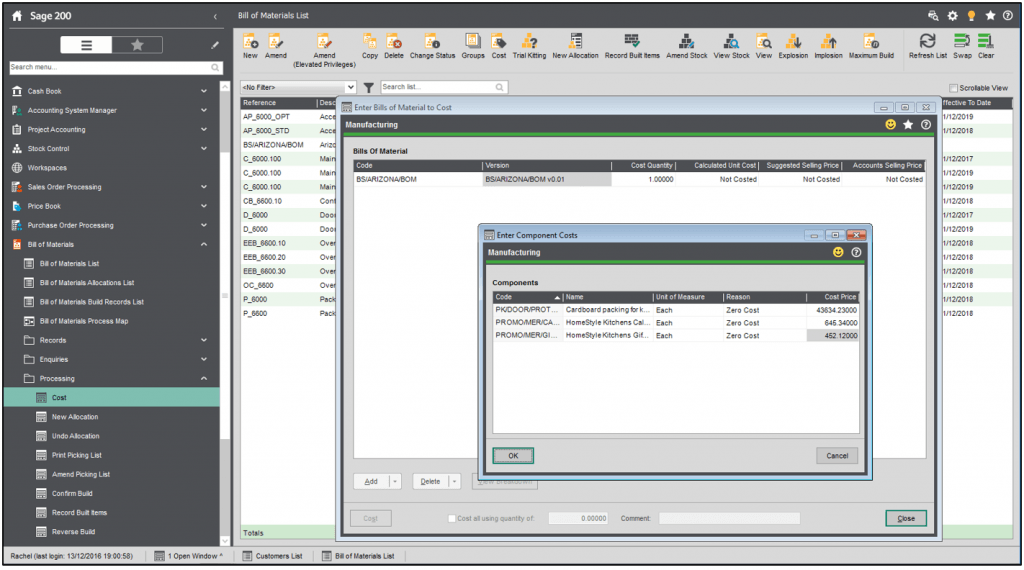 Traceability and Version-Control
Store multiple versions of BoM records, automatically tracking each change made to the BoMsto provide your business with an audit trail of each step of the production process.
Review all of the changes that have been made to your BoM at any point in time.
Roll back to any previous point in the BoM history.
From the lowest component level up to the finished product, track each and every element of your item.
Monitor quality standards and adhere to ISO regulations, tracing batches back to suppliers and key components.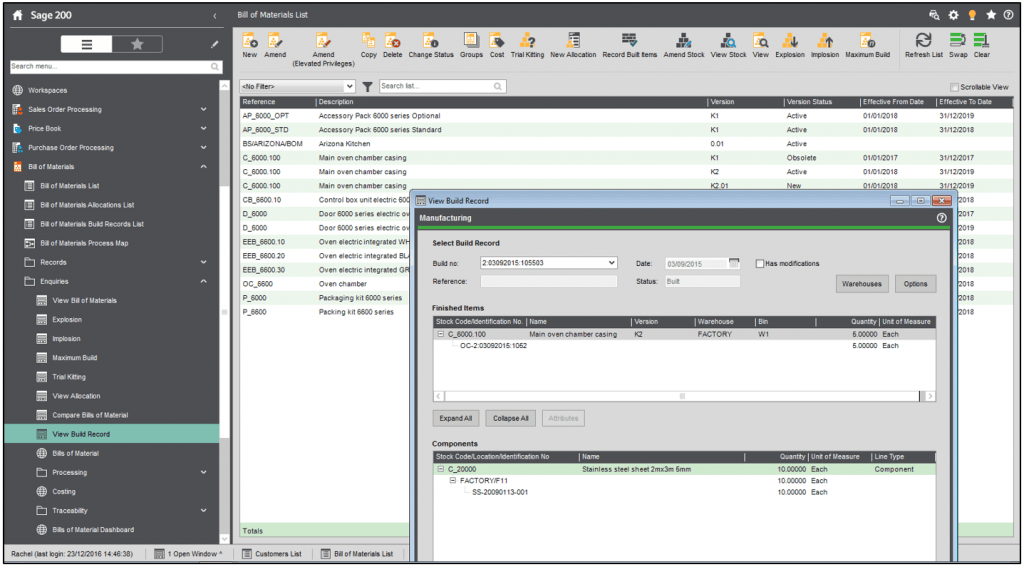 Business Intelligence
The Sage 200 Bill of materials module integrates extremely well with many other areas of Sage 200 such as Stock Control and Manufacturing, streamlining your internal processes and coordinating your distribution channels.
Create an allocation to reserve stock whilst you generate pick lists to source these materials from stock.
Works in tandem with Manufacturing to create Works Orders and Sales Orders.
Automatic creation of Purchase Orders to fulfil BoM requirements..
Drive more accurate Sales Forecasts with accurate build costing.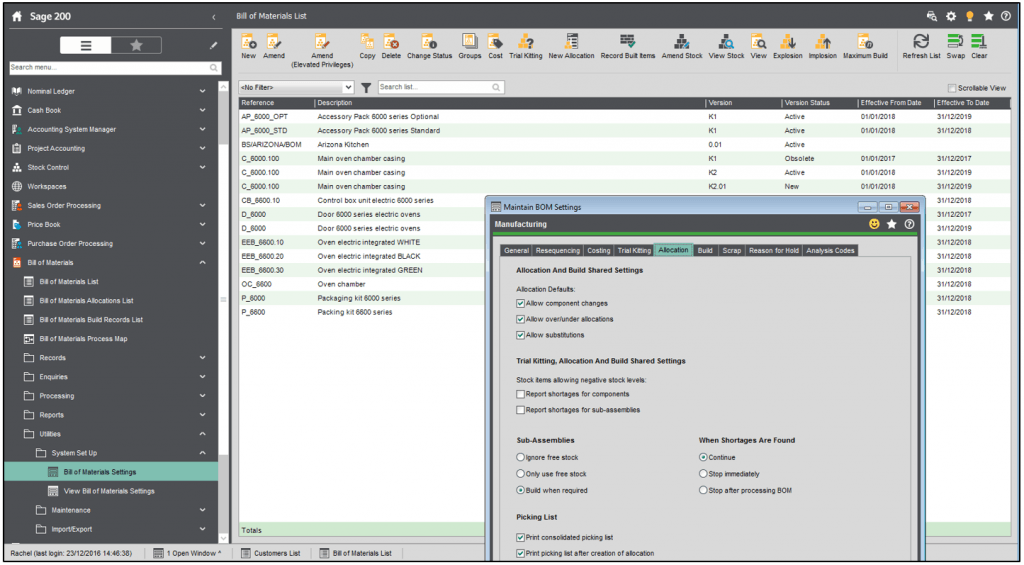 Sage 200 Customer Success Case Study - Playdale
Playdale Playgrounds is in the business of delivering fun. Playdale prides itself on designing exciting, innovative and educational playgrounds, with Sage 200 powering everything behind the scenes.
From improved customer satisfaction rates, an 18% reduction in costs from defects, to a 22% increase in quote conversion, Playdale continues to grow.
""Fundamentally, Sage is the 'business master operating system.' It powers how we communicate with our customers in CRM, how we quote our products, how we process our orders, and in production, how we plan for materials and resources."
Barry Leahey MBE, Managing Director, Playdale
Sage 200 Customer Success Case Study - Playdale
If you would like to discuss how your business will benefit by implementing Sage 200 Bill Of Materials ( BOM ) please contact us or talk to one of our Sage specialists on 0845 259 3141