---
What is Sage Intacct Dashboards and Reporting?
---
Sage Intacct Dashboards and Reporting is a module of Sage Intacct. The dashboards and reporting software comes with a wide range of standard reports and dashboards, Sage Intacct dashboards and reports also gives you the tools to easily create your own reports, graphs, dashboards, and visualisations that analyse performance by business driver.
The Sage Intacct dashboards and reporting software provides visibility into your key accounting metrics and financial data, which is critical to running your business. The reporting and dashboard software provides real-time information on your financial position so you avoid the headache of waiting on multiple financial reports.

Reporting and dashboards in Sage Intacct ensures you get the deep operational and business performance insights that tell you why – and the real-time view that enables you to act today.
Your business can use Sage Intacct dashboards and reporting to setup executive dashboards that show key accounting KPI's like sales income, cashflow, accounts payable and receivables, profit and loss report, payments, and more.
To use the Sage Intacct dashboards and reporting module you need to have Sage Intacct Core Financials first, then you can purchase the reporting and dashboards add on.
Download the New Sage Intacct Brochure in PDF format
Buyers Guide to Selecting an Accounting Solution Download​
Sage Intacct Dashboards and Reporting Download


Sage Intacct Financial Reporting and Dashboards
Features and Benefits for Sage Intacct Reporting and Dashboard
Real time financial reporting and dashboards provide a vivid picture of your company's financial situation, which can mean the difference between success and failure. Sage Intacct reporting and dashboards has a vast range of features that enables you to see every dimension of your business performance, get the rich reports you need the way you want them, and it makes it easy for stakeholders to get the insights they need.
Report on every dimension of your business - Sage Intacct reporting and dashboards includes ten built-in dimensions for capturing and reporting on business context. You can also create additional custom dimensions to track other business drivers.
Get the rich reports and dashboards you need - Take advantage of more than 150 pre-built accounting and financial reports within Sage Intacct or build and customise your own reports right from within Sage Intacct. With flexible scheduling and delivery options, like email and cloud, you can get reports when you need them, where you need them.
Make it easy for stakeholders to get the insights they need- Sage Intacct dashboards and reports enables you to display real-time reports, metrics, and insights tuned to the needs and perspectives of all stakeholders—in finance, sales, operations, and the boardroom.
Sage Intacct Dashboards and Reporting Download
Sage Intacct Cloud Financial Management Software
Sage Intacct Flexible Reporting Features
Sage Intacct dashboards and reporting module provides you with a wide range of flexible reporting features that enables your business to get accurate and real time financial information, some of the features include:
Built in standard reports and dashboards – Sage Intacct has 150 built in reports that enables you to gain greater insight into financial performance.
Dashboards and reporting module has budget vs. actual reporting - Incorporate budgets into financial reports to track relative performance against actuals.
Quickly lay out sophisticated reports— Create new reports and dashboards from scratch using an intuitive guided user interface, create reports from templates, or from existing reports.
Powerful operational reporting - Create new operational reports on dozens of types of records such as open invoices, missing time sheets, and customer aging.

Sage Intacct Customer Success Case Study – L W Cole
L W Cole specialises in supplying and installing appliances to the UK house building community across England and Wales.
The company has recently grown so rapidly, it was clear its financial management processes needed an overhaul to keep up. It chose Sage Intacct for its finance and business management system.
The business needed a cloud-based system that could communicate with its existing infrastructure and fit within budget.
Before Sage Intacct, the financial outlook had to wait until the end of the month. Now, financial insights and projections can be generated at any given moment.
""I genuinely think Sage Intacct is the best finance software I've ever used. The depth and power of the reporting make it a stand out system"
Mike Newton – Finance Director - L W Cole (Distributors) Limited
Sage Intacct Customer Success Case Study
Dimension driven reporting – Sage Intacct has a visual user interface that enables you to create reports, the interface enables you to quickly filter, groups and summarise you financial accounting data.
Sage Intacct has ten standard dimensions - Quickly slice, dice, and summarise your accounting data by business drivers including project, customer, location, department, vendor, item, employee, warehouse, contract, and class.
Create user defined dimensions – The reporting and dashboards software provides greater reporting flexibility by adding user defined dimensions withing Sage Intacct.
Drill down capabilities to view detailed financial data – Sage Intacct enables you to drill down from summary numbers to detailed figures, journal entries, and underlying transactions.
Build flexible account groups - Combine any accounts to build account groups and even create computational groups for advanced KPI's such as Inventory days.
Build virtually any reporting layout - account groups in Sage Intacct enables you to drag and drop account groups to build virtually any reporting layout for various industry requirements
Sage Intacct Dashboards and Reporting Download


Sage Intacct has a Set of Comprehensive Financial Accounting Dashboard Features
Sage Intacct dashboards and reporting module has a range of comprehensive features to help you build intuitive dashboards to report on your financial performance and key performance indicators (KPI's).
Easy to use drag and drop – Sage Intacct dashboards has an easy to use drag and drop feature that enables you to lay out dashboard elements quickly.
Build dashboards with tailored content- Sage Intacct enables you to build dashboards that include reports, graphs, charts, visualisations, custom lists, calendars, links, and more, so you can view your financial KPI's in real time.
Include Performance Cards, Graphs, Financial Reports, and more in your Sage Intacct KPI Dashboards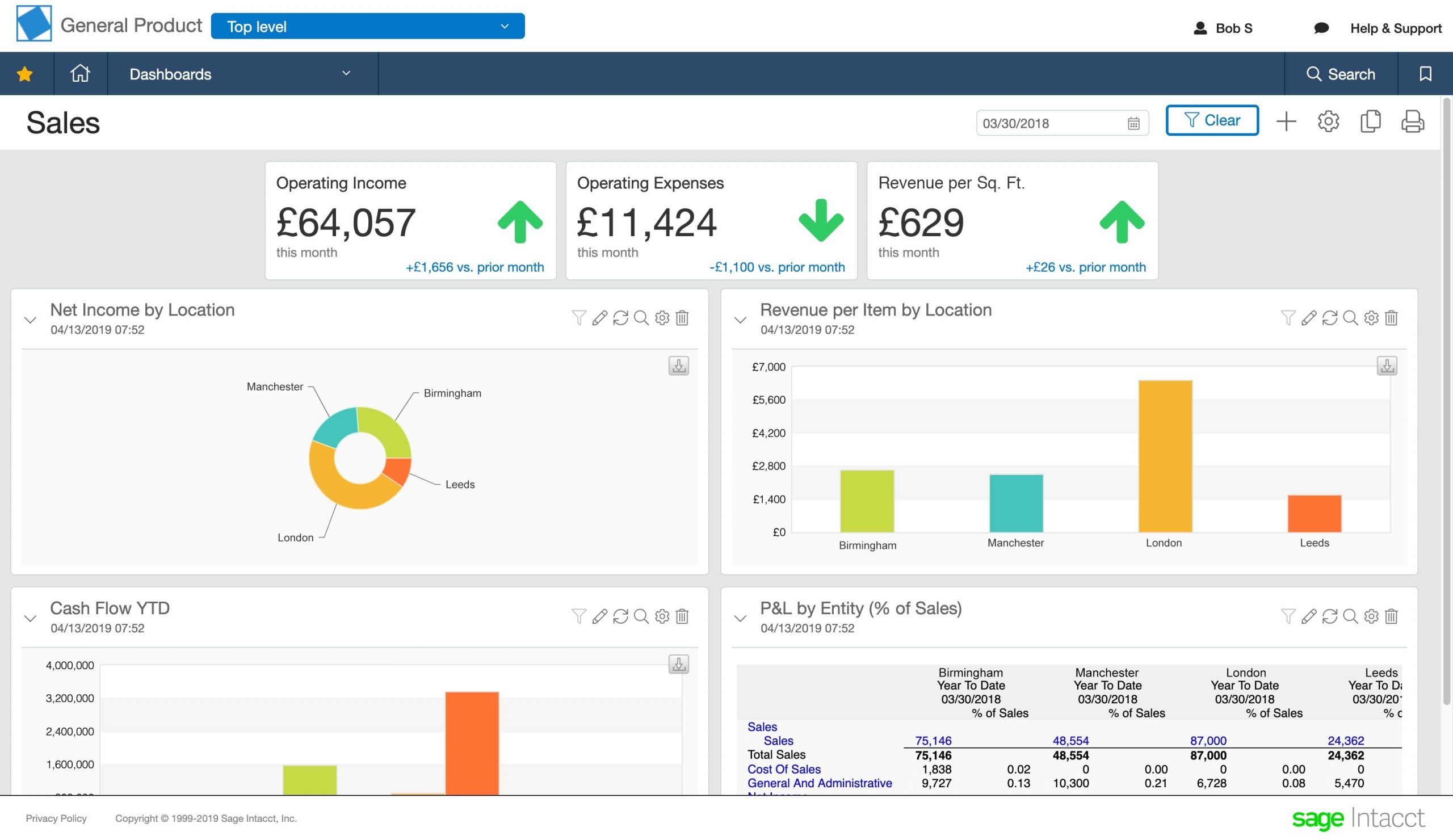 Sage Intacct Dashboard filters - the dashboards module in Intacct enables you to use dimension filters to instantly view the metrics and KPI's on any given dashboard—while focusing on a specific product, location, project, or other business driver.
Access Dashboards whilst Mobile - Intacct dashboards can be viewed whilst you are working remotely or travelling. The accounting software enables you to view dashboards on the go via smartphones and tablets so you have real time financial information available at all times.
Compare financial performance against historical data – Sage Intacct dashboards enables you to quickly compare current or historical views into performance.
Raise Your Game With Sage Intacct
Sage Intacct Dashboards and Reports Visualisations
Having access to real time financial accounting information is crucial for your business to make the right decisions, Sage Intacct enables you to see important up to date financial data at any time, so you can summarise your current financial position whilst having the ability to quickly drill down into the details and individual financial transactions.
Sage Intacct Report and Dashboard visualisations - Quickly highlight trends and exceptions in detailed reports using conditional highlighting, trend indicators, colour scaling, and spark lines.
Intacct Charts and graphs – A picture says a thousand words, Sage Intacct reporting and dashboards software enables you to create charts and graphs—then publish them on dashboards or view them alone.
KPI performance cards - Highlight trends in key metrics using dashboard visualisations that show actual values, period changes, and variance from budget.
Sage Intacct Detailed Demo
Sage Intacct Dashboards & Reporting Usability Features
Usability Secure access - Restrict dashboard access to approved users.
Automatic scheduling - Push out scheduled reports on time, every time.
Customised formatting- Easily set fonts, colours, and spacing for reports.
Report exports - Output your reports in HTML, PDF, CSV, or Excel format.
Chart and graph exports - Output your chart or graph in HTML or PDF format.
Flexible delivery - Send scheduled or manual reports to email, to Sage Intacct storage, or to the cloud.

Use Our Sage Intacct Report and Dashboard Design Services to Create Your Companies KPI Dashboards & Reports – Custom Report Design Consultancy.
Need a custom report design from Sage Intacct, Sage 50 or Sage 200 then we can help.  We have produced a wide range of reports for clients for these products, as well as reports from external products such as Microsoft Power BI, Crystal Reports, Access and Excel.
Some of our most common requests for Sage dashboards and reports designs include:
Departmental profit and loss reports
Timesheet and expenses reports
Executive KPI dashboards
Customer balance sheets
Sales summary by analysis codes
Product purchase costs
Commissions report on payments received
Sage Invoice and other stationery layouts
Plus, lots more.

What are the Benefits of Working with a Sage Intacct Partner?
Implementing a new Cloud based accounting system can be a time-consuming and difficult task. Ensuring a successful implementation outcome needs careful planning, documentation and easy access to a certified Sage Intacct Partner who have the right skillsets.
Our certified Sage consultants at AlphaLogix have successfully implemented hundreds of Sage sites across the UK and we understand the need for a well-planned and smooth implementation process so you have a much less stressful and much more successful end result.

Contact AlphaLogix to Discuss Your Sage Intacct Requirements or to Book a Meeting or Consultation Call
Our certified Sage Intacct accounting experts will help you discover how Sage Intacct can be setup to improve your financial processes within your business. We will provide you with a free initial meeting and consultation call as well as fully justified costs and pricing for your requirements.
Call us today on 0208 050 3216 to organise a meeting, demo or to speak with one of our Intacct experts, alternatively email us at info@alphalogix.co.uk.
Our dedicated Sage Intacct consultants are committed to ensuring you get the most from your software investment and we offer the following services.
What Sage Intacct Professional Services Do We Provide?
Related Information