---
What is Courier Software?
---
Courier software enables you to manage the delivery of packages. Courier management software assist with the delivery of parcels across every step of the journey including processing orders, dispatch management, job assignment, route scheduling, track couriers using GPS, and electronic proof of delivery.
The term courier software is also related to, logistics software, dispatch software, shipping software and delivery management software, all these systems help with the delivery of packages through your network of vehicles, vans and trucks.
With the advent of improved technology and the rise in the demand for next day and same day deliveries, courier software plays an important part in the efficient scheduling of pick-ups and deliveries, whilst helping you to manage all processes involved in running a profitable dispatch and distribution business.

What is Courier Software Used For?
Managing your courier business can be a complicated and time-consuming task, and by using sophisticated courier software such as Alpha Courier will help you manage all aspects of your deliveries and collection, tracking every step of the parcels journey.
The Alpha Courier software solution is highly flexible and configurable and can be used online via the Cloud or installed on your own server as On-premise. The system can be further enhanced by integrating with your Sage accounts system or customer relationship management system (CRM), and can be used on your drivers' mobile devices and tablets in the field.
As your courier business develops and grows you can further enhance the software based on your exact business requirements.
Alpha Courier is a comprehensive courier delivery management solution that automatically assigns jobs to drivers, it optimises route planning, and electronic proof of delivery can be completed using a variety of mobile devices including Android, iOS and Windows.
Alpha Courier integrates with your existing CRM system and offers a lot more features, including sales, marketing and support.
Delivery Management Software
What are the Features and Benefits of a Courier Management System
Easily manage your courier parcel dispatches and scheduling
Quickly see what you're owed, manage late payments, and schedule supplier payments with our courier software links to Sage accounts
The courier system helps speeds up deliveries
Improves efficiency of drivers with GPS tracking
Powerful yet easy to use courier mobile app for drivers
GPS tracking helps monitor driver behaviour
Streamline delivery processes and automate workflows
Increases customer satisfaction
Reduces courier fuel costs
Improves workforce productivity
Maximises assets and vehicle use
Eliminates delivery paperwork
Increases business efficiency and cuts operating costs
Mobile communication – communicate with drivers during the day with texts and emails using the easy to use app
Detailed reporting and analytics for parcel delivery and courier performance
Track routes, vehicle usage
Customer relationship management integration
Electronic signature capture on mobile devices
Couriers can take photos of proof of delivery
Detailed parcel management
Scanner support and barcode management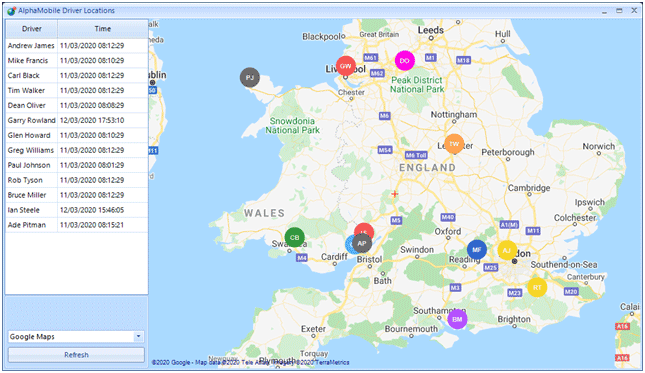 Intelligent Job Scheduling
Alpha Courier software provides a powerful delivery job scheduling management solution which provides a central hub for all your deliveries, enabling you to manage and track all your deliveries by drivers and couriers.
When a new job is received, our courier software will send a notification to the driver to alert them. The system will also alert users if there is a change of schedule for an existing job.
The software also includes a powerful drag and drop scheduling tool, if a delivery needs to be moved simply drag the delivery to another slot, all information is synchronised seamlessly with your drivers.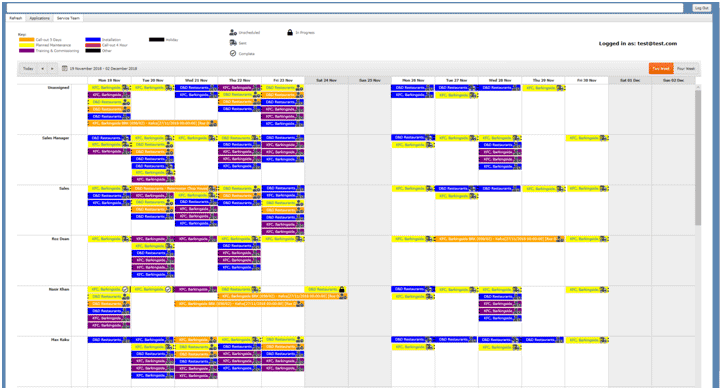 Courier Route Optimisation
Our courier delivery system can pick up the most optimised routes enabling you to make multiple deliveries efficiently which lowers your operating costs and allows you to maximise the amount of deliveries each driver can make in a given time.
Electronic Signature Capture and Proof of Delivery
Once the courier has arrived at a customer, they can electronically capture proof of delivery. They have the option of capturing the signature electronically or to take and attach photos in case the customer raises an issue.
Taking photos of the delivery is also a good way to provide driver safety by maintaining a safe distance especially during the coronavirus situation, completed deliveries are automatically synchronised back to your central courier system database at head office.
Electronic signatures and photos can be captured by the courier using a variety of devices including iPhones or iPads, or any device that uses Android, iOS and Windows.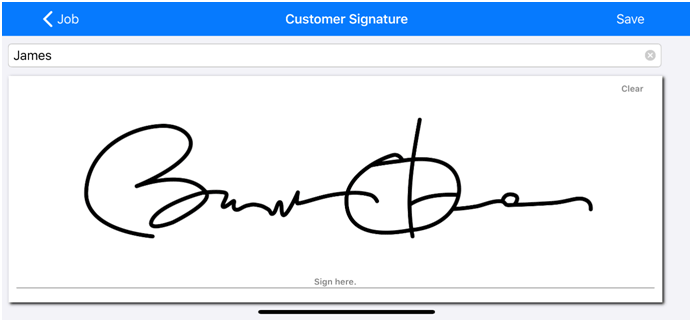 Paperless Mobile Courier App - Say Goodbye to Paperwork
Delivery drivers normally have a handful of paperwork to complete each delivery which results in a lot of lost time, errors and occasionally lost paperwork. Our courier software comes with a paperless mobile app which helps to eliminate the need for delivery drivers to complete paperwork and frees up time for drivers to continue onto their next job, all information is synchronised back to your CRM system.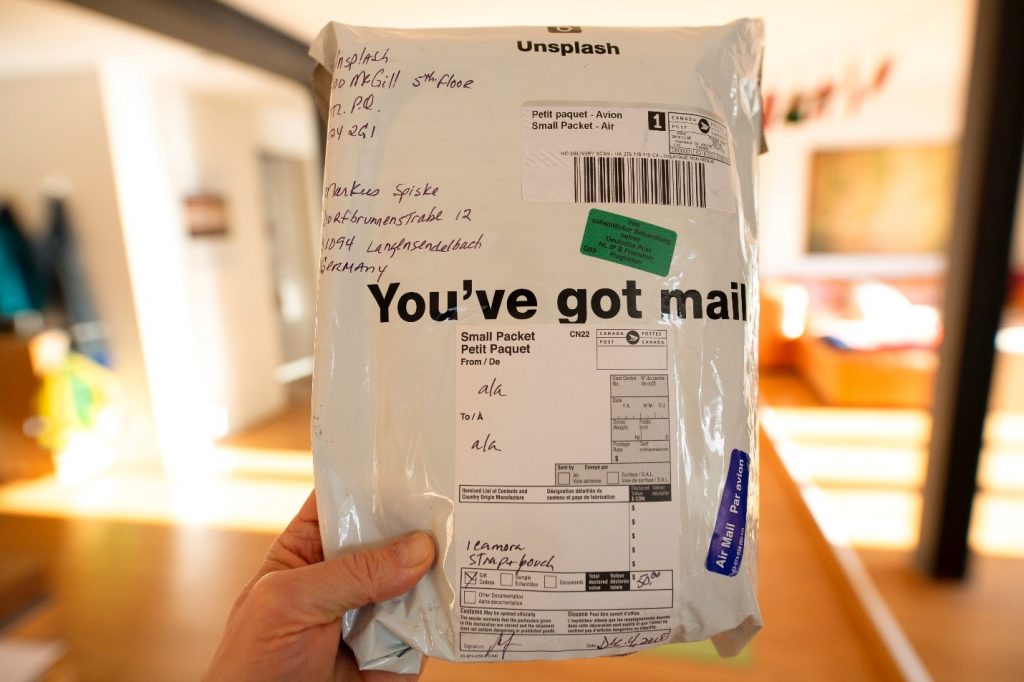 Vehicle & Delivery Tracking in Real Time
The Alpha Courier delivery management system will track and display the location of all vehicles in real time using GPS. Information is displayed in one dashboard so you can monitor the progress of all deliveries.
Not only does vehicle/delivery tracking give head office an overview at any one time but it also allows you to monitor driver efficiency and improves driver safety.
In some cases, vehicle tracking allows you to prove/disprove customer complaints, i.e. time of arrival by the courier.


Integrate Your Accounts System and CRM Software
Our courier system can be integrated with many popular accounts systems such as Sage, this enables you to have a 360-degree view of all accounting activities with each parcel delivery.
The system can also be integrated with popular CRM systems such as Microsoft Dynamics CRM, Infor CRM and Act! CRM.
We understand that every company works differently so we designed the Alpha Courier software to work the way you want it to. The system is highly configurable so you get a delivery management system that meets your exact requirements.
Courier Software Consultancy and Services
Our dedicated experts are committed to ensuring you get the most from your courier management software investment and we offer the following services.
Implementation
Support from our technical help desk
Sage accounts integration services
Consultancy
Customising the driver app for your business requirements
Design service for specific courier dashboards and reports for management
Training
Migration from other delivery and courier systems
Customer relationship management (CRM) integration
Software integration with your other business systems
Hosting in the cloud or installed on your own servers
Ecommerce and website integration
Call us today to organise a demo on 020 8050 3216 or email us at info@alphalogix.co.uk. We will help you through every step of the implementation process, including training and support.