---
What is Act CRM Professional?
---
Act! CRM Professional is one of the most popular Customer Relationship Management software products from Act! for small to medium sized businesses (SMB's). Act! CRM Professional (commonly referred to as Act Pro) is a powerful CRM software solution that has advanced features that enables you to manage sales force automation, marketing automation, customer relationship management, email marketing and contact management.
The Act CRM Professional product is very flexible and the software can be customised for your exact CRM and business requirements. Act! Pro can be used online in the Cloud; you also have the option to install it on your own servers or you can host it yourself. The software uses SQL for the database which provides great performance, and the ability to work with large volumes of data.
The software is available on a monthly subscription basis and the cost is dependent on the number of Act users you require. Act Pro has a limitation of 10 active users in a database. This means if you require more than 10 users you must use Act Premier, see feature comparison.
Act CRM Professional has a wide range of marketing automation features that enables you to generate new leads which helps grow your sales pipeline. The software manages marketing campaigns, automates multi-channel marketing activities using campaign workflows, manages email marketing campaigns, integrates with social media and a lot more, read on for further information.
One of the key strengths of Act! CRM Professional is its tight integration with popular business software applications such as Microsoft Outlook, Microsoft Office, Googles Gmail and Survey Monkey. The software also integrates with social media platforms such as Twitter, Facebook and LinkedIn.
You can further enhance the flexibility and add additional features to Act CRM Professional by adding a wide variety of add on applications by third party developers. AlphaLogix is a leading developer of Act applications including software that maps all of your customers from Act! CRM into Google Maps (AlphaMap). Another application is AlphaLink which enables you to synchronise your accounts data from Sage 50 with Act. If you have a field sales team or field-based staff, AlphaMobile further enhances Act Pro for remote users in the field.
Act CRM Brochure - pdf Download
Act CRM How to Choose the Best CRM Solution - pdf Download
Act CRM Marketing Automation - pdf Download
Act CRM
Download the Whats New in Act! CRM PDF

Introducing the New Act! Growth Suite
Key Features of Act! Pro
Customers and Contacts
Act! enables you to drill down into specific details about your business relationships, putting the latest information about your business at your fingertips from calendars and contacts to customer notes and history.
Click to Read More
View a complete history list and drill down by date, type of history, user or keyword to find the information you need. Export this information to Excel to make reporting even easier.
Keep customer contact information, plus associated notes, history, documents, activities, opportunities, social media profiles and more in one organised place.
Automatically link your existing and new contacts to company records, giving you an instant view of everyone you do business with at a single company.
Mobility¹ - stay connected by accessing Key Contact, Opportunity and Calendar details from your mobile devices.
Know Every Detail About Your Customers and Contacts.
Act CRM Professional for Sales
By centralising your customer and contact data in one place allows you to work more effectively, see other reasons why you should choose Act!. to manage contact relationships.
¹ Requires purchase of third-party handheld contact software, please contact us for details
Organising Your Working Day
Easily manage the tasks that need to get done every day, leaving you more time to focus on what counts - your customers and sales.
Click to Read More
Efficiently manage your calendar and track calls, meetings, and to-dos – all tied to your contacts for a complete view of what's happening.
Act! Scratchpad allows you to avoid duplication or loss of important information, a convenient virtual notepad.
Smart Tasks will put activities in your calendar, send emails for you and much more, even when you're Act! software is closed enabling you to accomplish more.
Keeps you up-to-date with the successful or failed completion of scheduled tasks - giving you peace of mind that important database tasks are being completed.
Displays graphical representations of performance with actionable dashboards, or run one of the many pre-built reports.
Learn more about what is Act! Used For, and see how more productive your staff can be.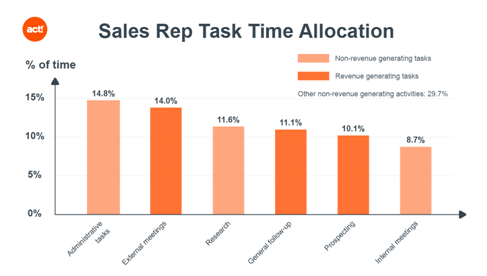 Integration with everyday tools
Act! works seamlessly with the tools your business already relies on, like: Microsoft® Outlook®, Gmail®, Google® Contacts, Google Calendar™, LinkedIn®, and Facebook®.
Click to Read More
Sync your Act! contacts and calendar with Outlook® and Google®, then easily access them from either application.
Act! Integration with Sage50 Accounts –increase the functionality of Act! CRM with AlphaLink. View Company details, Products, Credit Control balances, Invoices, Sales Orders and general accounting activity from Act! without requiring access to Sage, users don't even need to have Sage installed on their system! learn more about AlphaLink for Act!.
Write an Outlook® email from within Act! and a history will be recorded on the associated contact for quick and easy reference.
View popular social media sites within Act! to see more detail about what your customers are up to now.
Build rich profiles and gain valuable customer insights via seamless integration with Facebook® and LinkedIn®
Act CRM Sage 50 Integration
Sales and email marketing
With every Act! license or subscription, you instantly have powerful, easy-to-use email marketing tools at your disposal. Act! CRM Pro allows for up to 10,000 emails per month. You can send more by purchasing more email batches of up to 2500 extra a month.
Click to Read More
Use intuitive drag and drop email templates to create professional emails
Create stunning eye catching promotional emails such as, newsletters, renewal contracts, and event promotion. All emails are stored in Act! for future reference
Use contact and customers groups in Act! to target campaigns. Schedule emails for future delivery
Track email results and open rates. Act! Email marketing gives you detailed reports on every email campaign, who opened it, what part of the landing page they went to, clicks, bounce rates and then schedule up follow up calls.
Campaign results are recorded in Act! CRM so everyone in your business can see contact history at a glance.
Click to Read More
Get detailed reports - including opens, clicks, bounces, opt-outs, and more.
Record history and notes back into your Act! database.
See what landing zones were clicked on
Analyse Data from campaigns and organise follow ups
Click to Read More
Accurately track sales opportunities
Follow a sales process for every opportunity
Create stunning interactive sales dashboards and sales reports for better business insights
Automate follow up for sales opportunities
See how Act! can help your track your sales performance.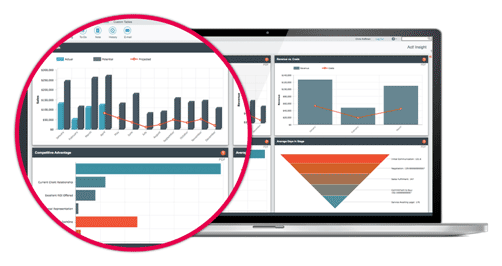 Marketing Automation
There are a range of Marketing Automation features found in Act! Pro, these come as standard but you can go for Act! Premium which has more advanced marketing features.
Click to Read More
Features in Act! Pro for Marketing
Interactive template editor
Mobile & desktop preview
Social sharing
Landing pages & lead capture
Surveys Question Mark
Drip marketing
Visual workflow designer
Real-time campaign metrics
Marketing calendar
Deliverability & compliance tools
Act CRM Professional Marketing Automation
Template editor
Use Pro's easy to use template editor to help communicate with customers and contacts.
Click to Read More
Dynamic online editing tool.
Choose from 100's of customisable templates.
Host & Share images and documents.
Personalisation options like dynamic data integration for smarter targeting available.
How Much is Professional?
The cost of buying the Professional version of Act! depends on how many users you require. Even though Act! Pro is the entry level version is still has a lot of advanced features to help you manage relationships with customers, as well as pipeline management and some marketing automation.
You can buy Act! Pro using one of the monthly pricing plans (prices are at £59 per month), for detailed pricing information look at our pricing guide or call us for the latest costs. On top of the licence costs you might want installation, training and customisation of the system.

Sign Up For Your Free 14-day Trial Of Act!
It's quick and easy to start your free 14-day trial of Act. It'll come complete with demonstration data, so you can fully explore the features and functionality of the software. All you need to do is call us on 020 8050 3216 or complete the trial form by clicking on the below banner and we will setup your free trial.

Why Choose AlphaLogix?
AlphaLogix are Act! Hosted Partners, Act! Developers and Act! Silver Status Consultants, Accredited by Swiftpage, with many years of experience in all versions of Act!
If you would like to discuss how your business will benefit by upgrading to the latest version of Act! CRM please contact us or talk to a member of our team on 0845 259 3141