If your organisation is looking for a new customer relationship management solution then Act! CRM is a very popular choice to help you manage your database of Customers, Prospects and Contacts.
With over 4 Million users it is the number 1 contact management and CRM solution available for your business.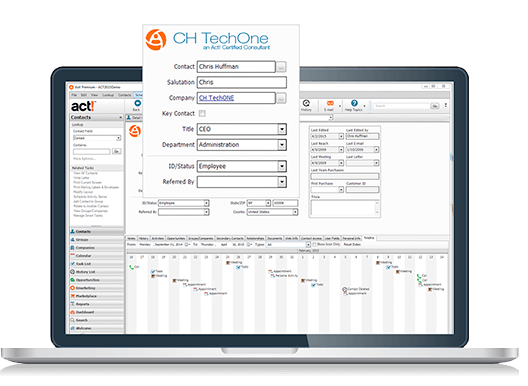 Some of the top reasons companies choose Act CRM are:
Centralises Contact and Customer Data.
Many organisations that have grown over the years are left with multiple databases and silos of customer and contact data. With Act CRM, you can centralise all sales, marketing and customer service data into one shared database for users and teams which leads to a more productive way of managing your database.
Easy to customise and flexible.
Every business has their own processes and required data fields when they deal with customer contacts, the Act software has a wide range of easily customisable fields and layouts so you can work the way you want to. As you start to use Act in your business you can continue to add different layouts and fields to make your staff work even more efficiently in the future.
A Low Cost of Ownership that adds value to your business.
Many CRM software solutions in the marketplace can be expensive and you may find that costs start to spiral out of control. Act has always been great value and it has a range of subscription and online pricing models so you can pay monthly or annually, permanent license options are also available.
Intuitive and Easy to Use
User adoption is the key to the success of any customer relationship management project. Having an extremely easy to use an intuitive system like Act helps for a quick roll out and quick user acceptance.
Act also links with the most commonly used applications that staff use, such as Microsoft Word and Excel so all important documents are stored against the customer and contact records.
Security features that Safeguards Customer Data
Your company's customer data is an asset that needs to be protected, you can apply security profiles to control user access, you can also apply controls on groups of data so only specific teams can see what's important for them. Act is also available for the Microsoft SQL database which also has a wide range of security features.
Mobile so you can do business anywhere.
Many businesses have field-based staff and users that are constantly on the move at customer meetings. With Act, there are a range of mobile and working offline options so you can record and access important customer information whilst on the go. If you work offline, data is synchronised back to the central database when you reconnect.
Manages your day effectively and improves performance
Being in control of your to-do's, follow-ups, meetings and schedule is key to improved performance. Act CRM has a range of powerful scheduling tools, dashboards and calendars that make individuals and teams work effectively whilst improving the customer experience within your organisation.
Drive sales and increase the number of leads
Making sure important revenue targets are met is crucial for a business to grow and succeed, the Act CRM solution has a wide range of features that help drive sales and help you to market effectively via email (such as the Swiftpage email marketing tool). Other communication channels are available to increase the number of leads into your business. It has a wide range of reports and dashboards so you can keep on track with management plans and forecast for the future.
A well tested and proven solution
Since Act was first developed in the late 1980's it has continued to be developed to become a reliable and feature-rich CRM and contact management solution. It has a large and loyal user base with over 4 million users worldwide who work in all industry sectors. The product has continued to be developed and remains an innovative and effective way to manage your customer data.
Exclusive Integrations and Apps
The range of tools and applications that Act connects to continues to grow, so you can stay connected with the usual apps and tools you use every day. A very popular and useful application is AlphaLink, developed by AlphaLogix, which links Sage 50 Accounts to your Act! CRM database, to find out more about the integration between Act! and Sage 50 – Click Here

If you would like a FREE demo of Act CRM or need help with your existing Act! CRM system, please contact us on 0845 257 333141 or email sales@alphalogix.co.uk
Author  –
Ian Butt
Marketing Executive