What is Dynamics 365 for Marketing?
Microsoft Dynamics 365 Marketing is a module of Dynamics 365 CRM and manages campaigns and marketing automation. The Dynamics 365 marketing software enables you to manage data segmentation, lead scoring, events, email marketing and marketing insights.
Dynamics 365 for Marketing enables you to unify your customer information and enables you to create personalised customer journeys.
The marketing automation software works seamlessly with Dynamics 365 CRM, Dynamics 365 Sales, Dynamics 365 Customer Insights, Microsoft Teams, and other Microsoft products, which enables you to make faster and better decisions using the power of customer data.
Download the Microsoft Dynamics 365 Brochure
Contact us today on 0208 8050 3216 or email us at info@alphalogix.co.uk to discuss Dynamics 365 CRM or to organise a meeting or personalised demonstration.
Introduction to Dynamics 365 for Marketing
What is Dynamics 365 Marketing Used For?
Dynamics 365 for marketing helps your business turn prospects into Marketing Qualified Leads (MQL's) and includes tools for campaign orchestration, event management, social media engagement, email marketing, data segmentation and lead management and scoring.
Microsoft Dynamics 365 Marketing helps connect sales and marketing together in CRM, which drives deeper customer engagement and builds pipeline to drive your business forward.
The marketing module in Dynamics 365 helps with:
Marketing campaign management
Email marketing
Social media integration
Event management
Lead management and scoring
Powerful marketing KPI dashboards and reports
View campaign response rates
Target specific groups from within Dynamics 365 CRM
Outbound telemarketing activities
Helps convert more MQL's into SQL's
Surveys
Advanced lead capture
Automate the customer journey
Data segmentation and targeting
Nurture marketing
Shortens the sales cycle
Improves the lead qualification process
Helps increase sales conversion rates
Harmonises sales and marketing processes
Contact us today on 0208 8050 3216 or email us at info@alphalogix.co.uk to discuss Dynamics 365 CRM or to organise a meeting or personalised demonstration.

What are the features and capabilities of Dynamics 365 Marketing?
Microsoft Dynamics 365 for marketing has a number of key capabilities that enables your business to automate many of your marketing processes.
The marketing module in Dynamics CRM enables you to generate more leads for your business to help grow your sales pipeline, whilst nurturing existing prospects into MQL's (Marketing Qualified Leads), and ultimately turns them into SQL's (Sales Qualified Leads).
Lead Generation and Nurturing
Manage the customer journey
Customer insights integration
Data segmentation and lead scoring
Account-based marketing
Automated business process flows
Social Media
Schedule and post messages directly to your organisation's accounts on social media sites
Integrate CRM, sales and marketing with LinkedIn Sales Navigator
Dynamics 365 Marketing includes a connector for LinkedIn Lead Gen
Integrate with Facebook, Twitter, Instagram and other social media platforms
Integration between Hootsuite and Microsoft Dynamics 365
Optimise Sales and Marketing Processes with Dynamics 365
Event management dashboards
Dynamics 365 marketing enables you to manage admin, event registrations, sessions and venues
Track and manage each event management campaign
Scan attendees for events with additional apps and bar code scanners or mobiles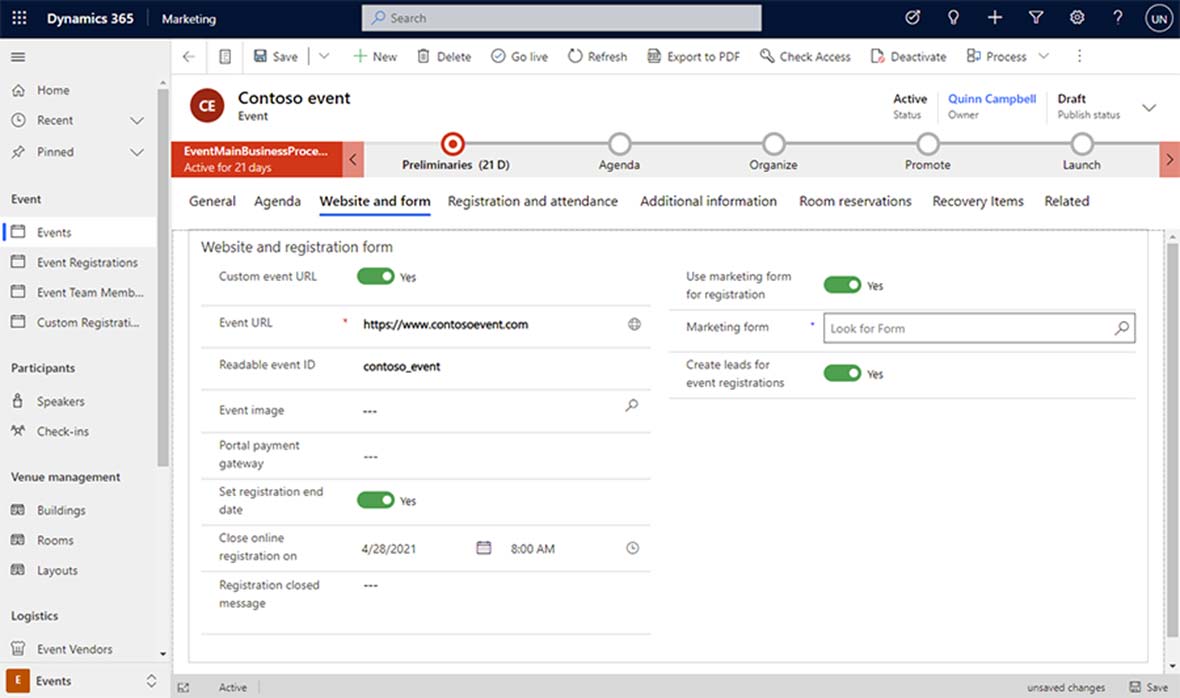 Email marketing Capabilities
Set up a customer journey to deliver email messages to a target segment
You can use a single marketing email message in several marketing contexts
View and analyse email campaign results
E-Mail-merge features enable personalised and dynamic content
Perform A/B testing
Score your leads
Create emails easily and without compromises using Dynamics 365 Marketing
Dynamics 365 Marketing customer journey capabilities
Dynamics 365 Marketing can help you visualise and automate the journey that customers take on their way to making a purchase. A simple customer journey could include a short interaction, such as a single email campaign. A complex journey might include the full process from discovery, through nurturing, and on to identifying qualified leads.

Microsoft Dynamics 365 Marketing Integration
The marketing module integrates seamlessly with all other Dynamics 365 applications as well as a host of other Microsoft technologies, such as:
Outlook
Excel
Microsoft Power BI
Teams
Dynamics 365 sales
OneDrive / SharePoint
Dynamics 365 range of apps
OneNote
Knowledge management
Contact us today on 0208 8050 3216 or email us at info@alphalogix.co.uk to discuss Dynamics 365 CRM or to organise a meeting or personalised demonstration.

AlphaLogix are a leading Microsoft business partner who started in 1995 and have over 450 happy customers today.
Our CRM experts will help you discover how Microsoft Dynamics 365 CRM can be setup to improve your customer relationships and automate many of your sales, marketing and customer service processes within your organisation.
Our dedicated CRM experts are committed to ensuring you get the most from your software investment and we offer the following services.
Scoping
Implementation
A proactive and dedicated CRM support team
Software development for Dynamics 365
Migration from other CRM systems
Dynamics 365 CRM software integration
Implementation and installation of
Hosting
Call us today on 0330 043 0140 to discuss Dynamics 365 CRM or to organise a meeting or demonstration, alternatively email us at info@alphalogix.co.uk
Related Information