---
What is Act! CRM?
---
Act! CRM is the world's leading contact management and CRM system for small to medium-sized businesses. Act! provides the ultimate customer relationship management (CRM) toolset to help grow your business by automating sales and marketing.

Act! CRM helps sales teams build relationships with their customers using advanced contact management and email marketing features. The system enables companies to drive sales performance and enhance business profitability. Act! CRM provides tight integration with Microsoft Office and Outlook so sales can track all emails and documents with contacts Learn more about the top reasons to choose Act CRM, read more.
Organise your calendar and activities with Act! CRM, so sales reps can keep on top of important customer follow-ups and touch points.
Engage with customers and prospects with Act! Marketing Automation which allows you to send response driven marketing campaigns to targeted lists. Act! alerts you of new prospects for sales, whilst prioritising follow-ups, see our guide on choosing CRM software.
Why Choose Act! Customer Relationship Management Software?
If you are looking for a cost-effective CRM solution to record prospect and customer information, track phone calls, meetings, emails, documents and follow-ups, and manage all aspects of customer service and sales activities then Act! CRM is the choice for you, to understand more about what CRM stands for, read more.
How Can Act! CRM Help Drive Sales?
Drive sales by better management of sales opportunities using a simple out of the box process or configure Act! to fit your exact business requirements. Track various opportunity variables such as the number of days open, product type, activities for each opportunity and a lot more, see how Act! CRM can help sales, read more.
Sales reps and sales managers can view a complete visual dashboard of your pipeline so you can focus on sales activities as well as adjusting your sales strategy accordingly.
How Can Act! CRM help you Manage Your Sales Processes and Sales Pipeline?
You can manage your sales processes with customers and contacts using Act! sales opportunities, either by personalising the sales process that best suits your organisation's processes or you can use the solution which comes out of the box.
For sales opportunities in the Act! sales module you can complete activities for each stage of the sales process to keep deals moving forward, with meetings, sales calls, to-do's, quotes, emails and more. With accurate updates by sales teams you are able to effectively manage your sales pipeline and gain a deeper understanding of individual and team performances.
How Can Act! Help you Up-sell and Cross-sell to Existing Customers?
A key benefit of ACT! sales force automation software is that it gives a company the ability to up-sell and cross-sell to existing customers, this is made possible because Act! stores all contacts and customers in a central database and sales teams are able to access account history and contact notes and suggest additional products relevant to individual customers. Specific customer and contact groups can be created so targeted sales campaigns are developed.
Sales Reporting and Dashboards
One of the key benefits of using Act! CRM is that it provides a wide range of sales reports, KPI's and dashboards to indicate whether your sales processes are being operated effectively and are achieving the desired results.
The Act! sales force management solution also provides accurate reports on the opportunity pipeline which shows potential sales expected in future time periods.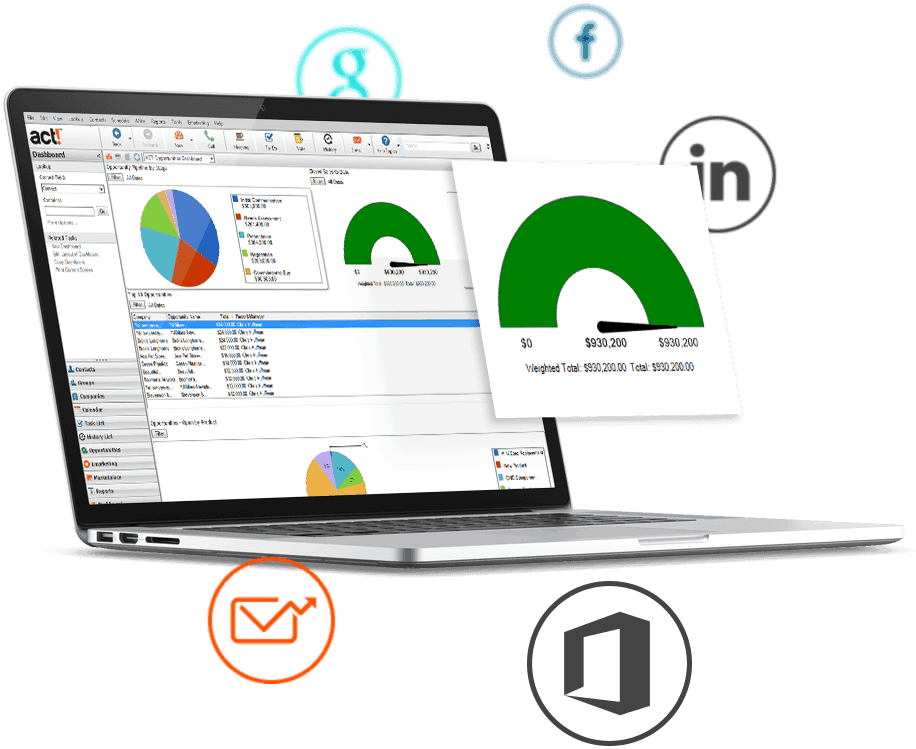 How Does Act! CRM help drive your Marketing Automation?
Act! CRM Marketing Automation enables you to generate leads for your business by optimising the way you communicate with customers and prospects, which helps strengthen your sales pipeline and drive business growth.
The key areas of Act! Marketing Automation include:
Lead management
Campaign management
Comprehensive marketing reports
Work-flow designer and template editor
CRM Work-flow
Which Version of Act! CRM is Right for your Business?
Act! CRM is available in 3 different versions which offer a range of different CRM functionality, from entry-level CRM to fully-featured CRM in the cloud. Act! offers ultimate flexibility to meet your business needs, deployment and access needs.
 Act! Pro - This is the entry-level CRM version, ideal for small teams or individuals who are starting out with CRM. For more information on Act! Pro, read more.
Download to your PC and start straight away
Perpetual license with a single payment
No ongoing subscription fees
Act! E-marketing
Only upgrade when you are ready to grow, or you need to update for integration or obsolescence reasons.
Act! CRM Premium - Perfect for businesses who want extra flexibility whilst having the option to access CRM information from anywhere, for more information on Act! CRM Premium, read more.
Unlimited records
Unlimited fields
Sales process automation
Rich, customisable dashboards
Powerful API integration
Marketing Automation
Act! Connect
Act! Companion
Act! CRM Premium Plus - All the features of Act! CRM Premium but with custom tables and tailored templates, Act! Premium Plus was previously known as Act! Premium Cloud, read more.
Custom tables
Tailored templates
Unlimited records
Unlimited fields
Sales process automation
Rich, customisable dashboards
Powerful API integration
Marketing automation
Act! Connect
Act! Companion
What is Act! Companion?
Act! Companion was previously known as Act! Mobile, it allows you to stay connected to customers, contacts, opportunities and calendar details whilst on the go.
Act! Companion was designed to work on mobile devices such as iPhone's, iPads and Android devices, it is included in the Act! Premium subscription free of charge. It allows you to access information in real time, or work offline and synchronise any changes once a connection is made.
Key benefits include:
Access contact & company details
Interactive maps
Access calendar, activities, & history
Sales pipeline management
Actionable dashboards
What is Act! 365?
Act! 365 allows you to integrate tightly with Microsoft Office so you can track emails, word documents, and spreadsheets for each customer and prospect. Act! 365 also has a set of powerful sales and marketing tools to help you find new leads and close more deals, whilst driving business growth.
What is the Cost of Act! CRM?
The cost of Act! CRM is dependent on which version you buy and how many users you will need. Our Act! CRM pricing guide details the pricing structure for Act! Pro, Act! Premium and Act! Premium Plus.
There are a range of On-premise and subscription options to choose from depending on which version you want to buy.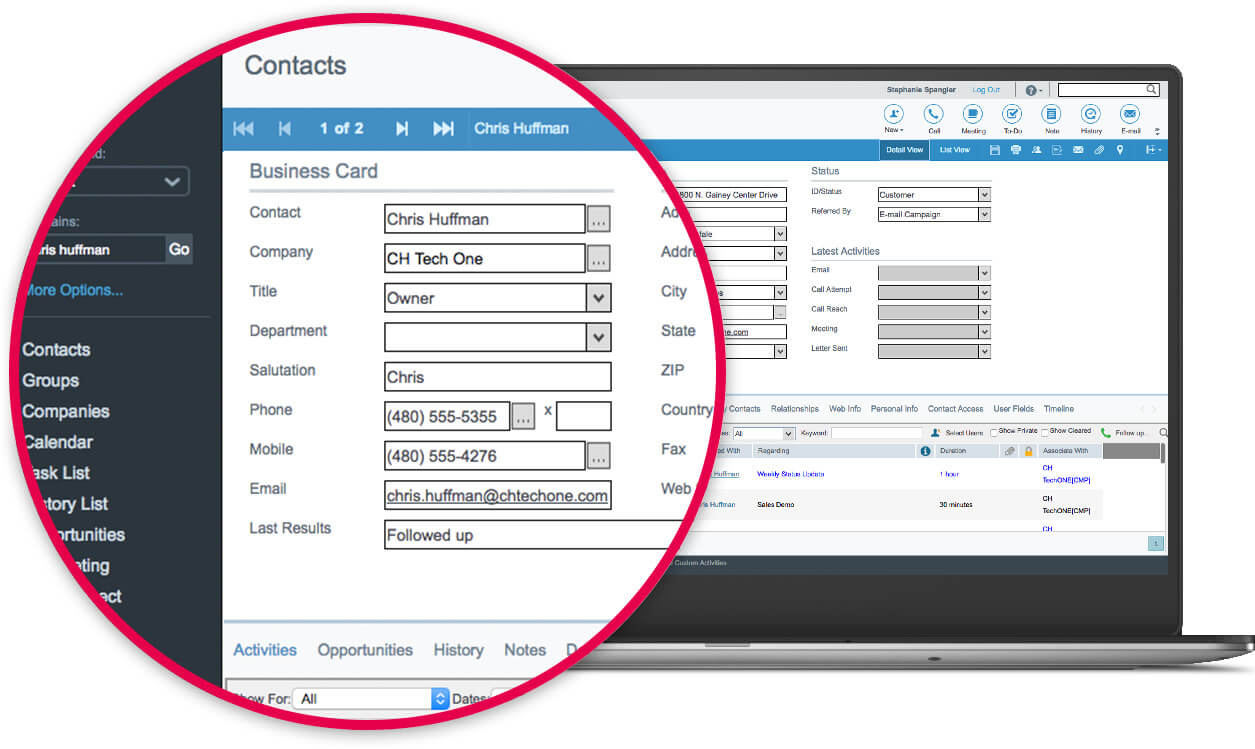 What's new in Act! CRM since your version?
We have listed below the major new features for recent Act! CRM releases so you can see the benefits of upgrading to the latest version of Act! CRM.
Act! V.17 New Features
New synchronisation options with Microsoft Outlook
Dropbox integration
Enhanced keyword filtering for activities and notes
Improvements to Act! eMarketing
Act! V.18 New features
Web enhancements for Act! Premium.
Improved security and control.
Enhancements for Act! eMarketing.
Speed and performance updates.
Manage favourite contacts.
Compatibility with Chrome and Internet Explorer 11
For more information on what's new in Act! V18 read more
New Features in Act! v.19
Over 30 refreshed standard reports
Act! companion for Act! mobile
New eCommerce connections
Improved compatibility with Microsoft Office 2016 and 2013
Act! Premium contact link
What's new in Act! V.20?
Improved new look
Industry-specific templates
Dashboards for Act! Insight
Better management of customised tables
Next generation Outlook integration
Ask Act! with Amazon Alexa
The latest version of Act! CRM is version 21.
How Can I See a Demo of Act! CRM?
The best way to evaluate the benefits of Act! CRM is to organise either an on-site demo or a web demo, where we can demonstrate the relevant modules of Act! CRM and the contact management and CRM benefits it will bring to your company, for more information about booking an Act! CRM demo read more.
Does Act! CRM integrate with Sage 50?
Integrating CRM with your account's software provides a huge amount of benefits. Users of Act! CRM can quickly see Sage 50 information in the systems such as Invoices, outstanding balances, credit limits, on hold status and accounting transactions. AlphaLogix has developed a comprehensive link between the 2 systems, for more information, read more.
What Training is Available for Act!?
Training is a key element in delivering a successful Act! Implementation. AlphaLogix offers 3 Act! CRM training courses:
Introduction course
Course objectives: To provide a solid foundation in the principals of using Act!
Administrator course
Course objectives: To understand the capabilities and concepts behind managing and maintaining Act! To build the administrator skill level for in-house support for the system.
Advanced user course
Course objectives: Designed for users who wish to extend their Act! knowledge and explore further the additional functionality.
We also offer bespoke training courses to ensure your business maximises the value of your Act! System. Our standard and bespoke courses can be held at your premises or onsite at our offices.
What are the Alternatives to Act CRM?
Act! CRM was initially developed as a contact management system and then into an entry level customer relationship management solution focusing on automating sales and marketing. To understand how Act! CRM can help your contact management requirements, read more.
The original developers of Act! CRM also offered a more comprehensive and flexible CRM solution called SalesLogix (now rebranded as Infor CRM).
The main benefits of Infor CRM include:
Development platform
Advanced reporting with crystal reports included
Customer service features
Marketing campaigns
Better Integration with Outlook and Office 365
The ability to manage assets
Support tickets
Manage contracts
Defect tracking
To discuss Act! CRM call us today on 020 8050 3216 or email us at info@alphalogix.co.uk