---
Sage Intacct Multi-Entity and Multi-Currency Global Consolidation Accounting
---
Sage Intacct accounting software enables you to manage accounts for multiple locations, multiple entities, and multiple currencies. Sage Intacct automates financial consolidation which eliminates manual effort so you can close your accounts faster.
The Sage Intacct Financials software enables you to consolidate hundreds of entities in minutes, not days. The software enables you to automate currency conversions, inter entity transactions, tax reporting and more. Sage Intacct eliminates error prone manual data entry so you can close accounts faster, whilst boosting productivity by more than 50%.
Buyers Guide to Selecting an Accounting Solution Download​
Sage Intacct Multi Currency Software
Sage Intacct Dashboards and Reporting Download


Sage Intacct Overview
Sage Intacct Provides Continuous Multiple-Entity Consolidations
With Sage Intacct you can view interim summary financial figures at any time across all your companies and entities. At the push of a button the Sage Intacct software provides granular visibility with eliminations and currency impacts recorded as journal entries.
Sage Intacct enables you to automate intercompany eliminations at the point of consolidation, and consolidate complex ownership structures such as minority and partial ownerships.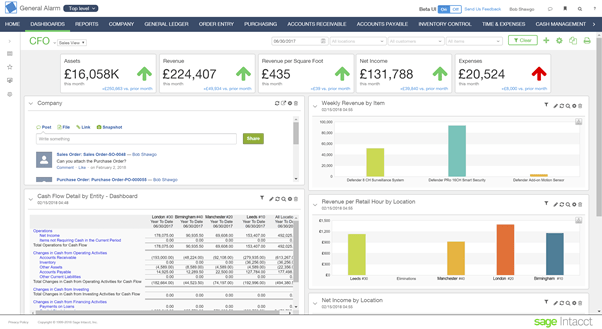 Easily Manage Multi-Currency Accounting with Sage Intacct
If you have multiple companies across the globe that deal with multi currencies then Sage Intacct enables you to automate currency conversions.
Sage Intacct automates everything related to managing multiple currencies to save you time and increase accuracy, using up-to-date exchange rates for your currency conversions and revaluations.
Sage Intacct offers multi-currency consolidation, creating cumulative translation adjustments (CTAs). You can even produce reports in your headquarters currency or a company's local currency.
Sage Intacct Reports
Easily Setup Multi-entity Consolidation
Sage Intacct financial management software enables you to easily setup consolidation for multiple entities, you can have new entities inherit your existing lists, process definitions, and charts of accounts. Instantly set up new entities with configurable rules for inter-entity transactions, bank accounts, and more.
You have the option to easily configure each new entity with unique definitions. If you want to centralise payables and receivables, you can. You can also have multiple charts of accounts.


Powerful Unified Multi-entity Architecture
Intacct's unified financial consolidation architecture handles domestic and global locations, single and multiple base currencies, and simple and complex ownership structures.
The accounting software allows you to share vendor, customer, and item lists across entities to speed new entity creation and enable cross-entity and multiple entity reporting.
Sage Intacct Cloud Financial Management Software
Why Choose AlphaLogix? Book a Demo or Organise a Quote
Our accounting experts will help you discover how Sage Intacct can be setup to improve your accounting processes within your business. We will provide you with a free initial personalised Intacct demo as well as fully justified Intacct costs and pricing for your requirements.



Our dedicated accounts experts are committed to ensuring you get the most from your Intacct software investment and we offer the following services.
Implementation
Support from our technical help desk
Development services
Consultancy
Training
Migration from other systems
Software integration
A proactive and dedicated support team
Ecommerce and website integration
Plus much more
Call us today on 0208 050 3216 to discuss Intacct or to organise a demo or quote, alternatively email us at info@alphalogix.co.uk.
We will help you through every step of the selection process, implementation process, including training and support.
Related Information
What is Sage Intacct Core Financials? Financial Accounting Software
What is the Difference between Sage 200 and Sage Intacct?