---
Act! CRM Comparison
---
Act! CRM is one of the most popular CRM solutions used by millions of businesses throughout the world. The system is highly configurable, customisable and enables users to automate sales processes and generate leads for your business using the new Marketing Automation enhancements.
The Act! CRM product range is available in three different versions when you buy a subscription plan from the Act! CRM Growth Suite. The three product options are Act! Professional, Act! Premier and Act! Ultimate (Swiftpage are likely to rebrand the product names in the future).
Each product offers a different set of functionality and features that will best suit your company's specific CRM requirements. We have created a product and feature comparison guide for the Act! CRM product range.
The Act! CRM feature comparison guide will give you all the information you need to make a decision on which product to subscribe to from the Act! Growth Suite.
If you would like to organise an Act! Growth Suite demo to see the differences between the three solutions, call AlphaLogix on 020 8050 3216, or email us at info@alphalogix.co.uk
Act CRM Brochure - pdf Download
Act CRM How to Choose the Best CRM Solution - pdf Download
Act CRM Marketing Automation - pdf Download
Act! CRM
Act! CRM Feature Comparison Guide
All three versions of Act! CRM have roughly the same core CRM features and functionality, however Act! CRM Premium and Act! CRM Ultimate have extra functionality such as; Marketing Automation, different deployment options, the ability to send out more emails, greater database performance using SQL, and offers greater customisation.


Comparison of CRM Features in Act CRM
All three Act! CRM products (Pro, Premier and Ultimate) have the same CRM features in common, these include
Customer management
Easy to use import tool
Groups & companies
Calendar & activity tracking
Sales process automation
Opportunity tracking
Sales pipeline management
Act! Insight
Reports and Dashboards
Act! Companion
Integration with Outlook®, Google™, & more
Act! Contact Link
Ask Act!™ with Amazon Alexa
Act! Connect
Unlimited customisations
Act! API
Instant online access Backups & recovery
Act! Premium and Act! Ultimate are more advanced versions than the Pro product, as you can use these versions with an SQL database, which means unlimited records and many more users. Both these versions can also be deployed for On-Premise, Cloud and on mobile devices.
Act CRM for Sales

Act! CRM Feature Comparison Table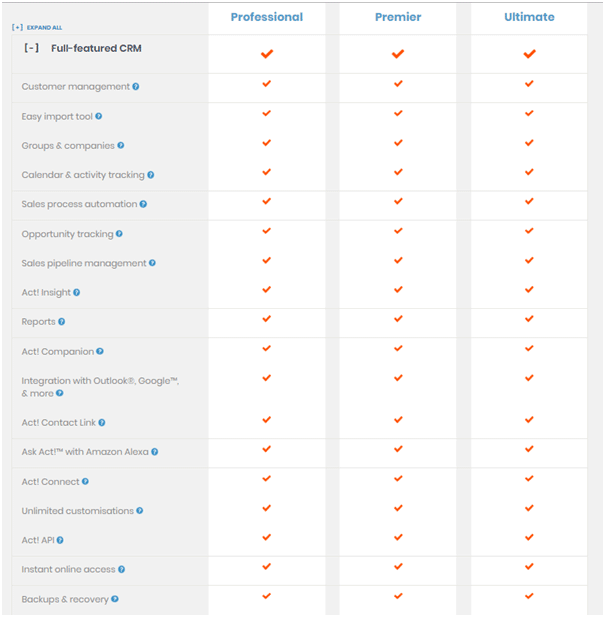 The use of Custom Tables is available for all three products, but there is an extra monthly charge applied to each user.
Act! CRM Marketing Automation Features and Product Comparison
All three product sets for Act! CRM offer varying levels of Marketing Automation features, Act! Professional has limited functionality, whilst Act! Premier and Act! Ultimate have virtually the same level of features for marketing, except Ultimate has A/B Testing and Progressive Profiling.


Comparison of CRM Marketing Automation Features in Act CRM
Common features and functionality found in all three products (Act! Pro, Act! Premier and Act! Ultimate.
Interactive template editor
Mobile & desktop preview
Social sharing
Landing pages & lead capture
Surveys Question Mark
Drip marketing
Visual workflow designer
Real-time campaign metrics
Marketing calendar
Deliverability & compliance tools
Act CRM Marketing Automation
Additional Marketing Features and Functionality available in both Act! CRM Premium and Act! CRM Ultimate Include:
CRM workflow
Nurture marketing
HTML email editor
Advanced lead capture & surveys
Lead management & scoring
Event and email marketing
Website activity tracking
Asset tracking
Ultimate also has A/B testing and Progressive Profiling, which is not found in the Premium Version. The other main comparison between Premium and Ultimate is that you can send up to 50,000 emails/month for Premium and up to 100,000 emails/month with Ultimate.
ACT! Growth Suite
Marketing Automation Feature Comparison Table for Act! Growth Suite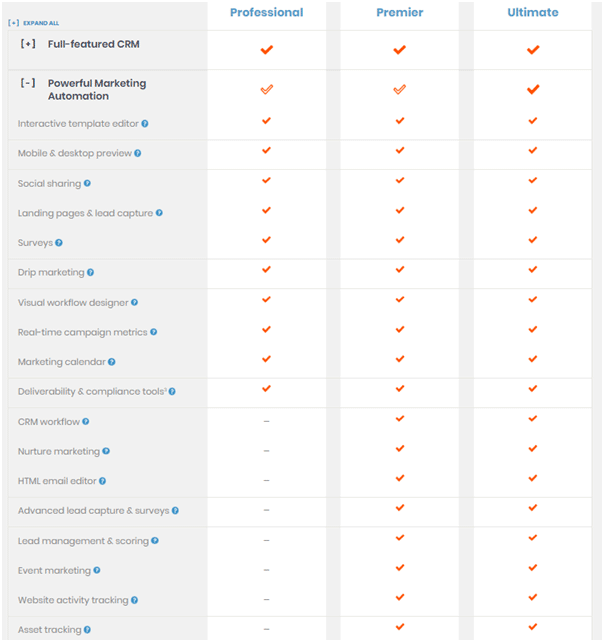 User Reviews of Act! CRM
The majority of Act! Users give positive reviews, and they regularly comment that it effectively provides end-to-end sales pipeline management, great contact management and marketing tools that allow them to generate leads and sales for their business.
Many companies who have outgrown Act! CRM look for a more powerful and flexible enterprise wide solution such as Infor CRM. If you are considering moving away from Act! give us a call to discuss your CRM requirements.
"Act! is the way to go for any customer and contact management system. It provides everything we need to manage sales, opportunities and marketing. We have customised Act! to fit around our business needs which has helped us manage our client data more effectively."
— Ben Henderson
Take Sales and Marketing to New Heights with Act!
Sign Up For Your Free 14-day Trial Of Act!
It's quick and easy to start your free 14-day trial of Act. It'll come complete with demonstration data, so you can fully explore the features and functionality of the software. All you need to do is call us on 020 8050 3216 or complete the trial form by clicking on the below banner and we will setup your free trial.

Organise a Demonstration to Compare the Benefits and Pricing Plans
If you would like to organise a demonstration of the Act! Growth Suite to see the differences between the three Act! solutions, call AlphaLogix on 020 8050 3216 or email us at info@alphalogix.co.uk. Our product specialists will also be able to give you a detailed quote.