---
Act! CRM Demo
---
The best way to see the benefits of Act! CRM (previously known as Act! by Sage) software in action is to organise a demo. Our Act! Product specialists will deliver an informative demo either via the web, at your offices, or you can view a range of our pre-recorded Act! demonstrations.
Our most popular and informative Act! demo's are personalised 1-1 demonstrations where we can tailor the system for your exact business requirements, these can be held at your offices (we travel to all regions in the UK), or via the web. Our Act! CRM specialists can demonstrate all the main products available, including:
Act! Professional
Act! Premium
Act! Ultimate
Marketing Automation for Act!
Act! Companion mobile app
Act! 365
Integration of Act! With Your Accounts Software

Act! CRM Overview
Organise a Demonstration of Act! CRM for Your Sales Team
Our Act! CRM specialists will demonstrate the benefits of using Act! for your sales reps and sales department. The system will help drive sales revenue by better management of opportunities and improved sales processes, so your business stays on track to meet your revenue targets.
Sales teams can use a wide range of interactive dashboards and reports within Act! that provide meaningful feedback on how well your business is performing.
Our Act! sales demo will cover the following areas,
Salesforce automation
Managing contacts and customer records
Sales dashboards and reports
Sales pipeline management
Cross selling and Upselling
Call us today to organise a demonstration of Act! for your sales team.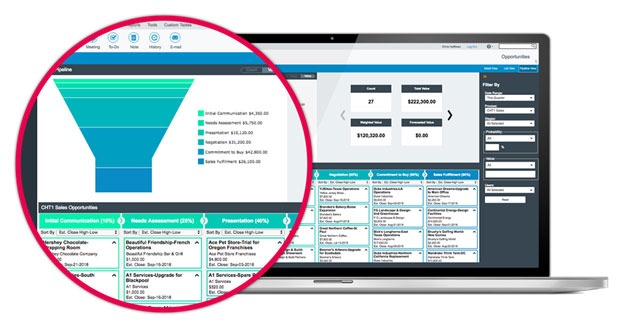 Organise a Marketing Automation Demo
Our CRM specialists will be able to demonstrate the benefits of using Act! CRM in your marketing department. The Act! Marketing Automation module helps you generate new leads whilst optimising all the ways you communicate with customers and prospects and drive business growth.
Our Act! CRM marketing demo covers the following areas:
Act! marketing automation features
Design responsive campaigns & nurture streams
Attract & nurture prospects
Connect sales & marketing efforts
Optimise campaigns & marketing assets
Email marketing
Call us today to organise a demonstration for your marketing department.
Act! CRM Marketing Automation
What's New in Act! CRM
If you already use Act! and are using an older version of the software, we can bring you up to speed by demonstrating all the new features found in the latest version. Our CRM Specialists can show you the improvements found in Act! Professional, Act! Premium and Act! Ultimate. For more information view our what's new in Act! CRM demo or read our guide, Why Upgrade Act! CRM?
If you are outgrowing Act! CRM call us to discuss moving to a more sophisticated CRM solution such as Infor CRM.
Synchronise Act! CRM with Your Accounts Software
AlphaLink seamlessly integrates your Act! CRM solution with Sage 50c accounts software to create a single unified resource that enables you to manage all your customer interactions and access key financial data.
To watch a demo of AlphaLink follow this link on YouTube.
Looking for CRM Software with More than Just Sales and Marketing
Act! CRM is a great CRM system for Sales and Marketing automation but if you are looking for a more advanced CRM platform with Sales, Marketing, Customer Service and Support features you might want to consider Infor CRM.
Infor CRM (Previously called SalesLogix) was developed by the owners of Act! CRM to offer a more advanced CRM platform that offered extensive customisation capabilities and advanced CRM features. Contact us on 020 8050 3216 to organise a demonstration so you can compare the benefits over Act! CRM.
Organise a Personalised 1-1 Demonstration
Request a live 1-1 demo of Act! CRM personalised to your business and industry needs. Our CRM specialists will perform a free demo either at your offices or via the web. Call us today on 020 8050 3216 or email us at info@alphalogix.co.uk to organise a suitable time and location.