---
What is Sage 200 Financials Module?
---
Sage 200 Financials is the core module for the Sage 200 suite, Financials is the central module where all other modules feed financial accounting information into the nominal ledgers, so your business can run financial reports to get valuable insights you need to increase profits, and speed up growth.
The Sage 200 Financials software consists of four core ledgers, the nominal ledger, sales and purchase ledgers and the cash book ledger. The system gives you an accurate up-to date financial position at any one time, as well as analysing historical trends using powerful reporting tools, such as Sage 200 Business Intelligence, which is also included with the financials module.
Download the NEW Sage 200 Brochure in PDF format
Godminster Cheese Sage 200 Success Story Download
Download the Sage 200 Datasheet for Financials
Sage 200 price list download

This core module for Sage 200 has improved considerably recently and many new features have been added and it now integrates with many of Sage's products, such as E-invoicing with Sage Pay, Sage Payroll integration, automated payments using Modulr and seamless integration with Office 365.
Sage 200 Financials Overview
The Sage 200 Financials module provides your business with a wide range of accounting benefits and features including:
A three-tier Nominal structure gives businesses great reporting and consolidation flexibility
Flexible accounting periods gives you more control on which accounting periods can be closed, open and reopened when needed
The batch upload feature allows you to enter journals and place them on hold before committing them to the nominal ledger
Improves your accounting department's efficiency with automated statements, direct debits and standing orders
Improves the way you manage foreign currency trading, including foreign exchange rate adjustments
Integrates with Sage 50 Payroll so, you see all outgoing costs
Its powerful SQL database allows you to keep unlimited customer and supplier records, as well as unlimited transaction data
Saves time with bank reconciliations by working along-side your banking software
Choose to exclude or include VAT in prices
Interactive dashboards and powerful reports allow you to make more accurate forecasts
Improves your cash flow management
Download the Sage 200 Datasheet for Financials
Sage 200 Financials Module Overview
Sage 200 Financials Ledgers
Financials consists of four key ledgers, Nominal Ledger, Cash Book, Sales and Purchase Ledgers which together provide businesses with a complete financial solution. All other modules such as commercials, project accounting, manufacturing and bill of materials feed information directly into these ledgers.


Nominal Ledger
Take full control over when postings from the other ledgers are made to your nominal accounts.
3-tier nominal structure.
Unlimited financial statements layouts.
Flexible accounting periods.
Group accounts for improved reporting.
Cash Book
Take full control of your cash book accounts and understand your cash flow better than ever before.
Automated Direct Debits and Standing Orders.
Multi-currency processing.
Comprehensive Bank Reconciliation functions.
Manage inter-account transfers with ease.
Sage 200 Financials is Available for On Premise and Online Versions
Sales Ledger
Manage your Customers efficiently and precisely with configurable ledger controls.
Advanced multi-currency trading.
Strong debtor controls.
Head office statement facility.
Flexibility in trading periods.
Purchase Ledger
Work closer with your Suppliers than ever before. Manage and analyse who you're paying, when, and how much.
Creates defaults for repeat order entry.
Generate payments in batch, periodically.
Analyse and Interrogate transactions in little time.
Configurable payment terms for each supplier.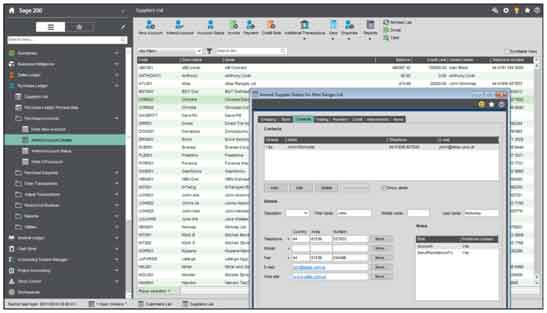 Business Intelligence (BI) is included with Sage 200 Financials
BI is a powerful Microsoft Excel reporting tool and an extension to Sage 200, BI will give you a new insight into your business.
Analyse financial and commercial trends.
Create dashboards that summarise your business.
Drill into balances to review the transactions.
Recreate your management accounts in BI.
Review and Testimonial for Sage 200
Sage 200 customer review and testimonial from the firm Fracino. With a pioneering track record of more than 50 years of manufacturing traditional coffee machines, Fracino grows and continues its legacy. Fracino has trusted Sage solutions to help ensure growth remains manageable.
"It became perfectly obvious that Sage 200 would do everything we needed and possibly a lot more, so now we have one system that does CRM, stock control, works orders, production planning, and serial numbers - it controls everything."
Adrian Maxwell, Managing Director, Francino
Sage 200 Customer Success Case Study - Francino
Need More Information or Arrange a Demonstration?
For more information about this module read our guide "What is Sage 200 Financials", read more. Alternatively, we can arrange a demonstration either via the web, at your offices or at one of our offices, we cover the whole of the UK, to book a demo go to the Sage 200 demo page or give us a call.
Sage 200 Overview
Sage 200 Financials Training
Whether you are a new or experienced user of Sage 200 Financials, AlphaLogix has a wide range of training courses designed to get the most from your software investment, as well as valuable knowledge on the best hints and tips for using Sage 200.
We also offer bespoke training courses that focus training in areas that will benefit users the most. All our standard and bespoke Sage 200 Financials training courses are available on site, at our offices or over the web.
Financials training covers all main areas of the module including:
Navigation
Searching
Workspaces
Sales Processing
How to Create A New Customer Account?
How to Enter Direct Invoices?
How to Post A Sales Receipt?
How to Allocate Transactions
To Put Customers on Hold
Reversing Transactions
Sales Ledger Period End
Purchase Processing
How to Create A New Supplier Account?
Automatic Payment Runs
Sales and Purchase Allocation Correction
How to Rectify an Allocation?
Cash Book
Period end routines
Bank Feeds
Plus, much more

To discuss your training requirements call us on 020 8050 3216, so we can send over more details or design a course based around your training needs.
Other Services We Offer
If you already use Sage and would like to have your system developed further, our qualified consultants can help, just some of the services we offer:
Design of new Sage 200 Financials report and statement layouts
Integration of accounting systems with other IT systems (such as CRM and Manufacturing)
Technical support (we regularly take over support from other Sage business partners for customers who feel they are not getting the best possible service)
Bespoke development work
If you would like more information on Sage 200 Financials - Contact us 020 8050 3216 or email us at info@alphalogix.co.uk