---
What is Sage Intacct?
---
Sage Intacct is a powerful Cloud based finance management and accounting system from Sage for small to medium sized businesses. Sage Intacct (previously known as just Intacct) runs in the Cloud and is a suite of accounts modules that enables you to manage your business finances.
The core module of Sage Intacct is Financials, additional modules can be added to increase functionality. Sage Intacct automates the complete array of accounting processes, from basic to complex processes, so you can improve your company finances.

A key strength of Sage Intacct is that you can tailor the system to manage complex accounting processes for your business. The solution is highly configurable, flexible scalable and innovative, whilst also being easy to use with its intuitive user interface.
Officially launched in the UK in 2019, Sage Intacct has achieved considerable success and is recognised as the market leading cloud accounting software solution for small to medium sized companies.
Sage Intacct has been further bolstered by achieving the highest product score for Core Financials for the Lower Midsize business market in the Gartner report.
Sage Intacct Brochure Download
Buyers Guide to Selecting an Accounting Solution Download​
Sage Intacct Core Financials General Ledger Datasheet Download
Sage Intacct Financial Management
Why Use Sage Intacct?
The main benefits of using Sage Intacct is that it is a powerful cloud-based accounting system that it can transform the way your finances are managed and makes your business more efficient and productive.
Managing your organisations finances can be complicated and time consuming, and reports might not give you real time financial data, the solution can manage all of your complex financial processes, from cash flow, inventory, SOP, POP, sales, purchasing, time and expenses, project accounting, fixed assets and lot more.

Sage Intacct helps businesses by making financial data and accounting transactions more accessible and can be accessed from any device with internet connection, users can access reports and dashboards on information in real time.
Sage Intacct online accounts software for the cloud has many advantages over traditional on-premise accounting software, it is very secure and important data is automatically backed up, product updates are automatically applied without you having to worry about keeping up with the latest versions of the software.
Sage Intacct Customer Success Case Study – L W Cole
L W Cole specialises in supplying and installing appliances to the UK house building community across England and Wales.
The company has recently grown so rapidly, it was clear its financial management processes needed an overhaul to keep up. It chose Sage Intacct for its finance and business management system.
The business needed a cloud-based system that could communicate with its existing infrastructure and fit within budget.
Before Sage Intacct, the financial outlook had to wait until the end of the month. Now, financial insights and projections can be generated at any given moment.
""I genuinely think Sage Intacct is the best finance software I've ever used. The depth and power of the reporting make it a stand out system"
Mike Newton – Finance Director - L W Cole (Distributors) Limited
Sage Intacct Customer Success Case Study
Reasons Why You Should Use Sage Intacct:
Received the Highest Customer Score in the Marketplace
Innovative, highly configurable, flexible and scalable
The cloud requires no software to install
Market leading cloud solution as rated by Gartner
Spread the cost by paying monthly
It is modular solution where customers pay for what you need
No need to invest in expensive servers or data backup hardware
Real time financial dashboards and reporting
Intuitive and easy to use
Enhance functionality by adding additional modules such as fixed assets, project accounting, time and expenses and a lot more
Sage's cloud hosting security is world class
Easily collaborate with other users in your organisation and your accountant
Sage Intacct - Cloud Financial Management for Forward-Looking Finance Leaders
What Can Sage Intacct Do for My Business?
As your business grows, Sage Intacct can do a lot for your business by automating more of your day to day accounting processes like cash management, invoices and billing, expenses, inventory, SOP, POP, supply chain, project accounting, payments and other transactions so you can focus on more valuable business initiatives.
Offering more than just financials and accounts, the solution helps you build a joined up, efficient organisation connecting all your departments, from sales to customer services, despatch to financials.
There are now more than 14,000 businesses benefitting from using Sage Intacct from all sorts of sectors, from professional services, not for profit, technology to more traditional businesses.
Sage Intacct has become the market leading business cloud accounting and finance system owing to the way it can manage complex processes whilst it simplifies and facilitates a very diverse range of finance tasks, allowing businesses to work faster, more efficiently and more accurately.
The Sage Intacct system provides accurate, timely insight's that helps you drive success, saves time and supports key decisions by getting straight to the critical data you need — including sales, orders, invoices, productivity, budgets, profits, and much more in one single solution.
Sage Intacct Demo
What Features are in Sage Intacct?
The Sage Intacct system is a feature rich Cloud accounting system that has many innovative features that helps improve efficiency, saves times and makes your organisation more profitable.
Features found in the software includes cash management, order management, supply chain management, project accounting, inventory, purchasing, billing, contract management, time and expenses, advanced dashboards and reporting, and a lot more.
You can find out more about the features in our two sections for core financials and modules further down the page.


How Good is Sage Intacct?
Sage Intacct is the market leading Cloud accounts software for small to medium sized companies, and has won many awards over the years, making it a good choice for your finance software.
Sage Intacct earned the highest customer satisfaction in the industry from G2 since Sage's focus was on delivering an integrated accounting solution that puts your success first.
Reasons Why Sage Intacct is Good for your Business
Financials is the best in its class
Scalable and highly configurable financial management software
Modern Cloud based flexible architecture
Achieved the highest product score in the marketplace
Designed By financial experts for finance professionals
Built exclusively for use in the Cloud
The software achieved the highest customer score in the marketplace
The accounting solution is extremely flexible
Outstanding and powerful financial reporting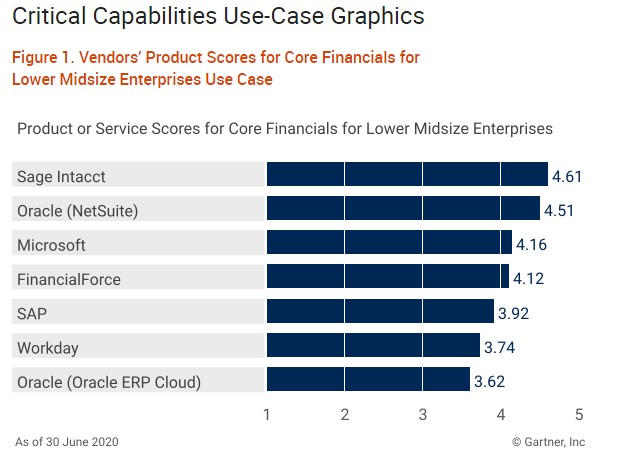 Companies choose Sage Intacct because it automates the complete array of processes so you can improve processes, increase user productivity and boost business growth. A typical implementation achieves a 250% Return on Investment (ROI), achieves a 65% productivity improvement and an average payback time of around 6 months.
Raise Your Game with Sage Intacct?
What is Sage Intacct Core Financials?
Sage Intacct Core Financials is the main central module, the module is commonly referred to as just Sage Intacct Financials and is the central accounting software module.
 All other modules feed financial accounting information into Core Financials, enabling you to run real time financial reports to get valuable insights to increase profits and grow your company.
The most important ledger in Core Financials is the General Ledger. Financials also includes other ledgers such as the sales ledger, purchasing ledger and the cash book ledger, allowing you to manage accounts payable, receivables, cash management, sales invoicing, order management and purchasing.
Core Financials Contain the Following Modules
General Ledger
Accounts Payable
Accounts Receivable
Purchasing
Order Management
Cash Management
Sage Intacct Financials
Sage Intacct General Ledger. Streamline your chart of accounts, reduce transaction tagging errors, and slice and dice data in new ways. The general ledger has the most innovative and flexible architecture on the market, further information.
Sage Intacct Accounts Payable enables you to automate your accounts payable processes which eliminates many inefficient and time-consuming workflows. Accounts Payable enables you to stay in control of accounts payable by automating workflows, approvals and internal controls, further information. 
Sage Intacct Accounts Receivable. Automate the invoicing and collections process. Accelerate your cash flows with Accounts Receivable module by properly managing invoices, credit terms, and other accounts receivable tasks, further information.
Sage Intacct Purchasing automates all of your purchasing processes and enables you to create structured, predefined transaction and approval workflows for purchase orders that increase purchasing speed, accuracy, and efficiency, further information.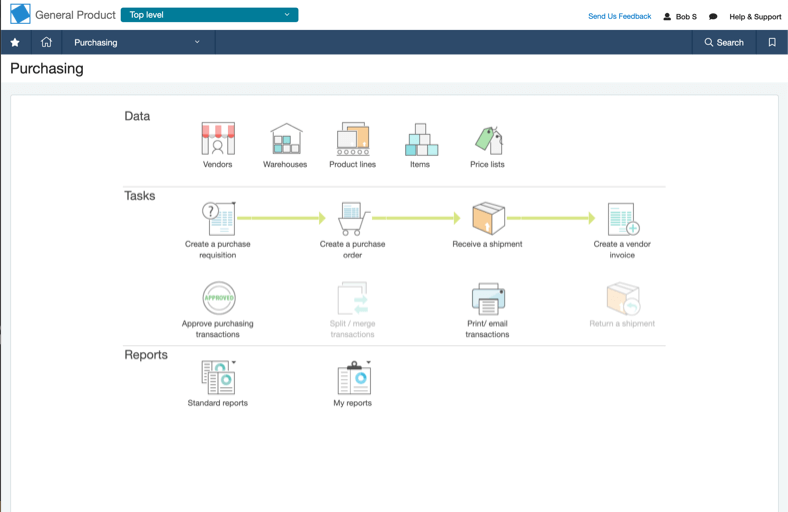 Sage Intacct Order Management module enables you to automate your order management processes which eliminates many inefficient and time-consuming order workflows. The order management module enables you to stay in control of order management tasks, further information.
Sage Intacct Cash Management is designed to improve the cashflow in your business by improving the visibility and timing of payments. Many organisations do not have full visibility into where their cash is coming from or where it is going, Cash Management gives you a complete picture of your cash flow and working capital, further information.

What Modules are in Sage Intacct?
When you first buy Intacct, you get Core Financials as standard which is full of great features that you can use straight away to help run your business smoothly and efficiently.
Sage Intacct is modular, additional modules can be added to the Core Financials module as and when you need it, these modules add advanced features, and flexibility to the system.
You can manage project accounting, fixed assets, contract billing, time and expenses, advanced dashboards, inventory management and a lot more.
Additional Sage Intacct Modules Include:
Billing software
Fixed Assets
Project accounting
Multi-entry and global consolidations
Vendor payment services
Inventory Management
Time and Expenses
Reports and Dashboards
Salesforce CRM Integration
Revenue recognition
Spend Management
Sage Intacct Modules Include:
Sage Intacct Fixed Assets module and financial management platform accelerates and simplifies accurate accounting throughout the entire fixed asset management lifecycle. With fixed assets you work with a single set of asset-acquisition, depreciation, and disposal information that's automatically shared with the general ledger, accounts payable and purchasing, further information.
Sage Intacct Time and Expenses module, enables you to capture time and expense data for projects and clients. Time and expense management effortlessly moves time and expense data to invoices and revenue recognition workflows, further information.
Sage Intacct Project Accounting software automates the project accounting processes your business needs. Project accounting software shows you the costs, time, and expenses and help you manage resources, billing, even revenue recognition, further information.
Sage Intacct Project Costing and Billing Demo
Sage Intacct Billing Software is a module that enables you to automate complex revenue and billing processes. The billing software module is made up of three modules, Contract and Subscription billing, Project Costing and billing and Revenue recognition, further information.
Sage Intacct Spend Management lets you govern all company spending compared to your budgets, so you never spend more than you should. Spend management has real-time dashboards, you can thoroughly analyse the "spend trend" to stay on top of company purchases and reduce unplanned variances, further information.
Sage Intacct Revenue Recognition removes the complexity, time, and frustration associated with revenue recognition. The revenue recognition software helps you simplify revenue management by flexibly configuring expense amortisation to match or differ from your revenue recognition terms, further information.
Sage Intacct Inventory Management provides comprehensive stock control that helps you improve your business efficiency, inventory control, customer satisfaction, and profitability, further information.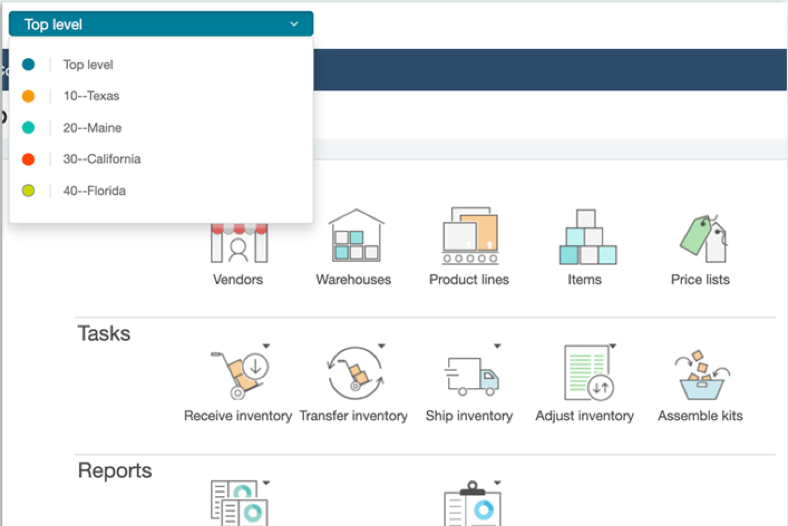 Sage Intacct Multi Entity and Global Consolidations module enables you to manage accounts for multiple locations, multiple entities, and multiple currencies. The system automates financial consolidation which eliminates manual effort so you can close your accounts faster, further information.
Sage Intacct Dashboards and Reporting module enables you to create and run dashboards, the software come with a wide range of standard reportsand dashboards, dashboards and reports also gives you the tools to easily create your own reports, graphs, dashboards, and visualisations that analyse performance by business driver, further information.

How Much Does Sage Intacct Cost and Price?
The initial cost of Sage Intacct accounts software starts by buying Core Financials which is the base module you will need. The price of Sage Intacct is based on paying a monthly subscription fee.
The total costs depend on the number of users you require and the additional modules you want to add to system, each module may vary in pricing.
The total cost is also determined by the additional modules you require, such as the billing software module or fixed assets, or any of the other modules. There is also the cost of support, implementation and training to consider.

The policy at Sage is that they not publish prices on the web, so to discuss pricing you will need to call us to discuss your project requirements then we can give you an indication of costs.
Call us today to discuss your project on 020 8050 3216, or request a call back to discuss costs or to book a demo.
Financial visibility in real time with Sage Intacct
Sage Intacct vs Sage 200 – What are the Differences?
Sage offers several ERP and accounting software products to help you run your business. Sage Intacct was designed to be the best in its class for accounting software in the Cloud, it focuses on Financial Management and does not focus on certain industries such as manufacturing (MRP).
Sage has two products in the UK targeted at the small to medium business market, these are Sage 200 and Sage Intacct. Both Sage products have won awards and are market leading software solutions in their own right, however there are differences between the two systems, see our guide Sage 200 vs Sage Intacct, further information.
Both solutions have a range of modules that you can add once you have purchased the core financial accounting system, however these modules are different in both products and have different features.
Sage 200 Modules
Financials
Commercials
Project Accounting
Manufacturing
Bill of Materials
Business Intelligence
Sage CRM
Sage Intacct Modules
Core Financials
Billing software
Fixed Assets
Project accounting
Multi-entry and global consolidations
Vendor payment services
Inventory Management
Salesforce CRM Integration
Revenue recognition
Spend Management
Is Sage Intacct in the Cloud?
Sage Intacct can be used online via the Cloud. Sage Intacct was designed specifically for the Cloud (Sass) only and it is only available on a subscription-based Cloud license.
When Sage acquired Intacct it was part of their goal to become the market leading software vendor of Cloud based software, further information on Sage online and cloud products.
Benefits of Using Sage Intacct in the Cloud
See your current financial position at any time
Everything is in one place
Work from anywhere with Internet connection
Spread the cost by paying monthly
Frees up IT resources and reduces expensive IT overheads
Sage Intacct software requires nothing to install
The software is constantly updated with new versions so you do not need to worry about applying software updates
Financial data is constantly updated
Real time dashboards and reporting enables you to monitor key performance indicators for your business
Sage's Cloud security is world class and is hosted on a secure server where you have protection against financial and accounting data loss
No need to invest in expensive servers or data backup hardware
Quickly give access to multiple users and set employee permissions
Easily collaborate with your accountant and other Sage users in your business
Does Sage Intacct Integrate with Salesforce CRM?
Integrating your finance system with CRM enables you to have a joined-up business, Sage Intacct has a pre-built integration with Salesforce CRM to give you a best-in-class financial management platform with the best-in-class Salesforce cloud CRM platform, further information.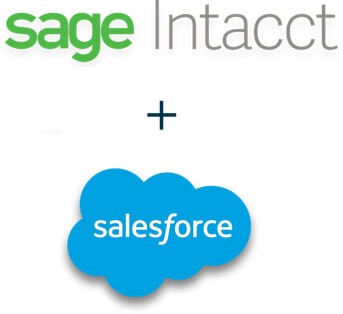 Together, by integrating the solutions together you a complete view of every customer, and it enables you manage customer relationships, sales, marketing and customer service for your whole business.
What Types of Businesses Use Sage Intacct?
Financial professionals from all industry sectors use Sage Intacct to help them manage their business finances, and accounting processes.
Just some of the business sectors that trust the solution help them manage their finances include the below sectors, further information.
Professional Services
Financial services
Charities and Not for Profit
Technology Businesses
Wholesale and Distribution
Government
Hospitality
Internationals and Head Offices
Healthcare
And a lot more...

What Does Intacct Stand For?
The Intacct accounting product name was created from combing certain elements of the word's "internet" and "Accounting", and they came up with the name Intacct. It was one of the first cloud computing solutions and was launched back in 1999 in San Jose, California, it was them acquired by the Sage Group in 2017.
Is Sage Intacct an ERP System?
Sage Intacct is an advanced Cloud based ERP (Enterprise Resource Planning) system that automates many accounting processes across your business.
The Sage Intacct ERP software brings together all aspects of running your business accounts and financials, from managing financials, business intelligence, project accounting, supply chain, cash, sales order processing, CRM, purchasing, managing assets, time and expenses and much more.
Because Sage Intacct was designed as a flexible ERP system and has a modular approach you can add extra modules as your business grows, modules such as inventory management, Multi Entity and Global Consolidations and much more can be added as and when you need it.
Who is Intacct Owned by?
Intacct was founded in 1999 as one of the first accounting software applications for the cloud. Intacct was owned by Intacct Corporation which was headquartered in San Jose, California. Intacct quickly grew organically and offered a suite of modules for medium sized businesses.
Intacct Corporation was acquired by the UK company the Sage Group PLC in 2017 who now own the product, Sage rebranded Intacct as Sage Intacct, further information.
When Was Sage Intacct Released?
The company who first developed Intacct was was founded back in 1999, in the same year they released the first version of Intacct into the US market, aimed at medium sized businesses.
The product was launched and released into the UK in 2017 when Sage acquired the product and rebranded it as Sage Intacct. Sage continues to release the software into new countries around the world.
Official Launch in the UK
Does Sage Intacct Have an API?
The Sage Intacct system has an innovative  API (Application Programming Interface) which enables you to develop links with other business applications business systems such as CRM, ePOS, Salesforce, Payroll, and lots more.
The API solution was built to be able to "talk" to your other best-in-class cloud systems with automated two-way, system-to-system communication. The web services API will help manage complex business processes with other systems, further information.
Does Sage Intacct Do Payroll?
Sage Intacct was designed to be the best in its class for accounting software and does not have a Payroll module as such, however the open API feature allows Business Partners and customers to build seamless integration links to Payroll systems like Sage Payroll.
There are also a number of pre-built payroll apps to link to payroll systems which can be found at the  marketplace.


What Database Does Sage Intacct Use?
Sage Intacct is hosted in the Cloud so your business does not need to worry about investing in infrastructure and database software.
Sage Intacct is built on the highly reliable Oracle database infrastructure which provides exceptional performance and world class security.
The Sage Intacct Oracle database ensures you can access financial accounting information at any time of the day, every day of the year.
Why Choose AlphaLogix as your Sage Intacct Parner? Organise a Quote and Demo
Our accounting experts will help you discover how Sage Intacct can be setup to improve your financials processes within your business. We will provide you with a free initial personalised demo as well as fully justified costs and pricing for your requirements.
Our dedicated accounts experts are committed to ensuring you get the most from your software investment and we offer the following services.
Implementation
Support from our technical help desk
Development services
Training on all the modules
Migration from other systems
Software integration
A proactive and dedicated support team
Ecommerce and website integration
Plus, much more
Call us today on 0208 050 3216 to discuss your requirements or to organise a demo or quote, alternatively email us at info@alphalogix.co.uk. We will help you through every step of the selection process, implementation process, including training and support.
Related Information
Sage Intacct Costs and Pricing