Sage Intacct is entirely cloud-based accounting software for businesses looking to manage their finances. Sage Intacct manages your accounting processes and billing, as well as customers, inventory, ledgers, bank reconciliation and purchasing, and provides real time financial analytics to help improve profitability.
Sage Intacct was first released in 1999 by Intacct Corporation, it was one of the first Cloud-based financial management and accounting software solutions in the market. Sage acquired Intacct in 2017 for $850 million and today it us used by over 18000 businesses across the globe.
Sage Intacct has won many awards and was voted best in its class by Gartner. One of its main key strengths is its ability to handle Multi Legislation and Multi Currencies. The system also has a wide range of additional modules, including Project accounting, manufacturing.
Sage Intacct Key Software Features
Best-in-class Cloud-based financials and accounting functionality
Access accounting data securely from one source of data in the Cloud
Highly customisable, flexible and scalable
Real time financial analytics dashboards and reports
Powerful additional software modules available
Multi-country, multi-company, multi-currency and multi-entity
Flexible API's
Handles large amounts of financial transactions in the Cloud
Summary of Sage Intacct business benefits.
Sage Intacct is powerful yet easy to use – The system is very tailorable, flexible and intuitive to use.
Access accounting data 24/7 securely from the Cloud– Because Sage Intacct runs in the Cloud you can access your accounts data anytime 24/7 from any device with internet access.
Add advanced software modules for additional functionality– Sage Intacct offers a wide range of specific software modules to add extra features for your business or industry vertical.
Secure –Sage Intacct is hosted at Sage's world class secure datacentres. Backups and updates are automated, so you are up to date and compliant with the latest legislation.
Automatic software updates & backups – Because Sage Intacct is only used in the Cloud, Sage automatically updates the software with the latest releases for you, so you do not need to worry about upgrades or backups.
Sage Intacct's database is fast and can handle virtually unlimited number of financial transactions
Better control of financial processes & reporting in real time – Sage Intacct enables you to see information in real time, so you get up to date information on your financial position, KPI's, reports, processes and performance.
Reduce paper use & become Eco friendly – Running Sage Intacct in the Cloud will significantly reduce paper use throughout your business as there is no need for producing paper financial reports, bills or invoices.
Improved collaboration for Sage Intacct users – Because all financial data and accounting transactions are stored in one database in the Cloud across the whole business enables you to improve collaboration with other Sage Intacct users.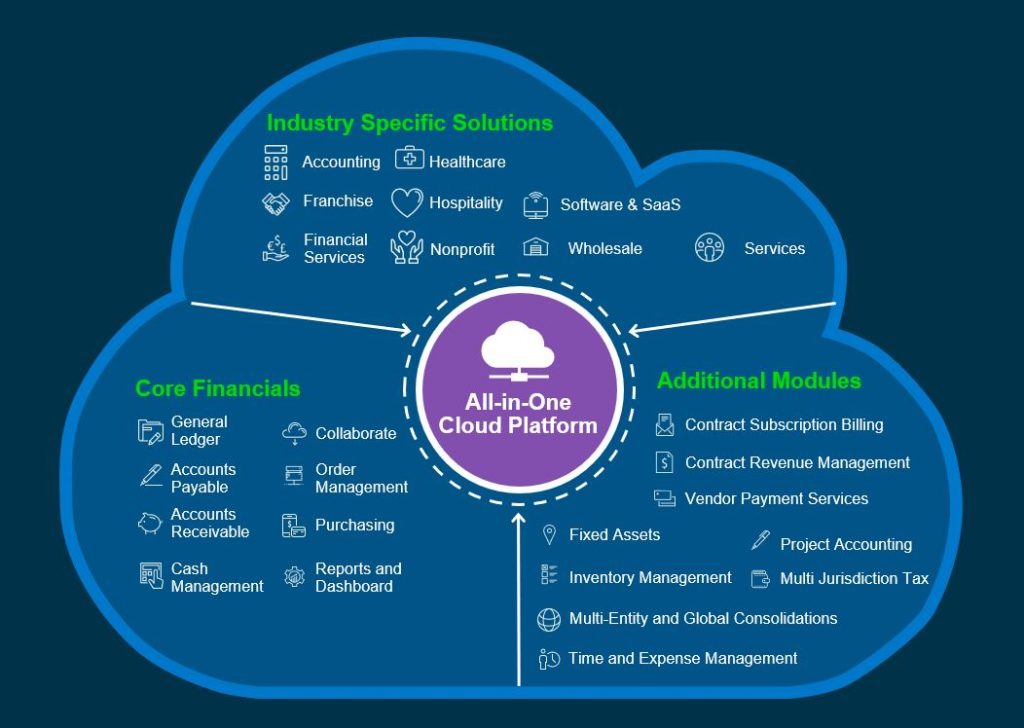 Which Sage Intacct version is best for your business?
There are two current versions of the Sage Intacct software, Starter Edition and the full version.
Sage Intacct Starter Edition is the entry level version and is limited by the number of users and also additional modules you can purchase, it is targeted towards smaller businesses who have less budget.
Sage Intacct is the main version which enables you to purchase more users and all the additional modules, such as inventory management and contracts and subscription billing.
Contact AlphaLogix – Sage Intacct Business Partner
AlphaLogix was founded in 1995 and today we are a leading tier 1 strategic Sage Intacct Business partner in the UK. Our Sage consultants have successfully implemented hundreds of Sage sites across the UK and we understand the need for a well-planned and smooth implementation process.
All of our Sage Intacct consultants are certified by Sage and we pride ourselves in providing outstanding customer service and help desk support, with quick resolutions for your technical queries. You can always call upon us for expert help and guidance for Sage Intacct.
We have Sage Intacct consultants and offices throughout the whole of the UK.
Contact us on 0330 043 0140 or email us at info@alphalogix.co.uk to discuss Sage Intacct or to organise a consultation call, demonstration, meeting or personalised quote.
Request a Call Back to Discuss Sage Intacct
• Request a Free Consultation Call or Meeting
• Organise a Personalised Demonstration of Sage Intacct
• Request Pricing Or Organise a Quote