---
What is Sage Intacct?
---
Sage Intacct is a powerful finance management and accounts system from Sage UK. The Sage Intacct accounting software runs in the cloud and is a suite of modules that enables you to manage your business finances. Sage Intacct's core module is Financials, additional modules can be added to increase functionality.
Officially launched in the UK in 2019, Sage Intacct has achieved considerable success and is recognised as the market leading cloud accounting solution for small to medium sized businesses.
The success of Intacct has been further bolstered by achieving the highest product score for Core Financials for the Lower Midsize business market in the Gartner report.
One of the key strengths of Sage Intacct is that it is has an intuitive and easy to user interface which is powerful and highly configurable.
The Intacct software is full of innovative accounting features, including flexible financial reports and dashboards. The software provides you with all the information you need to manage your accounts business finances effectively.
Sage Intacct Brochure Download
Buyers Guide to Selecting an Accounting Solution Download​
Sage Intacct Core Financials General Ledger Datasheet Download


Raise Your Game with Sage Intacct
Why Use Sage Intacct?
The main benefits of using a powerful cloud-based accounting system such as Sage Intacct is that it can transform the way your finances are managed and makes your business more efficient and productive.
One of the biggest developments in the use of Sage accounting software recently has been the move away from traditional on-premise accounts software to managing your finances on the cloud. Sage Intacct helps businesses by making financial data and accounting transactions more accessible and can be accessed from any device with internet connection, users can access and reports on accounting information in real time.

Sage Intacct online accounts software for the cloud has many advantages over traditional on-premise accounting software, it is very secure and important data is automatically backed up, product updates are automatically applied without you having to worry about keeping up with the latest versions of the software.
Reasons Why You Should Use Sage Intacct:
Received the Highest Customer Score in the Marketplace
Highly configurable, flexible and scalable
Sage Intacct for the cloud requires no software to install
Market leading cloud accounting solution as rated by Gartner
Great value for money, spread the cost by paying monthly
Sage Intacct is a modular solution where customers pay for what they need
No need to invest in expensive servers or data backup hardware
Real time financial dashboards and reporting
Sage Intacct is constantly updated with new versions so you do not need to worry about applying new software updates
Intuitive and easy to use
Enhance functionality by adding additional modules such as fixed assets, project accounting, time and expenses and a lot more
Sage's cloud hosting security is world class
Quickly give access to multiple users and set employee permissions
Easily collaborate with other Intacct users in your business and your accountant
Sage Intacct Cloud Financial Management
Sage Intacct Features and Modules
The range of features and accounting modules in Sage Intacct delivers an impressive level of advanced functionality that enable accounts users to become more productive and efficient when managing your business finances. The Intacct software enables you to streamline your business processes using extensive automation to reduce admin, reduce labour, and save costs.
Sage Intacct software goes much further than just managing accounts payable, accounts receivables, cash management, nominal ledger, order management and purchasing found in the Sage Intacct Core Financials Module.
Additional Intacct modules can be added to the Core Financials module as and when you need it, these modules add advanced features, and flexibility to the system. You can manage project accounting, fixed assets, contract billing, time and expenses, advanced dashboards, inventory management and a lot more.
Sage Intacct Core Financials Feature and Modules
At the centre of Sage Intacct is Core Financials, this is the cornerstone of the accounts system, and contains all the key accounting ledgers that all other modules and financial transactions feed into.
Sage Intacct General Ledger. Streamline your chart of accounts, reduce transaction tagging errors, and slice and dice data in new ways. Sage Intacct Nominal Ledger has the most innovative and flexible architecture on the market, further information.
Sage Intacct Accounts payable.Streamline the payment cycle to save time and improve control by creating automated workflows to manage the entire AP process, further information. 
Sage Intacct Accounts receivable. Automate the invoicing and collections process. Accelerate your cash flows by properly managing invoices, credit terms, and other accounts receivable tasks, further information.
Create structured, predefined transaction and approval workflows that increase purchasing speed, accuracy, and efficiency.
Sage Intacct Order management.Automate even the most complex quote-to-cash processes so you can handle higher order volumes, sophisticated workflows, and complex pricing structures, further information.
Sage Intacct Cash Management. Track multiple accounts with real-time visibility and easy reconciliations, further information.
General Ledger Datasheet download.
Accounts Payable Datasheet Download
Accounts Receivable Datasheet Download.
Purchasing Datasheet Download.
Order Management Datasheet Download.
Core Financials Cash Management Download

Financial Reporting and Dashboards Module
Sage Intacct Dashboards and Reporting module provides your business with valuable, and powerful financial insights. The module comes with a wide range of standard reports and dashboards, and the ability to create your own customised reports. Read more about Sage Intacct Dashboards and Reporting.
Users can save 40+ hours per month on financial reporting and cut time spent checking data accuracy by 75%. Achieve real-time visibility into business performance.
Intacct dashboards and reporting software provides visibility into your key accounting metrics and financial data, which is critical to running your business. The software provides real-time information on your financial position so you avoid the headache of waiting on multiple financial reports.
Sage Intacct Dashboards and Reporting Download
See Financial Visibility in Real Time with Sage Intacct
Sage Intacct Platform
Salesforce integration
Web Services API
Platform Services
Sage Intacct Billing Software
The Sage Intacct billing software module is made up of three parts, contract and subscription billing, project costing and billing, and revenue recognition.
Contract and subscription billing, enables you to streamline workflows across the accounts payable cycle with exceptional speed and efficiency.
Sage Intacct Project costing and billing helps make bid smarter and bill faster with less revenue leakage.
Revenue recognition in Sage Intacct enables you to automate complex revenue accounting, configure expense amortisation and more.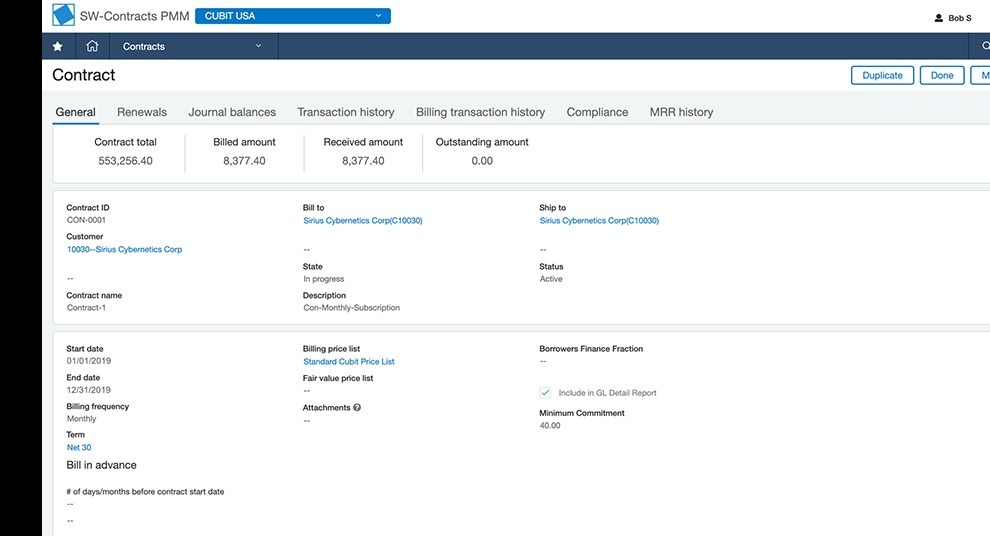 Sage Intacct Advanced Functionality
Sage Intacct has a range of additional modules you can add onto the Intacct Core Financials software. These software modules provide advanced functionality to automate and streamline key finance and accounting processes.

Sage Intacct Frequently Asked Questions
Is Sage Intacct Cloud Based?
Unlike many of Sage's other accounting products such as Sage 50 and Sage 200 that offer both an On-premise version and Cloud version, Sage Intacct was designed for the Cloud (Sass) only, it is only available as a subscription-based Cloud license.
Is Sage Intacct an ERP System?
Cloud-based ERP software from Sage Intacct automates accounting processes, so you can increase business visibility and drive growth. Sage Intacct includes core financials—and allows you to add-on additional modules, or integrate other best-in-class applications.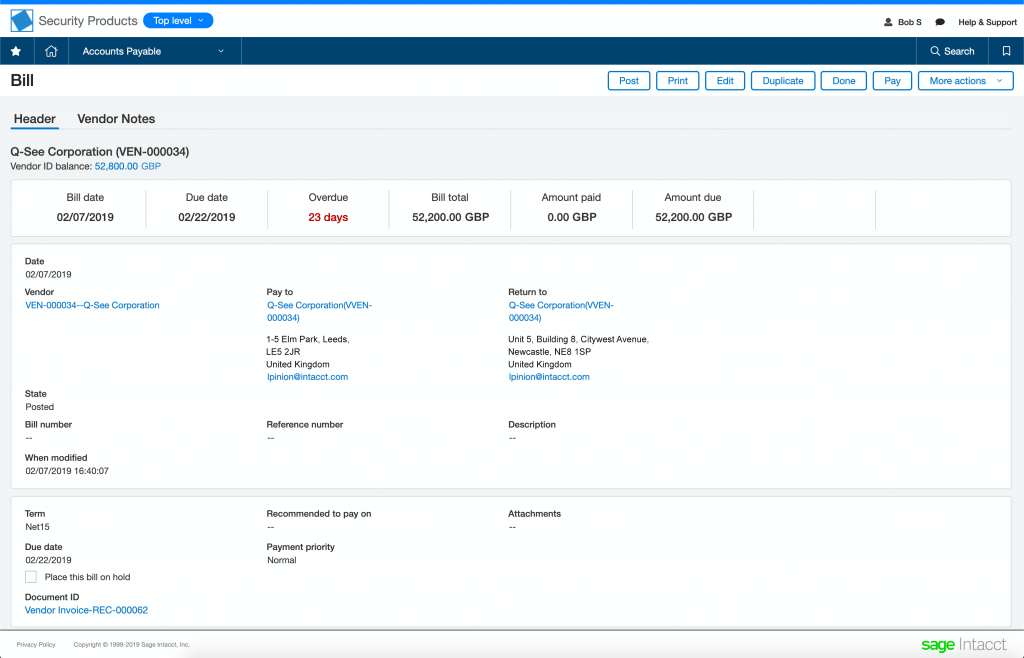 What is the Difference Between Sage and Sage Intacct?
Sage offers several ERP and accounting software products to help you run your business. Sage Intacct was designed to be the best in its class for accounting software in the Cloud, Sage Intacct only focuses on Financial Management and does not focus on certain industries such as manufacturing, further information.
Does Sage Intacct Do Payroll?
Sage Intacct's was designed to be the best in its class for accounting software and does not have a Payroll module as such, however the open API feature allows Business Partners to build seamless integration links to Payroll systems such as Sage 50 Payroll.
Sage Intacct
What is Sage Intacct Marketplace?
If you want to further extend the features of Sage Intacct there are a wide range of business applications available from the Sage Marketplace. These business applications have been developed for specific tasks, from ecommerce integration to web expenses, further information on Sage Intacct Marketplace.
What Database Does Sage Intacct Use?
Sage Intacct is hosted in the Cloud so your business does not need to worry about investing in infrastructure and database software. Sage Intacct is built on the highly reliable Oracle database infrastructure which provides exceptional performance and world class security. The Sage Intacct Oracle database ensures you can access financial accounting information at any time of the day, every day of the year.

Why Choose AlphaLogix? Organise a Quote and Demo
Our Intacct experts can help you discover how Sage Intaact can be setup to improve your accounting processes within your business. We will provide you with a Free initial personalised Intacct demo as well as fully justified costs and pricing for your requirements.
Call us today to organise a demo on 020 8050 3216 or email us at info@alphalogix.co.uk. We will help you through every step of the implementation process, including training and support.