---
What is Sage 200cloud?
---
Sage 200 is also known as Sage 200cloud and is a sophisticated finance management and accounts solution which is used to manage your accounting and business processes. Sage 200 (previously known as line 200) is a flexible software solution targeted to small and medium sized businesses in the UK.
The Sage 200cloud is easy to use and intuitive, it is a highly customisable modular product and is very scalable and flexible. The system can be used online via the cloud with Sage 200 Standard or installed on your own servers and computers with the Professional version.
One of the key strengths of Sage 200cloud is that it integrates with other accounting modules in the Sage 200 suite, it integrates with CRM, Manufacturing, Commercials, the system also integrates with Payroll and other Sage Payment technologies.
A solution for your growing business, Sage 200 is continually updated with the latest technology, the software is a popular upgrade choice for existing Sage 50 users who have outgrown their software and want more advanced accounting functionality and more in-depth financial reporting capabilities.
Sage 200 Product Guides and Brochures
Download the NEW Sage 200 Brochure in PDF format
What is Sage 200?

Sage 200 Overview
What is Sage 200 Used For?
Managing your accounts, finances, customers, supply chain and cashflow can be a complicated task, Sage 200 helps you build a joined up efficient business, connecting all your business departments from sales to customer service, dispatch to financials.
Your growing business will benefit from using Sage 200cloud as it gives the right data to the right people so they see what they need to do without being distracted by too much information, and maintain control over sensitive accounts data with different levels of admin rights.
Sage 200 will help you manage all aspects of your accounting and financial management requirements, from sales order processing, purchase order processing, sophisticated stock management to being Making Tax Digital (MTB) compliant, where you can submit VAT returns online to HMRC.
What are the Benefits of Using Sage 200cloud?
Enables you to tailor your solution to meet your requirements
Helps you grow your business
Is scalable, so as your company grows Sage 200 grows with you
Allows you to fast track your financials
Works anywhere and enhances user productivity
Streamlines processes which improves efficiency
Seamless integration with Office 365
The system adapts as your company grows
Review and Testimonial for Sage 200
Sage 200 customer review and testimonial from the firm Fracino. With a pioneering track record of more than 50 years of manufacturing traditional coffee machines, Fracino grows and continues its legacy. Fracino has trusted Sage solutions to help ensure growth remains manageable.
"It became perfectly obvious that Sage 200 would do everything we needed and possibly a lot more, so now we have one system that does CRM, stock control, works orders, production planning, and serial numbers - it controls everything."
Adrian Maxwell, Managing Director, Francino
Sage 200 Customer Success Case Study - Francino
Is Sage 200 Actually in the Cloud?
Sage 200cloud is targeted to businesses who want to manage their accounts and finances online via the cloud.
Sage's goal is to become a global leader in cloud accounting solutions and technologies, so your Sage 200 accounts data can be accessed by users anywhere with internet connection.
There are two versions of Sage 200 that can be accessed through the cloud, Standard (available online only) and Professional. You still have the option to install Sage 200cloud Professional on your own servers and desktops (on-premise) as well as hosted in the cloud.
What is Sage 200 Used For?
Reasons Why You Should Use Sage 200 in the Cloud
Market leading finance management and accounts software in the UK
The Standard version is built exclusively for use in the cloud
The software is a modular solution where customers pay for what they need
Great value, spread the cost with monthly payments
Sage 200 is very intuitive and easy to use
The software is constantly updated with new versions and the latest technology
Sophisticated and powerful range of accounting features
Sage 200 Professional is highly customisable, scalable and flexible
In-depth powerful financial dashboards and reports
The online version helps to free up your IT resources
Add extra functionality to Sage 200 Professional by adding modules such as Project accounting and CRM
The online version does not require any investment in data backup hardware or expensive servers
Improves productivity
Runs on a powerful SQL database
Easily collaborate with your accountant with the online version
Uses world class secure datacenters
Financial data is automatically backed up
Quickly give access to multiple users and set employee permissions

How is Sage 200 Used to Manage your Financial Position?
Sage 200cloud enables you to know the financial position of your business at any point in time. The Sage 200 Financials module helps you analyse historical trends and data to give you the accurate information you need to make critical business decisions.
Financials has a three-tier nominal structure which gives businesses great reporting and consolidation flexibility
Improves your sales invoicing and cash flow management
Integrates with Payroll so, you see all outgoing costs
Choose to exclude or include VAT in prices
Sage 200cloud is MTD compliant so you can submit VAT returns online
Interactive financial dashboards and powerful finance reports
Flexible accounting periods gives you more control on which accounting periods can be closed, open and reopened when needed
Link Sage 200 Financials alongside your banking software to speed up processing and banking reconciliations
The batch upload feature allows you to enter journals and place them on hold before committing them to the nominal ledger
Improves the way you manage your foreign currency trading, Sage 200cloud Financials includes foreign exchange rate adjustments
Improves your accounting department's efficiency with automated statements, direct debits and standing orders
The Sage 200 software uses a powerful Microsoft SQL database which has superior performance over using a proprietary database such as Sage 50
Quickly see what you're owed using Sage 200 dashboards and workspaces, manage late payments, and schedule supplier payments
Download the Sage 200 Datasheet for Financials
Sage 200 Financials
How is Sage 200 Used to Manage Your Suppliers, Stock and Supply Chain?
Managing your stock using Sage 200cloud Commercials you get a complete inventory and warehouse management solution to help you optimise stock levels, keep costs down and deliver what your customers want.
The module has sophisticated sales order processing (SOP) and purchase order processing (POP) that links to stock control, so you easily manage customer demands whilst maintaining optimum levels of inventory. Sage 200 Commercials also includes batch and serial processing.
Easily control your stock with Sage 200 Commercials
Effectively manage your suppliers and get the best deals from suppliers
Manage your stock levels across multiple locations
Sage 200cloud will keep track of your stock by flagging up any inactive stock items
Reduce time taken from order to shipment by choosing to ship direct to your customer from a supplier
See the full history of an order such as multiple delivery addresses and price negotiations
Source inventory worldwide with up to 100 different currencies supported
The Sage 200 Commercials module flags up invoices in dispute
Compile order lists based on customer orders
Comprehensive price book validation.
Rapid order entry for quick invoicing and dispatch
Sage 200cloud provides functionality for complex or simple pricing
Use templates to quickly create new accounts.
Download the Sage 200 Datasheet for Commercials
Sage 200 Commercials
How is Sage 200 Used to Manage Project Accounting?
The Sage 200 Project Accounting module automates your project accounting processes. Project accounting enables you to see all your expenses, time, and project-based accounting data in one place.
If you are a service-based industry that "sells time", Sage 200cloud project accounting helps you save time, control costs and improves the visibility of projects.
Benefits of Using Project Accounting
Tracks time, expenses and materials against projects
The Sage 200 project management module integrates with SOP, POP and Payroll
Gives project managers the appropriate authorisation to raise purchase orders
Tracks profitability for each project
Use web time and expenses to track timesheets and expenses against a project
Real time project accounting dashboards and reports when you use Sage 200 online
Save time, control costs and improve visibility of projects
A detailed breakdown of all project costs entered into Sage 200cloud
Run multiple projects and allocate timesheets or expenses against them
Download the Datasheet for Sage 200 Project Accounting


Sage 200 Project Accounting
How is Sage 200 Used to Help Manufacturing?
Sage 200 Manufacturing is used to manage production, works orders, materials, supply chain and manufacturing operations across your company.
The Sage 200 Manufacturing module is used to help you manufacture products and goods more efficiently helping you to reduce manufacturing costs and improving the time it takes to manufacture goods.
Manufacturing for Sage 200 includes advanced functionality for Material Requirements Planning (MRP), Shop Floor Data Collection (SFDC), Master Production Scheduling (MPS), Bill of Materials (BOM), Work in Progress (WIP) and estimating.
The manufacturing module integrates with Sage 200 Bill of Materials , BOM helps businesses manage assembly processes and it can break down complex processes and sub-assemblies.
Benefits of Using Sage 200 Manufacturing
Reduces lead times in the manufacturing process
Reduces wastage
Improves business efficiency
Shares crucial manufacturing information across your organisation.
Highlights potential production issues
Provides accurate resource planning
Improved production allows you to deliver more products on time
Download the Manufacturing Datasheet in PDF Format.
Sage 200 Manufacturing
Sage 200 Reporting and Dashboards – Business Intelligence
There are a wide range of Dashboards, Reports and Business Intelligence features in Sage 200 that provides visibility into your key business metrics and financial data, which is key to running and monitoring your business performance.
Financial reports can be viewed using interactive dashboards as well as reporting in Excel. Sage 200 Professional also comes with the Business Intelligence (BI) module comes free with Financials.
Business intelligence is a very powerful Microsoft Excel integrated reporting tool which enables you to slice-and-dice and interrogate your Sage 200 databases incredibly efficiently, further information on Business Intelligence.
Create and configure your own reports in Microsoft Excel, using the BI Add-on
Bring information and analysis from multiple Sage 200 companies, into one Summary Dashboard
82 pre-built reports cover everything from customer and supplier trends, to stock profitability and business analysis.
Benefit from all of the functionality of Excel, with the added benefits of access to all of your company data.
Sage 200cloud also integrates with Microsoft's reporting tool, Power BI.
Sage 200 Overview – Sage 200 Standard and Professional
Upgrade Sage 50 to Sage 200
Many businesses outgrow Sage 50 and need to move to another accounts system or upgrade to Sage 200. Company growth and development can put pressure on their accounts system leading to a system that no longer matches business and customer requirements, read further information on upgrading to Sage 200.
Migrating your Sage 50 accounting data to Sage 200cloud provides your business with a powerful and extremely flexible solution which can be tailored for your business in order to handle increasingly complex requirements and processes, for further information on a comparison of 50 and 200.
Upgrading from Sage 50 to Sage 200
Compare Sage 200 Standard and Professional
With two powerful versions to choose from, Sage 200 offers a finance management system to fit your exact business and accounting requirements. Both versions of Sage 200 use the same software and innovative technology but there are differences.
The entry level version Sage 200 Standard offers a powerful cloud-based solution to get you up and running quickly, whilst Sage 200 Professional offers more advanced features and modules to help you manage more complex requirements and is highly customisable, compare Standard and Professional.


Sage 200 Standard
The Sage 200 Standard version replaces Sage 200 online and has stock capabilities and financials plus a range of other features enabling your business to grow whilst giving powerful insights into your performance.
Standard is a popular choice for businesses upgrading from Sage 50 and want a more advanced accounting solution that can be used online.
Standard has Sage 200 Financials, and Sage 200 Commercials as its core modules, see the full list of features.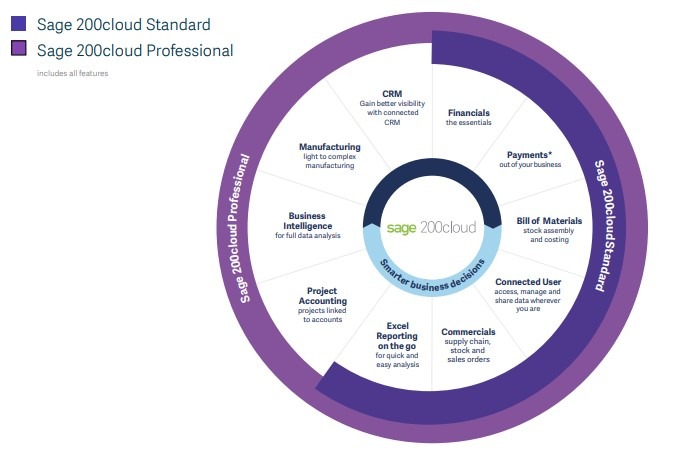 Sage 200 Professional
If your business has more complex business and accounting requirements then Sage 200 Professional is a more advanced and flexible solution. One of its key features is the ability to link in with other business systems and databases, using Microsoft SQL as its core database which offers speed and performance.
Professional offers the full range of additional Sage 200 modules, including, Financials, Commercials, Project Accounting, Bill of Materials, Manufacturing and CRM, it also offers powerful Business Intelligence to gain better insights into your company's performance.
Sage 200cloud Professional can be installed either as on-premise solution or hosted online, see the full list of features in Professional.
Sage 200 Overview
How Much is Sage 200?
Sage recently changed the way businesses buy Sage 200cloud, you can only buy the software by a monthly subscription fee. The cost can now be spread monthly so there is no need for a big upfront investment in software, there is a minimum 12-month contract, read more about costs.
Standard Prices per Month
Sage 200 Standard base unit* £290 per month
Additional users £16 per month
Additional companies £32 each per month
Professional Costs per Month
Sage 200 Base Platform £275 per month
Additional Sage 200 Users £46 per user per month
Additional CRM users (named) £21 per user per month
For further information contact us for a quote, prices do change so call for the latest pricing updates.

Sage 200 Integration
Integration with other Sage products and payment technologies further enhances the features and functionality for Sage 200.  Integration also helps to improve employee productivity and reduces admin costs in running your business.
Another important integration for Sage 200cloud is with Microsoft office 365 which enables teams to collaborate in real times with teams from finance to sales and customer service with access to key data straight from Microsoft Outlook.
There has been many seamless integration apps developed with products like Payroll, there is a  large number of third part applications that the system integrates with, these can be found on Sage marketplace.
If you want to integrate Sage 200 with your own internal systems, there is a powerful API available for integration purposes.
See the Power of Invoice Payments with Sage 200cloud
Why Choose AlphaLogix as Your Business Partner?
Established in 1995, AlphaLogix is one of the largest Accredited Sage Business Partners in the UK. We specialise in Accounting, ERP systems and CRM, with a client base extending from SMEs to Blue-Chip companies across a wide range of market sectors.
Our accounting experts will help you discover how Sage 200cloud will help you improve the way you manage your finances and accounts.
We will provide you with a free personalised demonstration as well as fully justified costs and pricing for your requirements.
Our dedicated team of Sage 200 experts are committed to ensuring you get the most from your software investment and we offer the following services.
Sage 200cloud implementation
Support from our technical help desk
Development services
Migrate your existing Sage 50 data to Sage 200cloud
Dashboard and report design services
Migration from other systems
Software integration
Ecommerce and website integration
Sage 200cloud Training
Amazon Integration
Sage 200 add on modules
Plus, much more
Call us today on 0208 050 3216 to organise a demo or quote, alternatively email us at info@alphalogix.co.uk. We will help you through every step of the selection process, implementation process, including training and support.
Related Information