---
What is Act! CRM Software Used For?
#1 Best Selling CRM System for Small and Medium Sized Businesses.
---
What is Act Software Used for?
---
Act! is used as a contact management and CRM software system that brings together all your customer data into a centralised database. The system enables users to records all customer details, contact details, notes, emails, documents and account history in a shared database for all users to access across your organisation.
Users of Act! include all customer facing staff in organisations, such as sales people, marketers, support staff, customer service reps and management. Act! CRM (previously known as Sage Act! software) has advanced features that allow users to manage sales pipelines, marketing campaigns, leads, activities, customer tracking, calendars and email marketing.

Software That Automates Your Business Processes.
Act! is used in a lot more areas in your business than you would expect, the full list of uses include automating the following business processes;
Managing customer data
Sales force automation
Customer support
Supplier and vendor partner relationships
Marketing automation
Knowledge
Customer interaction
Accessing business critical information
Generate new leads and track progress of existing leads
It's used to manage contracts
Customers and contacts
Employees
Assets
Whilst Act! CRM software is mainly used to manage customer and contact relationships, Act! CRM software is also used to manage contracts, support, assets, and supplier/vendor relationships.
Download the Act! CRM PDF Brochure.
What is Act!?
What Do Sales Teams Use Act! CRM for?
A large percentage of Act! users are in a sales role for their business and use Act! to manage their relationships with customers and prospects. The software allows sales users to track and schedule activities such as phone calls, meetings, to do's and also record and send out emails and documents to contacts.
The Act! CRM software system also helps you to manage opportunities, sales forecasting, reporting and lead assignment.
The Components of Sales Force Automation in Act!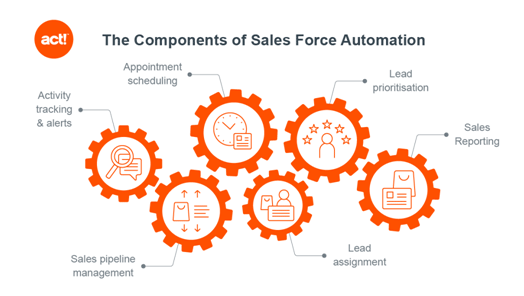 See User Productivity Increase
Productivity is vastly improved when sales and management use the sales force automation (SFA) features found in the software. Act! automates many of the repetitive and administration tasks that are time consuming for sales users to perform. By using SFA software sales reps can focus on more productive tasks such as selling, and not spend their time on non-revenue producing tasks.
See what Act! can do for your sales team whilst tracking sales performance.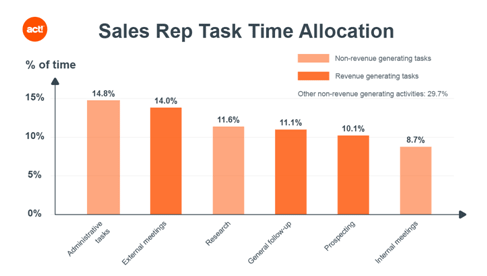 Linking Act! CRM to Sage accounts also helps sales teams as they have key financial data at hand, including invoices, credit balances and client status. To see more information on how CRM and accounts can be linked together, read more.
What is Act! Software Used for by Marketing?
Marketers use CRM software to automate and manage all aspects of their marketing efforts. The Act! marketing automation system helps marketing users to generate new leads, manage campaigns, email marketing, communicate with contacts, report on marketing effectiveness and to help improve the retention rates of existing customers, the system also bridges the gap between sales and marketing so all leads are followed up correctly.

Marketing Users of Act! use the Following Features to Help Drive Growth
Advanced automated email marketing campaigns
Landing page creation
Lead capture forms
Segmentation of contact groups for campaigns
Lead scoring:
Triggered emails
Tracking campaigns
Dynamic content
Perform A/B testing
Social media integration
Our marketing automation guide provides more information on how marketing departments can benefit from using Act!
Drive business growth with Act! Marketing Automation Software
How Do Management Benefit From Using Act! CRM?
From a sales management and business management perspective, CRM software such as Act! provides a valuable tool for managing data, sales, staff, processes, customers, marketing and gives a valuable insight into the performance of the business, through management reports and dashboards.
The Main Benefits to Managers Who use Act! Includes:
Provides an up to date overview of your sales team performance
Gives accurate sales pipeline updates and forecasts
Helps improves customer retention rates and profitability for your business
Drives new marketing leads and helps increase sales revenue
Act! software helps management, staff and teams collaborate better together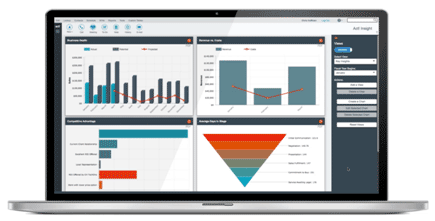 CRM also helps management by guiding them on their strategic goals whilst giving them operational control over every aspect of their company's relationships with customers and contacts. See our guide on the top reasons to use Act!.
How Is Act! Used to Help Support?
Delivering exceptional customer service is crucial to retaining existing customers. Act! provides support staff with the software tools to track and follow up support issues with contacts and clients.
The benefits of using CRM to manage your support include;
Log, track and resolve support calls and issues quickly and effectively
Deliver on customer expectations whilst exceeding support targets
Access client data including assets and support contracts
Maximise the effectiveness of each interaction with your customers
Allow your customers around the world to get the support they need
Contact AlphaLogix to Organise a Demo for Act!
To organise a demonstration on either of the Act! Pro, Premium and Ultimate versions call us today on 020 8050 3216 or email us at infor@alphalogix.co.uk. As well as discussing your CRM requirements, our consultants can provide full pricing and training options.