---
Act! CRM Software
---
Act CRM is one of the world's most commonly used customer relationship management systems with over 4 Million users. Act! CRM (previously known as Act! by Sage) allows you to build relationships with companies ensuring increased profitability and increased customer retention.

There are four different products versions of Act!
Act! CRM – This is the entry level version and is ideal If you only need CRM functionality to help build and strengthen customer relations, close sales faster and make better business decisions.
Act! CRM Professional – Contains full featured CRM functionality as well as marketing automation and the ability to send out up to 10,000 emails every month, to see further information on Professional.
Act! CRM Premier – Includes CRM for customer management, track your sales pipeline to close more deals, as well as marketing automation with the ability to send up to 50,000 emails per month, see the full features.
Act! CRM Ultimate – This is the most sophisticated version of Act! with full CRM functionality and you can also send out 100,000 emails each month.
If you are using an existing version of Act! and want to upgrade, our guide can tell you the benefits of moving to the latest version.
Call us on 020 8050 3216 to organise a demo or to get the latest pricing plans, alternatively email us at info@alphalogix.co.uk
What Are the Benefits of Act! CRM
Using a CRM system such as Act! can have a positive impact on your business performance including better improved relations, sales deals close quicker and marketing automation can help generate more leads to help replenish the sales people and feed business growth, some of the other benefits include:
Advanced Contact Management – One of the significant benefits of Act! CRM is its ability to help you better manage your relationships with customers and prospects. The system tracks all interactions with contacts as well as prompting you for follow ups.
Manage Sales Reps and Sales Teams – Keeping a close eye on sales staff and teams is important in todays fast moving business environment, Act! allows managers to get an overview of all sales staff activities so you can manage teams and sales opportunities effectively.
Accurate Sales Forecasting – Managing your sales pipeline accurately is crucial to your business success and achieving your sales targets. Act! provides you with a range of reports and dashboards so you can actively monitor future revenue while highlighting deals that can be closed quickly, see our guide on tracking sales performance from our blog.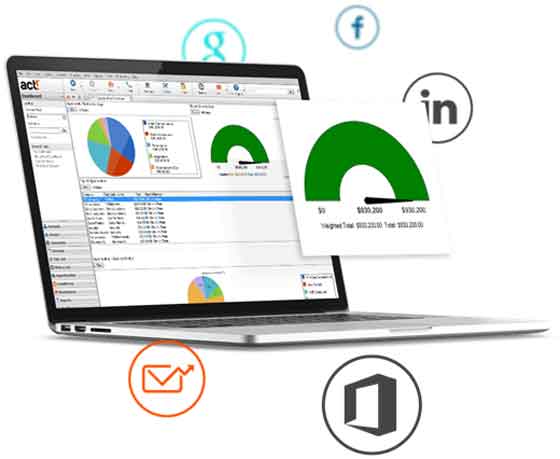 Improve Customer Loyalty and Retention Rates – By staying in constant contact with customers and prospects allows you to increase loyalty and maintain high levels of customer retention. The system prompts you to call clients at set times and dates so you never miss an action or opportunity.
Generate More Leads and Increase Your ROI Marketing Spend – Many CRM systems are only used for their sales force automation, however Act! has a range of advanced marketing automation features to help generate more leads, thus maximizing your marketing ROI.
Our guide on the top reasons to choose Act! can also help you get a further overview of the benefits.
Highly Customisable
The software can be customised allowing it to work the way your business runs, you can add custom fields and forms which mirror the data that your business requires to operate efficiently.
Competitively Priced CRM
Buying a CRM solution can be very expensive, there are initial costs (e.g., licenses, installation, training) and ongoing costs such as support and annual maintenance fees.
One of the great benefits of choosing Act! is that it has a wide range of competitive pricing plans to suit your budget and a low cost of ownership. For details on Act! CRM pricing plans read more.
Go Mobile
If you have a remote workforce or have users working at home Act! CRM has a mobile option so you can keep track of all customer interactions wherever you are located. Even if you do not have internet access from time to time it will sync all customer interactions to the main database when you get access again.
Use Existing Apps with Act! CRM
You can use the system with apps that you currently use such as Outlook, Word, and Google mail. Important customer documents can be stored against the database, so you get a 360-degree view of all customer interactions. The software can also be linked to your accounts system, such as QuickBooks and you can also link to Sage 50 with our AlphaLink product.