---
What is Sage Intacct Cash Management?
---
The Sage Intacct Cash Management module is part of the Intacct Core Financials module. Cash Management is designed to improve the cashflow in your business by improving the visibility and timing of payments.
Many organisations do not have full visibility into where their cash is coming from or where it is going, Sage Intacct Cash Management gives you a complete picture of your cash flow and working capital.
Using the Cash Management module in conjunction with Sage Intacct's financial management system can reduce DSO (Days Sales Outstanding) by 25-50% to free up new cash flow and uncover overlooked sales revenue.
Key Features and Benefits of Sage Intacct Cash Management
Conduct day-to-day cash activities in real-time
Manage bank accounts across all locations
Automate bank reconciliations
Download the New Sage Intacct Brochure in PDF format
Buyers Guide to Selecting an Accounting Solution Download​
Sage Intacct Core Financials Cash Management Download


Sage Intacct
Key Features of Sage Intacct Cash Management
Sage Intacct Cash Management helps improve your business cashflow.
Apply and record payments. Sage Intacct Cash Management enables you to apply payments to accounts not tied to an invoice or record POS payments not applied to a customer. Match electronic payment transactions to invoices in a click.
Daily cash management needs. Print checks or use the bill-focused payment cycle. Sage Intacct Cash Management enables you to transfer funds across accounts to locations and entities right when you need them.
Reduced audit risk. Accurate, well-documented reporting decreases chances of manual errors in your cash statements and creates organized transactions and balances.
Sage Intacct Demonstration
Automate Bank Reconciliations with Sage Intacct Cash Management
Bank support. Sage Intacct Cash Management enables you to connect securely to thousands of financial institutions around the world.
Automated reconciliations. Import statements into Sage Intacct Cash Management from your financial institutions and automatically reconcile your checking, savings and credit card accounts in just minutes.
Error-free maintenance. Spot exceptions, manage bank errors, monitor for fraud, and maintain accurate cash balances.

Manage Bank Accounts Across all your Locations with Sage Intacct
Visibility across dimensions. See all payments and transactions across all checking and savings accounts and credit cards across all locations and entities.
Real-time updates. Get data in real time with Sage Intacct Cash Management, so you're always aware of your cash position.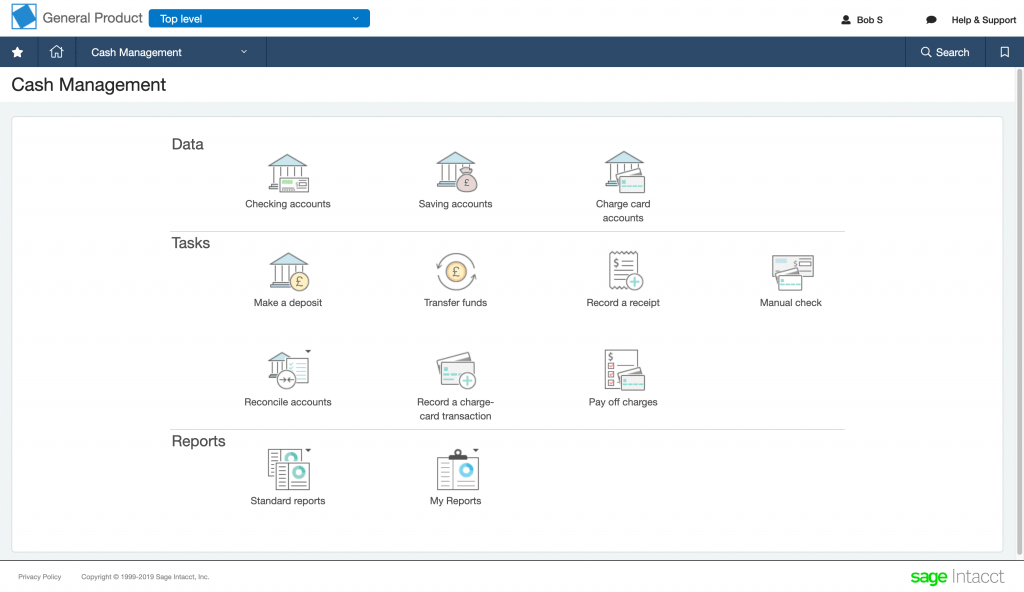 Book a Sage Intacct Demo or Organise a Quote
Our accounting experts will help you discover how Sage Intacct can be setup to improve your accounting processes within your business. We will provide you with a free initial personalised demo as well as fully justified costs and pricing for your requirements.
Our dedicated accounts experts are committed to ensuring you get the most from your software investment and we offer the following services.
Sage Intacct Implementation
Cash Management setup
Support from our technical help desk
Development services
Consultancy for Sage Intacct Core Financials
Sage Intacct Training including the Cash Management Module
Migration from other accounting systems
Software integration with Sage Intacct
A proactive and dedicated support team
Ecommerce and website integration
Plus, much more
Call us today on 0208 050 3216 to discuss Intacct or to organise a demo or quote, alternatively email us at info@alphalogix.co.uk. We will help you through every step of the selection process, implementation process, including training and support.
Related Information