---
What is Sage Intacct General Ledger?
---
Sage Intacct General Ledger is the heart of your financial system. Unlike other accounting software general ledgers, Sage Intacct General ledger is an innovative general ledger that provides the extensive visibility, scalability and flexibility to run your business finances without limitations.
The Sage Intacct General Ledger is designed to be the most innovative and flexible architecture on the market today, enabling you to gain deep, real time visibility into every corner of your business finances and accounting balance sheet.
Increase visibility with Sage Intacct General Ledger using highly flexible financial and business Intacct reporting and track performance by multiple financial accounting standards.
The General Ledger module comes as standard when you buy Sage Intacct Core Financials.
Key Features and Benefits of Sage Intacct General Ledger Include:
Multi-dimensional general ledger visibility 24/7
Multiple entity and multiple currency consolidations made easy
Robust multi-book functionality
Fast and powerful multi-ledger performance
Download the New Sage Intacct Brochure in PDF format
Buyers Guide to Selecting an Accounting Solution Download​
Sage Intacct Core Financials General Ledger Datasheet Download


Sage Intacct
Key Features of Sage Intacct General Ledger
Sage Intacct General Ledger has a Modern and Innovative Architecture with extensive features such as:
Multi-ledger architecture: The Intacct general ledger enables you to manage the close process with sub-ledgers you can close independently.
Real-time posting: Get up-to-date visibility with transactions that post in real-time to both the sub-ledgers and general ledger.
Streamlined chart of accounts: Use the Sage Intacct general ledger dimensions to reduce the number of accounts you manage while retaining visibility as your business changes.
Multi-entity architecture: The Intacct General Ledger enables you to grow into any business structure with a general ledger that provides both visibility and flexibility for managing domestic and global entities.
Transaction definitions: Visually configure business process document workflows in the Sage Intacct general ledger to control how transactions post to the accounts you specify.
Sage Intacct Demonstration
Sage Intacct Multi-dimensional General Ledger Features
Pre-built dimensions: Sage Intacct General Ledger enables you to capture and store the business context for every transaction, budget, and measure in the general ledger with prebuilt dimensions for project, customer, location, department, vendor, item, employee, and class.
User-defined dimensions: Capture and store additional business context for each transaction, budget, and measure with user defined dimensions.
Required dimension values: The Intacct general ledger ensures data quality by making dimension values mandatory for transactions that post to specified accounts.
Auto-populated dimension values: Sage Intacct general ledger simplifies data entry and improve accuracy by auto populating values for specified dimensions based on values of other dimensions.

Flexible Reporting in Sage Intacct General Ledger
Account groups: Combine accounts in the general ledger to define account groups that meet your specific reporting requirements.
Budget accounts: Store budgets in the Intacct general ledger to enable granular budget vs. actual reporting.
Statistical accounts: Store non-financial data in the general ledger to capture and report on operational metrics and ratios.
Financial Reporting in Sage Intacct
Sage Intacct Journal Entry Management Features
Flexible journal entry approvals: In Sage Intacct you can specify journals that require approvals in a specified sequence from named approvers, and keep approvals timely with automated email notification.
Journal entry import: Quickly populate beginning account balances, journal entries, and budgets by importing data from spreadsheets and other applications into Sage Intacct.
Journal entry templates: Sage Intacct general ledger allows you to define templates enabling non-accounting users to enter general ledger transactions without having to deal with the intricacies of account numbers, departments, and locations.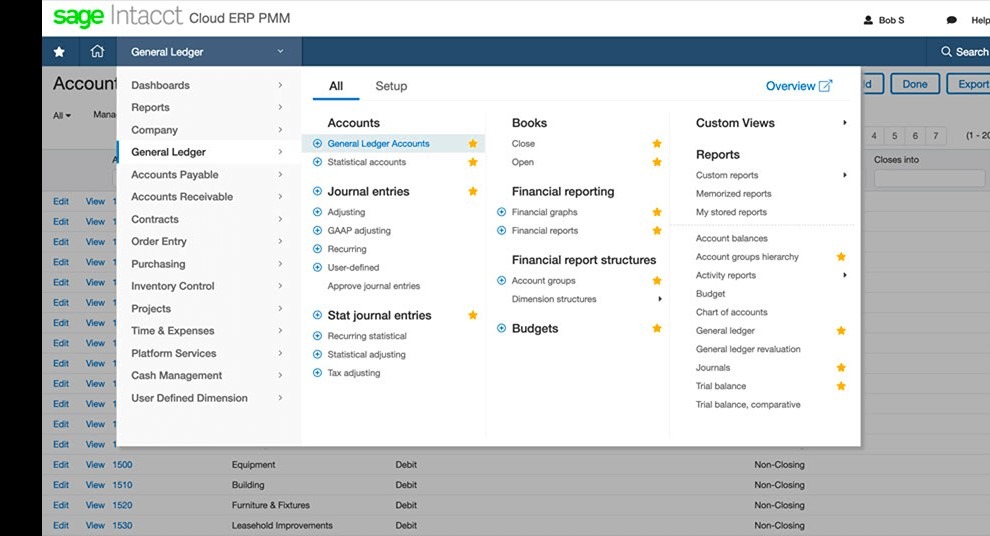 Sage Intacct Multi-book General Ledger Features
Multiple pre-defined books: Set up Sage Intacct General Ledger as cash, accrual, or both; every transaction automatically posts to the correct book enabling, for instance, accrual-based firms to more clearly see the impact of cash transactions.
User-defined books: Create additional books in Sage Intacct that support reporting by different standards—from IFRS and local GAAP to industry-specific ones.
Side-by-side multi-book reporting: Create reports that span books to show comparative performance by different bases.

Why Choose AlphaLogix? Book a Sage Intacct Demo or Organise a Quote
Our accounting experts will help you discover how Sage Intacct can be setup to improve your accounting processes within your business. We will provide you with a free initial personalised demo as well as fully justified costs and pricing for your requirements.
Our dedicated accounts experts are committed to ensuring you get the most from your software investment and we offer the following services.
Sage Intacct Implementation
General Ledger setup
Support from our technical help desk
Development services
Consultancy for Sage Intacct Core Financials
Sage Intacct Training including the Intacct General Ledger
Migration from other systems
Software integration
A proactive and dedicated support team
Ecommerce and website integration
Plus, much more
Call us today on 0208 050 3216 to discuss Intacct or to organise a demo or quote, alternatively email us at info@alphalogix.co.uk. We will help you through every step of the selection process, implementation process, including training and support.
Related Information
Sage Intacct Core Financials
Sage Intacct General Ledger