---
Upgrading from Sage 50 to Sage 200
---
Many Sage 50 users outgrow their existing software, company growth and development can put pressure on their accounting software leading to a system that no longer matches business and customer requirements. Upgrading from Sage 50 to Sage 200 is a natural progression for many Sage 50 customers.
Migrating your Sage 50 accounts data to Sage 200 provides your business with a powerful and extremely flexible solution which can be customised for your business in order to handle increasingly complex business processes. Sage 200cloud is the latest version of the Sage 200 business wide suite of software that has evolved from Sage 200 Extra, Sage MMS and Sage Line 100.
Download our Migration guide for Upgrading from Sage 50 to Sage 200
Moving from Sage 50 Accounts to Sage 200
Common Reasons for Upgrading from Sage 50 to Sage 200
There are many reasons why Sage 50 accounts users need to move to Sage 200, some of the common triggers for migrating to Sage 200 include:
Batch traceability and serial number
Company growth and the need for more users
A need for a more powerful reporting platform
Advanced handling of foreign currencies
Full control over financial periods
Integration between Front office (CRM) and Back-office (Accounts)
Ability to track stock in multiple locations and warehouses
More complex business processes and the need for customisation
A specialism in a vertical market
System performance and speed for users
Multiple cost centres
More powerful nominal ledger
The need for an SQL database which handles large volumes of data without a performance compromise
Role-based access as well as different structure levels to maintain control
Our certified Sage consultants can demonstrate Sage 200 on all the above features, where relevant for your business requirements.
Sage 200cloud Introduction
Access Advanced Features When You Move from Sage 50 to Sage 200
Another major reason why Sage 50 customers want to upgrade to Sage 200 is to use a cloud-based solution with loads of productivity enhancing features. Sage 200cloud is the new online cloud-based version of Sage 200 Professional, which provides a low-cost monthly subscription option for Sage 50 customers who wish to upgrade to Sage 200.
There are 2 online versions of Sage 200cloud, Sage 200cloud Standard and Sage 200cloud Professional, read more about the differences using our comparison guide.

Sage has purposely designed both Sage 50 and Sage 200 to look very similar, this allows users to make the transition from one system to another with the minimum amount of training and user acceptance.
Other advantages of Sage 200 over Sage 50 include:
Increased Number of users – Sage 200 easily allows up to 50 concurrent desktop users and up to 100 web users (some sites have in excess of 80 users).
Analysis codes - Sage 200 allows up to 20 analysis codes to be allocated to each module for additional reporting purposes.
Transaction analysis - Analysis codes can be applied to all transactions that result in a nominal posting. The transaction analysis codes offer another level of analysis in addition to those already available such as transaction type, cost centre, or department.
Excel Reporting - Excel reporting allows customers to extract data from Sage 200 and then filter format, pivot and run a deeper analysis using the familiar format of Excel.
Upgrading from Sage 50 Accounts to Sage 200
3 tier nominal structure - Sage 200 offers a three-tier nominal structure which utilises Cost Centres and Departments. These are allocated to a nominal code which is already part of a nominal category for management reporting. Alpha-numeric nominal codes can be used as a 4th tier nominal structure if required.
Analyse Business Information - Effectively analyse critical business information using Sage 200 Business Intelligence, the reporting system helps improve your decision-making process and improves visibility across your organisation with powerful analytical tools.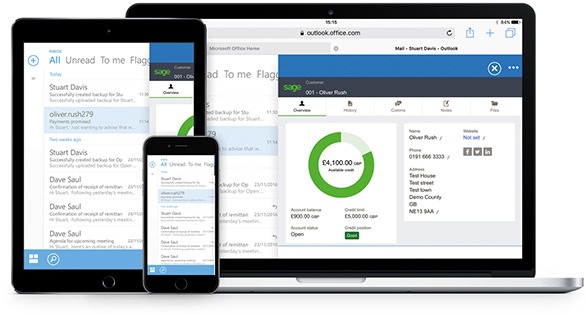 Authorisation - Apply various levels of authorisation limits and also authorise orders remotely via a secure website whilst out of the office, making sure your business doesn't stop when you're not at your desk.
Serial and batch traceability - Sage 200 allows full serial and batch traceability which enables the management of stock by 'sell by,' 'use by,' and stock group. Up to 20 analysis codes can be allocated to stock transactions so customers can monitor all movements and trace back the order for product recalls.
Closed period accounting – This feature is found in the Sage 200 Financials module. Accounting periods can be opened or closed so management reports don't fluctuate once a month, quarter, or if a year has passed. If a transaction is entered in a closed period, the transaction date still exists, but the nominal codes will be updated in the closest open period.
Prices for Sage 200 can be found in our Sage 200 costs guide.
To arrange a demonstration of the differences between Sage 50 and Sage 200 call us on 020 8050 3216 or email us at info@alphalogix.co.uk. We have offices in London and throughout the country and our consultants will travel to your company or we can organise a web demonstration.