AlphaLogix have been hosting regular Sage 200cloud Workshops in major cities across the UK to demonstrate many of the features that this popular software has to offer and to help businesses with their overdue Sage Upgrade. The Workshops have continued to grow in popularity and our recent February 2020 Workshop was a great success and an outstanding achievement for all involved.
Business Owners, Directors, Accountants and Managers from businesses of varying types travelled from across the UK to look at what the latest version of Sage 200cloud and AlphaLogix has to offer their business. Hosted at The Shard in London, we were joined by senior management at Sage and UK Managing Director, Sabby Gill, delivered a piece about the continued investment and direction of the Sage 200cloud suite along with Sage's strong relationship with AlphaLogix.
Sage 200cloud Workshops
We've hosted Workshops at The Shard before and it's a great, iconic venue in the centre of London which is local to many of our Clients.
Since we started to host our Workshops in 2018 we've been making continuous improvements. The timings and flow of these types of events is incredibly important – they must not be rushed as the content that we're discussing can massively impact a business, and the content must be relevant to today's businesses and industries.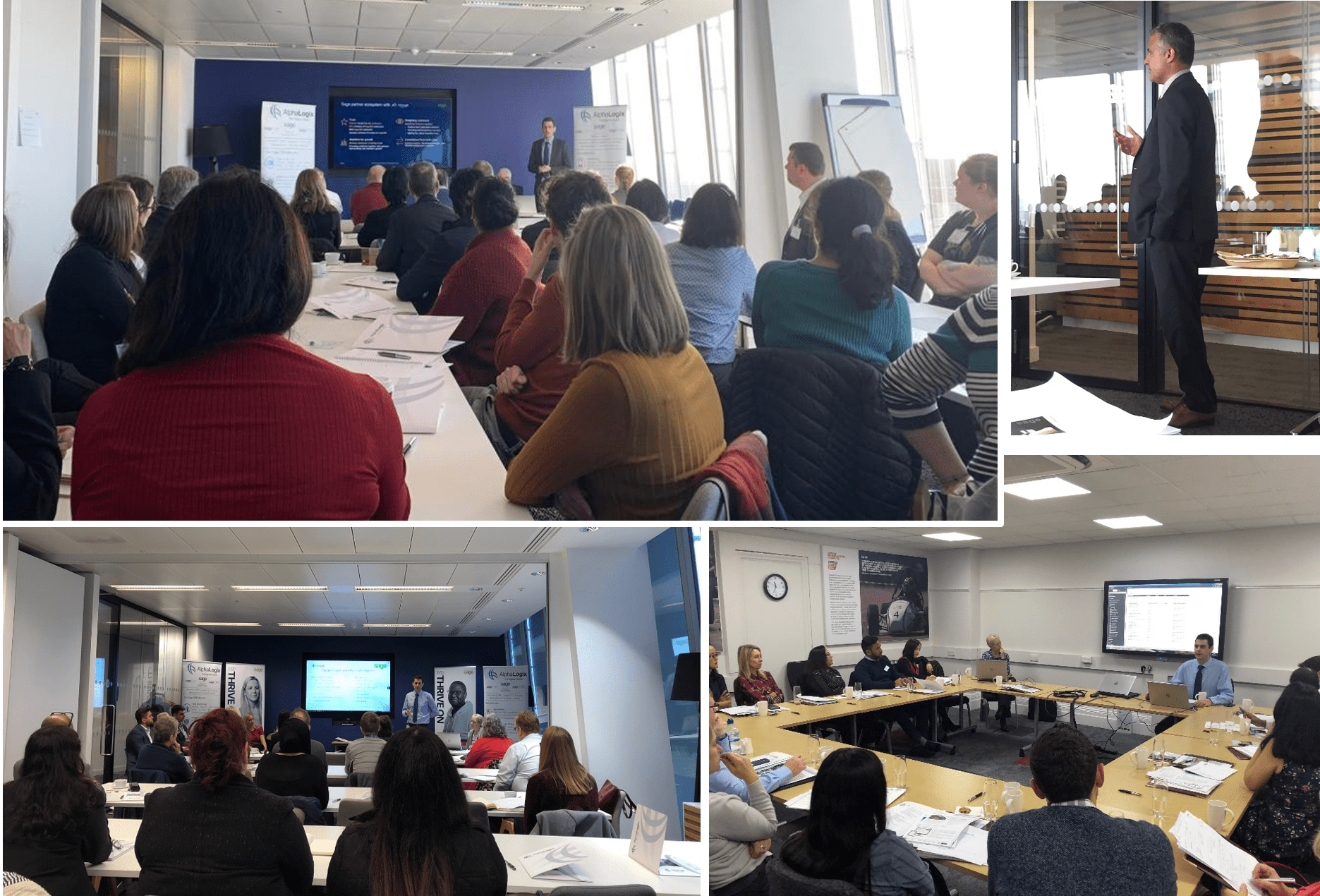 Workshop Introductions – February 2020 at The Shard
The Shard is a large venue and if you're unfamiliar with the building it can be tricky getting to where you need to go.
Our team of friendly staff welcomed visitors as they passed through Security and were handed their passes for the building. Our staff guided attendees to the Sage Reception where they were provided with their AlphaLogix Sage Workshop pass and an information pack with plenty of time to grab a tea or coffee whilst they review the agenda for the sessions.

Sage 200cloud Overview & Sage Upgrade Triggers
Sage 200cloud is the natural upgrade path for those that are outgrowing Sage 50 and this was one of the main focuses for the Feb-20 Workshop.
Sage 50 is a fantastic piece of software which works very well for many of our Clients. Most Companies that are currently using Sage 200cloud have upgraded from Sage 50 and there are many reasons for an upgrade which we discussed:
Performance & Scalability – As your business grows so too will the number of users and transactions. You may start to experience performance issues in Sage 50 as it uses a flat-file proprietary database which has lower and more restrictive limits on the number of transactions it stores before issues start to occur. However Sage 200cloud uses Microsoft's Structured Query Language, or SQL, which is a more powerful and popular database system used by many businesses and applications.
Integration & Customisation – As a business continues to expand they tend to require integrations with other software systems to improve performance and reduce effort. Sage 200cloud is built ready for integrations with other systems. Sage 200cloud also handles customisation very well whereas Sage 50 does not.
Stock Locations and Traceability – There is no limit to the number of locations and sub-locations managed within Sage 200cloud. Full end-to-end traceability on stock is another powerful feature for Sage 200cloud and useful especially for industries that need to keep a track of Batch and Serial Numbers on everything that they purchase, manufacture, and sell.
Period Based Validation – There is much more control over the statuses of your Accounting Periods and the dates that users are allowed to use when entering transactions from the various ledgers.
Requisitions, Purchase Order & Invoice Authorisation – Procurement is a significant part of many businesses and having more control of this area can be fundamental to the growth of your business. Sage 200cloud has a lot of offer in this area including requisitions from a web browser sent to be authorised and converted to Purchase Orders with multiple levels of authorisation rules, along with Purchase Invoice Authorisation within the Purchase Ledger itself.
This is only a small sample of the Sage upgrade triggers that we looked at and demonstrated during our Workshop.
Sage 200cloud Other Powerful Features
After a Tea and Coffee break, we spent some time looking at some of the other powerful features that Sage 200cloud offers:
Error Corrections – Making corrections to posted transactions in Sage 200cloud has never been more straight-forward or quicker. With only a couple of clicks a posted transaction can be amended with a full audit trail on the changes that are made.
Going Paperless – Sage are continuing their drive to help Companies move towards a paperless environment with the ability to attach documents to posted Customer and Supplier transactions.
Power BI and Sage 200 BI – Two powerful and different Business Intelligence applications which enables users to view their Company Financial and Commercial data in new insightful ways.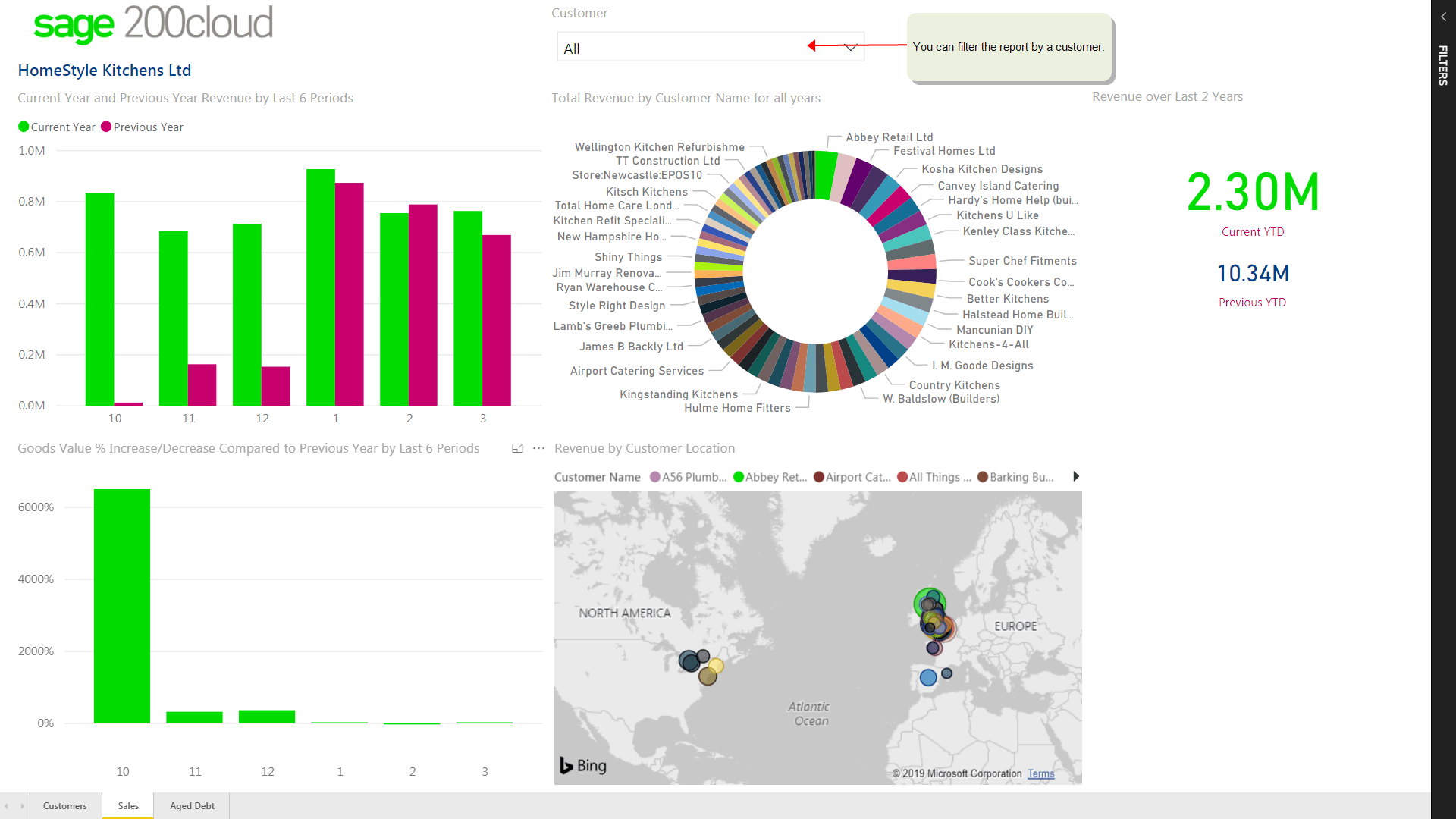 Making Tax Digital – All of our Sage 200cloud Clients are fully MTD Compliant but this is still a concern for some businesses. We looked at the straight-forward process of producing the VAT Analysis from Sage 200cloud.

Inactive Accounts – Customers, Suppliers, Nominals and Bank Accounts; these are all accounts that you never wish to delete from your Sage software, but you now have the ability to make them inactive which effectively hides them and restricts users from selecting them in the future.

Excel Integration & Other Reporting Methods – There are many ways to analyse your Sage data and we looked at other methods such as custom SQL Database Views & ODBC Links from Excel, Subscription Excel Reporting, other ways to export data from Sage 200cloud.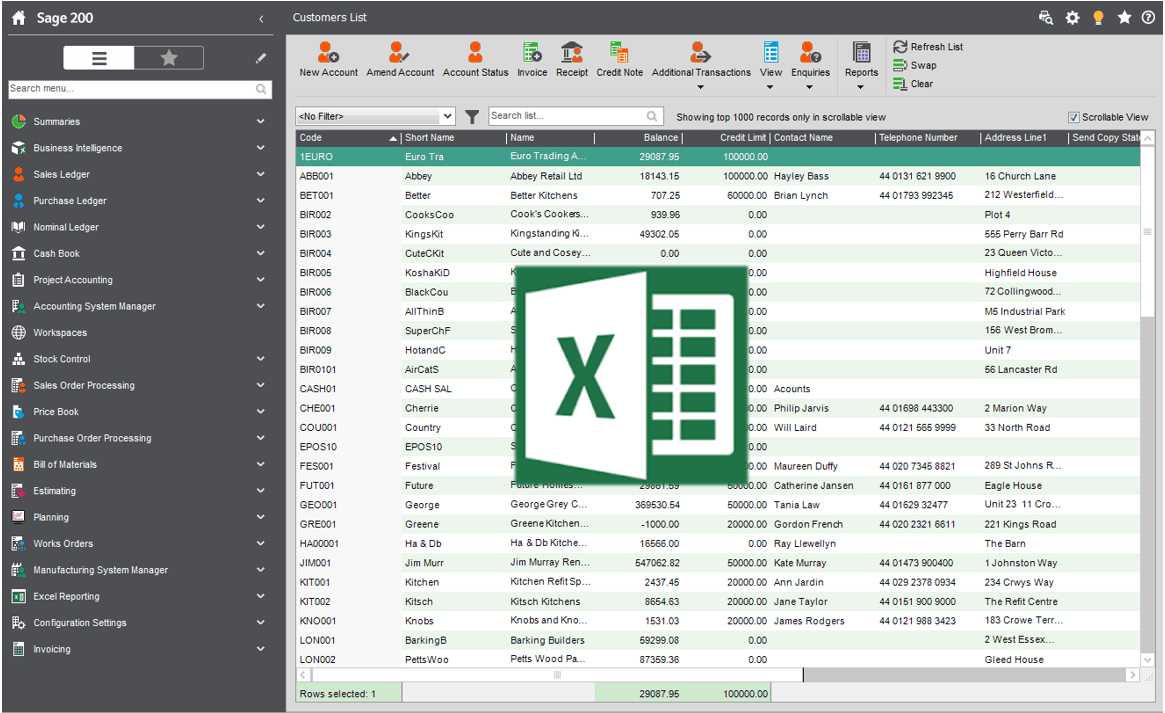 Payments integration – New ways of receiving payments from customers using Stripe, PayPal and GoCardless, with a Pay Now button on the invoices that you issue to customers for a quick and seamless payment.
AlphaLogix Add-ons – AlphaLogix have continued to develop and improve their own range of powerful Add-ons to Sage software and we are excited to roll out new and improved additions through 2020 and beyond.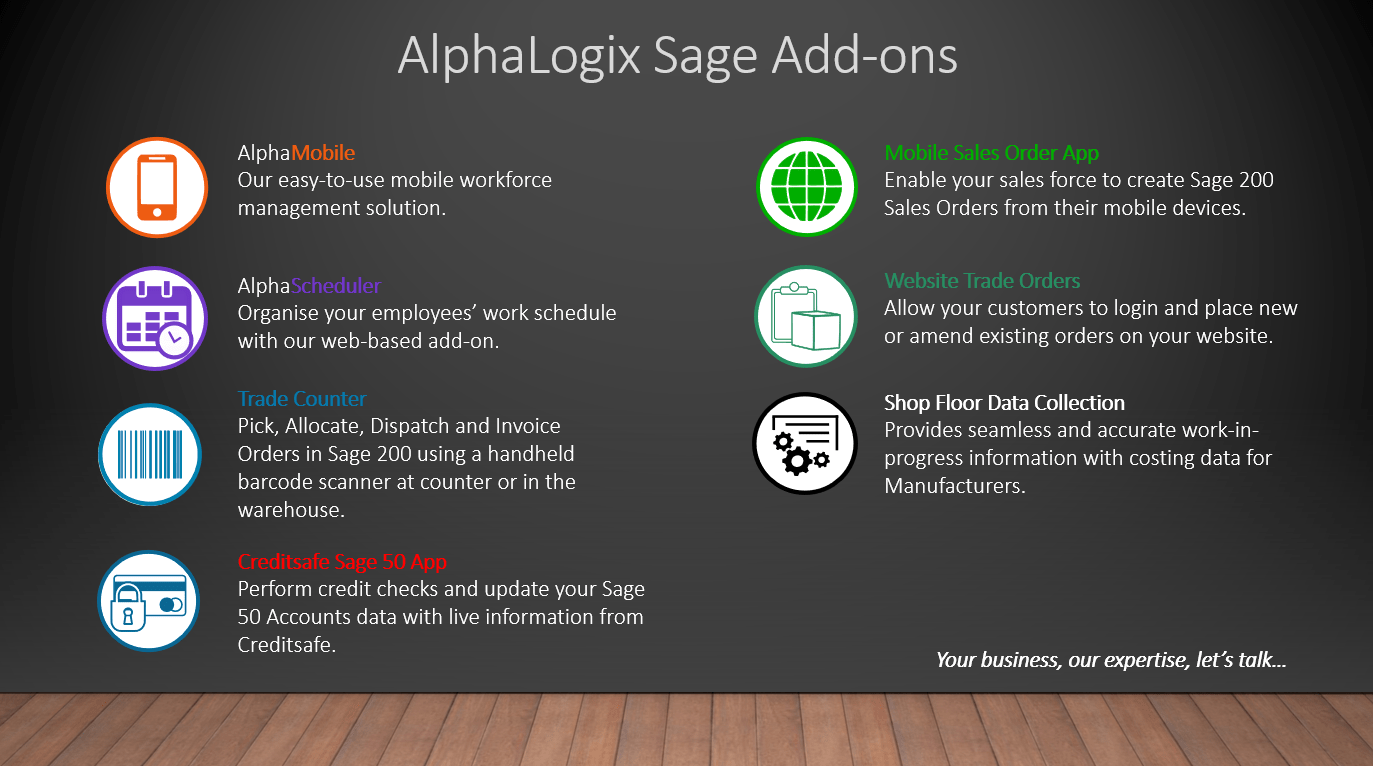 Workshop Questions & Answers
At 2pm we broke away into smaller groups for more Questions and Answers where we enjoyed discussing the Sage software and our own services in more detail over lunch.
Attendees raised some great questions throughout the sessions such as the Sage Upgrade process and how this works, and how our Sage 200cloud implementation projects are structured.
At AlphaLogix the Customer experience comes first and we continue to work hard to ensure excellence in the delivery of our services.
Keep an eye out for future blogs from the team at AlphaLogix!
Your Accounts System | Our Expertise | Let's Talk…
---
Our team of Accredited Sage 200cloud Product Specialists have many years of experience and are here to help, from initial consultation through to: development, implementation, training and on-going support.
If you would like any further information or a demonstration of Sage 200cloud, please contact us:
Email: info@AlphaLogix.co.uk
Tel: 020 8050 3216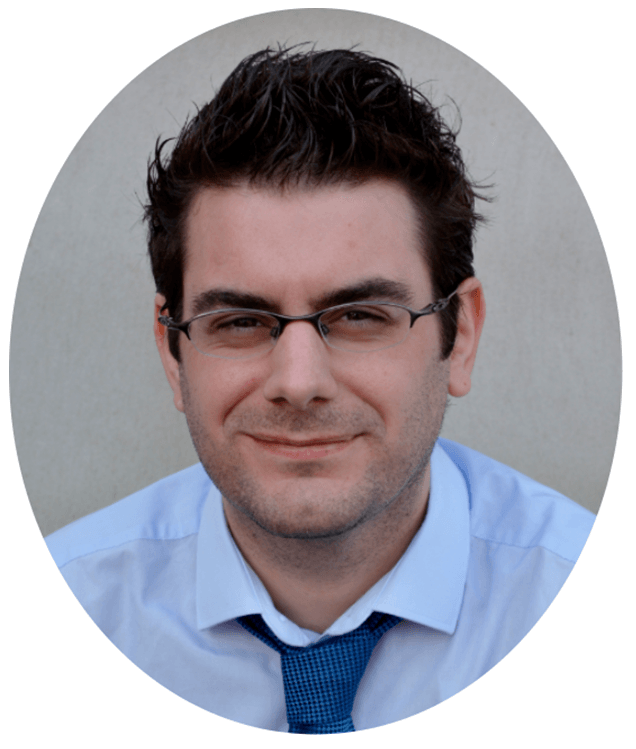 Kind Regards,
Richard Owens | Senior Consultant