---
How Much Does Sage Intacct Cost?
---
The cost of Sage Intacct accounting software is dependent on the number of users you require and add-on Intacct modules you need for your business. Costs also vary based on the user access level you require.
As well as the cost of Sage Intacct software you will need to factor in costs for implementation, customisation, support and training.
The cost of the Sage Intacct licenses is based on a subscription only plan (SaaS) and you do not have the option to buy a perpetual version, Sage Intacct is designed to run in the Cloud only.

Companies pay a monthly subscription fee to access the Sage Intacct software, which Sage maintains and hosts on a secure third-party data server. The Intacct software-as-a-service (SaaS) pricing model means software fees are paid monthly or annually, with a set minimum contract term.
Sage and Sage business partners do not publish the prices and costs for Sage Intacct online via the web.
The most convenient way to understand the licensing costs and pricing structure for Sage Intacct is to request a call back from AlphaLogix to discuss your specific accounting requirements and we will provide you with a quote.
Guides and Product Brochures
Download the New Sage Intacct Brochure in PDF format
Buyers Guide to Selecting an Accounting Solution Download​
The Digital CFO (Chief Financial Officer) Guide Download
The Data Driven Finance Leader E-Book

Sage Intacct offers many add on modules which increases your subscription costs of your installation. Pricing for these Sage Intacct add on modules vary, if you require a detailed cost of each add on you can request a call back from AlphaLogix and we can discuss your finance management requirements and will provide you with a quote.
There is also a cost for supporting your Sage Intacct solution as technical support is provided by a certified business partner such as AlphaLogix. Sage partners provide helpdesk support and issue resolution for your individual Intacct system.
Sage Intacct
Cost for Sage Intacct Core Financials, Users and Entities
When you buy Sage Intacct, you will get Core Financials as standard which comes with 1 user, add on modules are sold separately.
Core Financials includes the following:
General Ledger
Cash Management
Purchasing
Accounts Payable
Order Management
Accounts Receivable
Pricing for Sage Intacct Core Financials and Users
The monthly subscription cost for Core Financials is dependent on the number of additional users and entities you require. You can purchase individual additional users or packs of users (these come in packs i.e. 10 employee users), and there is an additional cost for each additional Intacct business entity.
Learn how Sage Intacct can transform your organisation by requesting a callback and one of our team will be in touch to show you how Sage Intacct is helping companies like yours boost performance and growth.
Alternative call us direct on 0208 050 3216 to discuss your accounting requirements and to understand the Intacct license costs and pricing structure.

Sage Intacct receives the highest score in Core Financials for the lower midsize enterprises use case in Gartner's 2021 Critical Capabilities Report.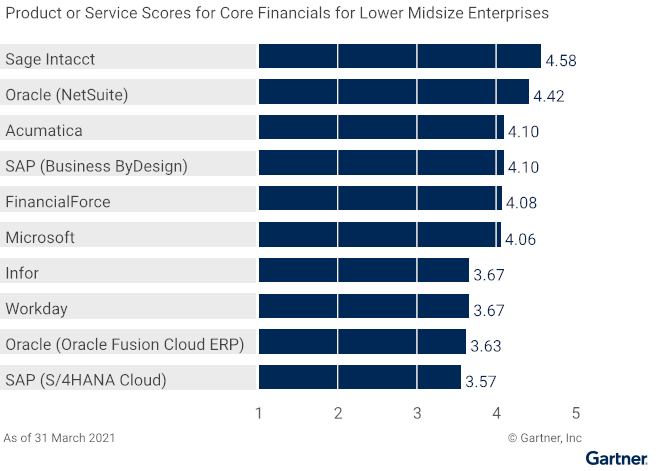 Sage Intacct Demo
Costs for Sage Intacct Modules
There are many add-on modules for Sage Intacct that enables your business to add extra functionality to manage a specific task, from Contract Billing, Project Accounting to Salesforce integration. The add-on modules require you to purchase Core Financials first.
The main categories for add on modules include:
Billing Software
Contract and Subscription Billing
Project Costing and Billing
Revenue Recognition
Dashboards and Reporting
Intuitive Financial Dashboards
Flexible Accounting Reporting
Financial Visibility
Read more about dashboards and reporting.
Platform
Salesforce Integration
Web Services API
Platform Services
For further information.
Just Some of the Advanced Functionality Modules Include:
Fixed Assets
Time and Expenses
Project Accounting
Spend Management
Revenue Recognition
Inventory Management
Multi Entity and Global Consolidations
For further information on the additional Sage Intacct modules available, read more.
Request a callback and one of our team will be in touch to show you how Sage Intacct is helping companies like yours boost performance and growth.
Our accounting experts can discuss your accounting requirements and the Intacct additional modules costs and pricing structure.
Alternative call us on 0208 050 3216 to book a Sage Intacct free consultation, meeting or demonstration.


Sage Intacct for Project Managers
Sage Intacct Costs for Implementation, Customisation, Training and Support
Once you have decided to buy Sage Intacct there are other items and costs involved in the implementation process. A typical project will involve configuration, customisation, training and ongoing support.
The costs involved with implementing Intacct is dependent on how much configuration and customisation you require; however, many businesses start out with a straight forward and simple installation, which can be enhanced as your business grows.
Because Intacct is a Cloud based accounting solution the software updates are automatically applied by Sage so you do not need to worry about updating the software yourself.


Contact us on 020 8050 3216 for a quote based on your accounting requirements.
Intacct Success Story - National Distributor L W Cole Powers up Data Insights with Sage Intacct
What are the Benefits of Working with a Sage Intacct Partner?
Implementing a new Cloud based accounting system can be a time-consuming and difficult task. Ensuring a successful implementation outcome needs careful planning, documentation and easy access to a certified Sage Intacct Partner who have the right skillsets.
Our certified Sage consultants at AlphaLogix have successfully implemented hundreds of Sage sites across the UK and we understand the need for a well-planned and smooth implementation process so you have a much less stressful and much more successful end result.

Contact AlphaLogix to Discuss Your Sage Intacct Requirements or to Book a Meeting or Consultation Call
Our certified Sage Intacct accounting experts will help you discover how Sage Intacct can be setup to improve your financial processes within your business. We will provide you with a free initial meeting and consultation call as well as fully justified costs and pricing for your requirements.
Call us today on 0208 050 3216 to organise a meeting, demo or to speak with one of our Intacct experts, alternatively email us at info@alphalogix.co.uk.
Our dedicated Sage Intacct consultants are committed to ensuring you get the most from your software investment and we offer the following services.
What Sage Intacct Professional Services Do We Provide?
Sage Intacct Cloud Financial Management
Related Information
Intacct UK
Blog
Pricing Plans
Sage 200 Costs and Pricing