---
What is Sage Intacct Integration?
---
Sage Intacct is a best-in-class Cloud financial software solution, Sage Intacct's integration capabilities makes it even more powerful. Your business can integrate Intacct with other Sage solutions, external business applications and integration with the many Intacct add on applications found on Sage Marketplace.
Most customers integrate at least two external applications with Sage Intacct, which provides the flexibility to choose the best options for your organisation.
Sage Intacct integrates with the business systems you have in place today, and it is ready to integrate with new applications you may want to add in the future. Working with a Sage Intacct Integration Partner like AlphaLogix enables you to choose business applications based on the functional fit, and not worry about integration concerns.
Popular Sage Intacct integrations include Salesforce CRM, Payroll as well as integration with other business software. Working with a Sage Intacct Integration Partner like AlphaLogix enables you to integrate with other business critical software and solutions, integration is an important part of any successful Sage Intacct Implementation.
Your Sage Intacct financial system must be able to receive information from other business systems and processes. You can enter that information manually, or you can work with a Sage Intacct Integrations partner like AlphaLogix.
Download the New Sage Intacct Brochure in PDF format
Sage Intacct Integration Case Study PDF Download

Sage Intacct Integration Using the API – Customer Testimonial
How Do I Integrate With Sage Intacct?
Integration with Sage Intacct delivers time savings, improves accounting processes and increases productivity which helps Intacct users become more efficient.
Many Sage Intacct customers are benefitting from pre-build integrations with other best-in-class applications like Salesforce CRM, as well as using the Sage Intacct integration API to integrate with other business critical systems for your organisation.
Sage Intacct's open API's make interacting with data not only possible, but relatively simple, working with an experienced integration partner like AlphaLogix enables you to integrate with other business applications and data.

Does Sage Intacct have an Integration API?
Unlike many other Cloud accounting and ERP solutions on the market, Sage Intacct offers an open API, which enables you to integrate with other business solutions and data.
Complex financial and accounting processes unique to your business often require extracting data for processing, then posting results. Sage Intacct's open APIs make interacting with data possible and relatively easy.
Features of Sage Intacct Integration API
More than 300 supported API methods
Financial specific APIs like Account Balance
Access to all standard and custom objects and fields
Initiate from within or without Sage Intacct
UI business logic rules and granular controls
Open API based on structured XML-RPC
Open documentation of XML requests
Authenticates every request using credentials
API test tool a user interface
Upgrades will not break custom integrations
Standard Create, Read, Update, Delete, plus more…
Related Information
Sage Intacct Data Migration.
API Guide
Sage Intacct – Cloud Accounting & Finance Management
Sage Intacct Customer Success Case Study – L W Cole
L W Cole specialises in supplying and installing appliances to the UK house building community across England and Wales.
The company has recently grown so rapidly, it was clear its financial management processes needed an overhaul to keep up. It chose Sage Intacct for its finance and business management system.
The business needed a cloud-based system that could communicate with its existing infrastructure and fit within budget.
Before Sage Intacct, the financial outlook had to wait until the end of the month. Now, financial insights and projections can be generated at any given moment.
""I genuinely think Sage Intacct is the best finance software I've ever used. The depth and power of the reporting make it a stand out system"
Mike Newton – Finance Director - L W Cole (Distributors) Limited
Sage Intacct Customer Success Case Study
What Business Solutions and Applications can you Integrate with Sage Intacct?
The Sage Intacct API integration solution enables you to integrate your Intacct accounting and financial system with other business applications.
Some of the more Popular Intacct Integrations include:
Integration with external systems, databases, bespoke systems and business applications
Salesforce CRM
eCommerce integration, Amazon seller, Shopify, Magento and more...
Website integration
Sage Payroll integration
Other CRM solutions such as Dynamics CRM, Sage CRM and Infor CRM
Courier delivery providers, such as UPS, DHL and Hermes
Supplier Payment solutions
Credit reference supplier's such as Creditsafe
Integrates with add on apps from Sage Intacct Market place
Integrates with Expense management software
Plus, lots more…
Sage Intacct Cloud Financial Management
Does Sage Intacct Integrate with Salesforce CRM?
Sage Intacct offers pre-built integration with Salesforce CRM. Together, Sage Intacct and Salesforce gives you a complete view of every customer, with streamlined accounting workflows, and a smarter quote-to-cash process.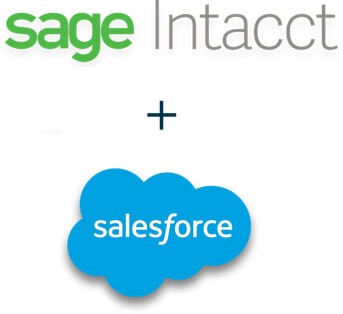 Integration with Salesforce CRM delivers seamless integration that improves customer service levels, user productivity and saves time. The integration enables you to share all interactions with clients across the business, improving customer relationships.
Salesforce Integration with Intacct – Datasheet Download
Related Information
What are the Benefits of Working with a Sage Intacct Partner?
Implementing a new Cloud based accounting system can be a time-consuming and difficult task. Ensuring a successful implementation outcome needs careful planning, documentation and easy access to a certified Sage Intacct Partner who have the right skillsets.
Our certified Sage consultants at AlphaLogix have successfully implemented hundreds of Sage sites across the UK and we understand the need for a well-planned and smooth implementation process so you have a much less stressful and much more successful end result.

Contact AlphaLogix to Discuss Your Sage Intacct Requirements or to Book a Meeting or Consultation Call
Our certified Sage Intacct accounting experts will help you discover how Sage Intacct can be setup to improve your financial processes within your business. We will provide you with a free initial meeting and consultation call as well as fully justified costs and pricing for your requirements.
Call us today on 0208 050 3216 to organise a meeting, demo or to speak with one of our Intacct experts, alternatively email us at info@alphalogix.co.uk.
Our dedicated Sage Intacct consultants are committed to ensuring you get the most from your software investment and we offer the following services.
What Sage Intacct Professional Services Do We Provide?
Related Information