---
What are the Differences Between Sage Intacct and QuickBooks?
---
Both Sage Intacct and QuickBooks Online by Intuit are global leaders in the Cloud accounting software market. Sage Intacct is used mainly by SMB's and medium sized businesses, whilst QuickBooks Online is predominately used by smaller businesses in the UK.
When you compare Sage Intacct with Intuit's QuickBooks Online there are differences between the two systems, and each product appeals to different types of industry sectors and business sizes.
Intuit's QuickBooks Online is a Cloud based accounting solution that is used by small businesses, the self-employed and start-ups. The QuickBooks core products include Simple Start, Essentials and QuickBooks Online Plus.
Sage Intacct is a Cloud based accounting and ERP solution that is typically used by larger SMB's, medium sized businesses, and larger companies. Sage Intacct has adopted a modular approach, so you choose the modules you need when you need them and add others as your business develops.
This article focuses on the differences between the Cloud software solutions for Sage Intacct and QuickBooks Online. Sage and Intuit also offer a number of On-premise desktop solutions for accounting software.
Download the New Sage Intacct Brochure in PDF format
Buyers Guide to Selecting an Accounting Solution Download​


What is Sage Intacct and What is Intuit's QuickBooks Online?
What is QuickBooks Online by Intuit?
QuickBooks Online was developed by Intuit to be a Cloud based accounting system and is widely used across the world. The QuickBooks Online version is different from the desktop version of QuickBooks. Key markets for the product include the USA, Canada, Australia, UK and India, but is widely used elsewhere, further information.
Intuit's headquarters are based in Mountain View, California and the company are listed on the Nasdaq stock market, Intuit has over 10,000 employees worldwide.
Introduction to QuickBooks Online by Intuit
What is Sage Intacct?
Sage Intacct was developed and launched by the Intacct Corporation in 1999. The software is a Cloud accounting solution and is available in the USA, UK, Canada, South Africa and Australia, the system is also being rapidly rolled out to new countries and territories across the globe. The Sage Group PLC acquired Intacct in 2017 for $850 million, further information.
Sage is now the third-largest supplier of Enterprise Resource Planning (ERP) software and the largest supplier to small and medium sized businesses, the company has over 6.2 Million customers worldwide and over 12,000 employees, and has their headquarters in Newcastle Upon Tyne, UK.
Sage Intacct, Best-in-class Cloud Accounting and Financial Management Platform
Sage Intacct Customer Case Study
L W Cole specialises in supplying and installing appliances to the UK house building community across England and Wales.
The company has recently grown so rapidly, it was clear its financial management processes needed an overhaul to keep up. It chose Sage Intacct for its finance and business management system.
The business needed a cloud-based system that could communicate with its existing infrastructure and fit within budget.
Before Sage Intacct, the financial outlook had to wait until the end of the month. Now, financial insights and projections can be generated at any given moment.
""I genuinely think Sage Intacct is the best finance software I've ever used. The depth and power of the reporting make it a stand out system"
Mike Newton – Finance Director - L W Cole (Distributors) Limited
Sage Intacct Case Study
What are the Differences in Features for Intuits QuickBooks Online and Sage Intacct?
Like many Cloud accounting systems, the software for both QuickBooks Online and Sage Intacct comprises of core accounting and financials features which additional modules or apps can then be added.
QuickBooks Online Product Range and Features.
QuickBooks Online is available in four different versions, QuickBooks Self-employed, Simple Start, Essentials and Plus. The software offers easy to use accounting features that is suitable for small companies and the self-employed.
Self-Employed - Simple core accounting features, the Self-Employed version helps sole traders & the self-employed to submit their Self-Assessment tax return forms.
QuickBooks Simple Start - Simple Startis accounting software for single users that want income and expense tracking, reporting, invoicing, and mileage tracking.
Essentials - Essentials does everything that Simple Start will doand adds the ability to manage bills and track time.
QuickBooks Plus - Gives you the functionality of Simple Start and Essentials with the added ability to track inventory and track profitability by project, further information.
Features available in QuickBooks Online Plus
Manage income & expenses
Send 'pay-enabled' invoices
Connect your bank
Forecast cash flow
Snap & sort receipts
Track mileage
Create estimates & quotes
Run customised reports
Manage bills
Multi Currencies
Track stock
Tax
Prepare Self-Assessment
Get Income Tax estimates
Check VAT for errors
Submit VAT to HMRC
Calculate and submit CIS
Employee & project management
Track employee time
See project profitability
Set budgets
Additional features and functionality can be added to QuickBooks Online by installing add-ons and applications, further information for the most popular apps.
Overview of the Features of QuickBooks Online
Sage Intacct Features and Modules
The Sage Intacct product is an advanced feature rich Cloud accounting system that offers businesses much more flexibility and functionality than basic accounting software.
Sage Intacct is a popular choice for larger SMB's and medium sized businesses because it can manage complex accounting processes and requirements.
Sage Intacct Received the Highest Score for Core Financials for the 5th year Running
Intacct received the highest score in Core Financials for Lower Midsize Enterprises Use Case in Gartner's 2021 Critical Capabilities for Cloud Core Financial Management Suites for Midsize, Large, and Global Enterprises.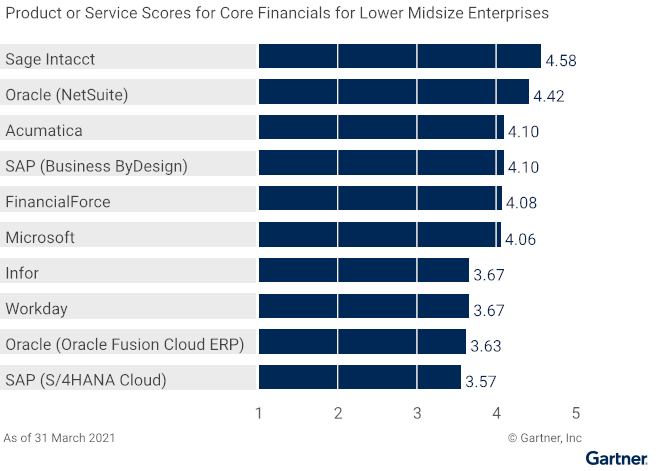 Sage Intacct: Cloud Financial Management for Forward-Looking Finance Leaders
Sage Intacct Core Financials is the main module for Intacct, the module is commonly referred to as just Sage Intacct Financials and is the central accounting software module where all other Sage Intacct modules feed financial accounting information into, enabling you to run financial reports to get valuable insights to increase profits and grow your business.
The most important ledger in the Sage Intacct accounting software is the General Ledger. The General Ledger uses the most innovative and flexible architecture so you can easily handle your entire accounting and financial management process.
Benefits of Sage Intacct Core Financials:
Sage Intacct Financials is the best in its class
Scalable and highly configurable financial management software
Modern Cloud based flexible architecture
Achieved the highest product score in the marketplace
Designed By financial experts for accounting professionals
Built exclusively for use in the Cloud
The software achieved the highest customer score in the marketplace
The accounting solution is extremely flexible
Outstanding and powerful financial reporting
Sage Intacct Core Financials General Ledger Datasheet Download
Additional modules can be added to Intacct Core financials, popular modules include the following:
Popular Additional Modules for Sage Intacct
Billing software
Fixed Assets
Project accounting
Multi-entry and global consolidations
Vendor payment services
Inventory Management
Salesforce CRM Integration
Revenue recognition
Spend Management
For detailed information on the full range of features available in Sage Intacct.
Sage Intacct Demo
What Types of Businesses Use Sage Intacct and QuickBooks Online?
When people think about Sage and QuickBooks they normally associate both companies as leading accounting software providers for small businesses, this is true for software packages such as QuickBooks Online (Start, Essentials and Plus) and the entry level Sage Accounting product (Start, Standard and Plus, formerly known as Sage One).
However, Sage Intacct is typically used by larger SMB's, medium sized companies and larger corporates.
Typical QuickBooks Online Business Users
Self Employed
Start Ups
Smaller Companies
Small retailers and food shops
Small online retailers
Construction
Not for Profits
Wholesalers
Accounting and Bookkeepers
Professional services
In fact, most business industry types use QuickBooks Online
What Types of Businesses Use Sage Intacct?
Financial professionals from all industry sectors use Sage Intacct to help them manage their business finances, and accounting processes.
Just some of the business sectors that trust the solution help them manage their finances include the below sectors, further information.
Professional Services
Financial services
Charities and Not for Profit
Technology Businesses
Wholesale and Distribution
Government
Hospitality
Internationals and Head Offices
Healthcare
Most SMB's and medium sized business types use Sage Intacct

How to Decide If Sage Intacct or QuickBooks Online is Best for Your Business?
The first decision that many businesses make when choosing the right accounting system is the delivery model, i.e will the software run in the Cloud, be hosted or used as on-premise. Many businesses that are considering a new accounting software solution are moving to the Cloud. Both QuickBooks Online and Sage Intacct only work in the Cloud.
Buyers Guide to Selecting an Accounting Solution Download​
Other areas to consider when deciding if either Sage Intacct or QuickBooks Online is right for your business:
Make a list of your business requirements and features that you require
Identify top priorities and challenges in your business
Decide on what available budget you have
Organise a Demo or trial from your short list of accounting packages
Is the accounting software easy to use?
Does your accounts team need to work outside the office?
Does your business need to accelerate financial processes—without increasing headcount or IT budget?
Do you need to integrate accounts with other systems, such as CRM?
Do managers want or need self-service access to their relevant KPIs?
Does your organisation struggle with inefficient processes?
Check references and customer video testimonials

Contact AlphaLogix to Discuss Which Cloud Accounting System is Best for Your Business
Our experts will help you discover which Cloud based Accounts and Finance Management software is best suited for your business based on your requirements, business size and industry type.
We will provide you with a free initial consultation call, and we can also provide you with a free demonstration on certain products.
Call us today on 0208 050 3216 to organise a demo or to speak with one of our experts, alternatively email us at info@alphalogix.co.uk.
Related Information
QuickBooks Blog
Sage Intacct Blog