---
Sage Intacct 30 Day Free Trial
Organise a Free 30-Day Sage Intacct Trial with the Option of a Personalised Demonstration and Free Training to Help You Get Started
---
Request a Call Back Request a Free Demo

---
---
Sage Intacct Free 30-Day Trial
---
Try Sage Intacct with a Free 30-Day Trial so you can start to transform the way you manage your accounting and finances. The Sage Intacct Free 30-day trial enables you to get a look and feel for the market leading Cloud-based accounting software for SMB's and Medium sized businesses.
The Sage Intacct Free trial enables you to enter your own data and work in real conditions so you can experience Sage Intacct's ease of use, intuitive design and powerful accounting features and functionality.
Your free Sage Intacct trial includes a personalised sample company where you can:
Try out Sage Intacct top features and functionality
See actual Sage Intacct reports and dashboards
Enter and save information into your sample company*
Invite colleagues to join in the experience
You will have access to a certified Sage Intacct expert to help answer any specific questions, or learn how to do specific tasks in Intacct
3 hours' worth of free Intacct training, specific to your business sector
You have the option to take the training in phases, as you learn more about the software
The option to have a personalised overview 1 to 1 demo for your business and work colleagues
* The Sage Intacct data will be deleted by Sage for any information you enter when the trial expires.
A Free Trial of Sage Intacct with a Difference
Most Cloud-based accounting software trial's enable you to look at the software in your own time, but it does not always answer your specific questions or help solve your accounting requirements.
Our 30-day Sage Intacct trial has the option for you to have a free 1 to 1 personal overview demo of the software, so we can highlight the areas of interest for your business sector.
We also offer up to 3 hours of free training by one of our certified Sage Intacct experts, this training is optional and you can take it as and when needed during the trial period, we can also split the time into smaller time blocks, so we can cover certain areas of interest for you.
Sage Intacct Accounting Software Products— #1 in Customer Satisfaction
Intacct earned the highest customer satisfaction in the industry from G2 since the focus is delivering an integrated accounting solution that puts your success first.
Sage Intacct Customers Achieve on Average
250% return on investment (ROI)
6 months payback
65% increase in productivity
Download the New Sage Intacct Brochure in PDF format
Buyers Guide to Selecting an Accounting Solution Download​
Sage Intacct Financials and Accounting Demo
Sage Intacct Free 30-Day Trial with Training
The setup of the Sage Intacct 30-day Free Trial is simple to setup and gives you a good starting point to visualise the software and start to understand the many benefits that Sage Intacct will bring to your business.
Your trial will be setup on Sage Intacct's secure datacentre, where you can access your trial data, safely, securely and it is available 24/7 for the duration of the trial. All you will need is a PC with access to the Internet.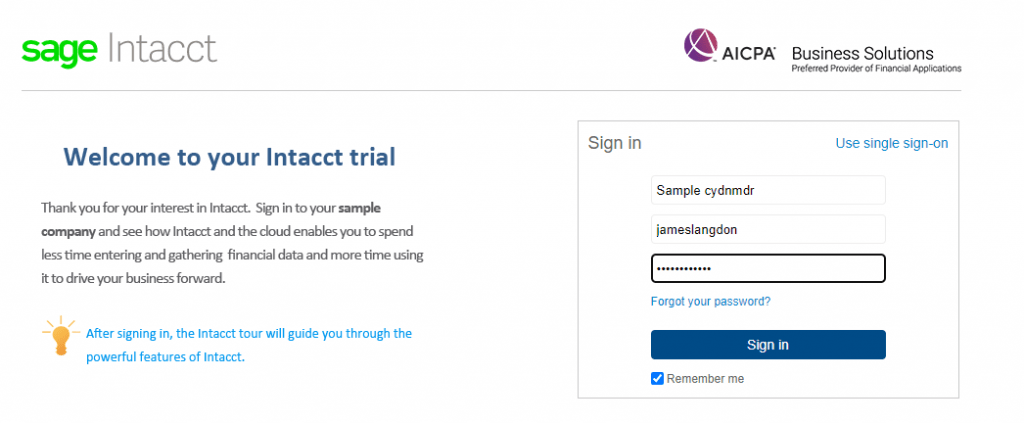 Free Training on Your Sage Intacct Trial and Access to a Sage Intacct Expert
With every Sage Intacct 30-day free trial we will offer you the option to get free training (up to 3 hours of free training) and free access to one of our Sage Intacct certified consultants, this is only available to businesses located in the UK.
Access to our Sage Intacct certified consultant helps answer more specific questions about Intacct, such as how easy it to design reports, what Sage Intacct modules are available, how to I add users to the system or invite colleagues to look at the demo, plus Sage Intacct hints and tips.
We can highlight features of Sage Intacct Core Financials:
General Ledger
Accounts Payable
Accounts Receivable
Cash Management
Order Management
Purchasing
Sage Intacct receives highest score in Core Financials for Lower Midsize Enterprises Use Case in 2021 Gartner Critical Capabilities for Cloud Core Financial Management Suites for Midsize, Large, and Global Enterprises report.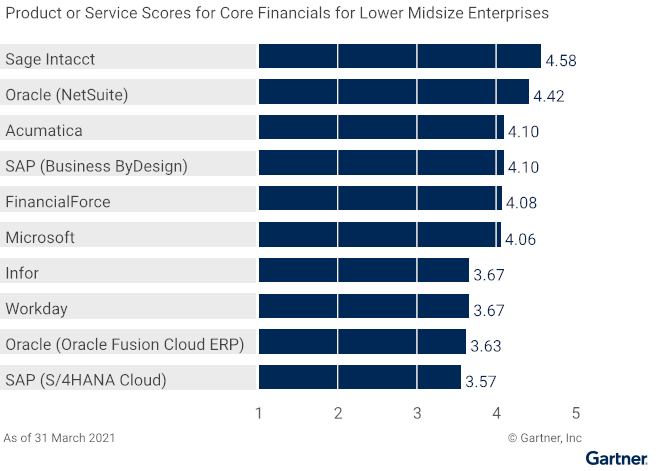 Plus, we can also help you to explore the additional Sage Intacct Modules.
Popular Additional Modules for Sage Intacct
Billing software
Fixed Assets
Project accounting
Multi-entry and global consolidations
Vendor payment services
Inventory Management
Advanced Reporting and Dashboards
Salesforce CRM Integration
Revenue recognition
Spend Management
Plus, much more…
For detailed information on the full range of features available in Sage Intacct.

Related Information – Sage Intacct Reviews
Sage Intacct Customer Success Case Study – L W Cole
L W Cole specialises in supplying and installing appliances to the UK house building community across England and Wales.
The company has recently grown so rapidly, it was clear its financial management processes needed an overhaul to keep up. It chose Sage Intacct for its finance and business management system.
The business needed a cloud-based system that could communicate with its existing infrastructure and fit within budget.
Before Sage Intacct, the financial outlook had to wait until the end of the month. Now, financial insights and projections can be generated at any given moment.
""I genuinely think Sage Intacct is the best finance software I've ever used. The depth and power of the reporting make it a stand out system"
Mike Newton – Finance Director - L W Cole (Distributors) Limited
Sage Intacct Customer Success Case Study
Organise a Free Personalised Sage Intacct Demonstration
The Sage Intacct free 30-day trial is a great way to get you started, but you might also want a more detailed demo from one of our Sage Intacct experts, this will highlight important features and functionality useful for your business and industry sector.
We can also show you the differences and advantages over other Sage accounting products, such as Sage 200, Sage 50 and Sage Business Cloud Accounting.
Related Information
What are the Benefits of moving to a More Comprehensive Cloud-based Accounting Solution such as Sage Intacct?
Many businesses are choosing to upgrade and change their existing accounting solution to a more powerful Cloud-based system like Sage Intacct, just some of the benefits include:
See your current financial position at any time
Everything is in one place
Work from anywhere with Internet connection
Access Sage Intacct from mobile devices with internet connection
Spread the cost by paying a monthly subscription fee
Frees up IT resources and reduces expensive IT overheads
The Sage Intacct requires nothing to install and is constantly updated by automatically applying software updates
Real time financial data is available 24/7
Sage Intacct Cloud security is world class and is hosted at one of Sage's many Datacentres where you have protection against financial and accounts data loss
No need to invest in expensive servers or data backup hardware

Sage Intacct Cloud
Explore the wide range of Sage Intacct Reports and Dashboards with your Free Trial and Demo
One of the key strengths of Sage Intacct is its powerful reporting and dashboards. The software comes with over 150 pre-defined financial reports and dashboards such as the CFO (Chief Financial Officer) dashboard.
"Intacct's ability to streamline our financial process and deliver real-time financial data and business metrics in an intuitive dashboard is a huge benefit to our management team and our program managers around the world."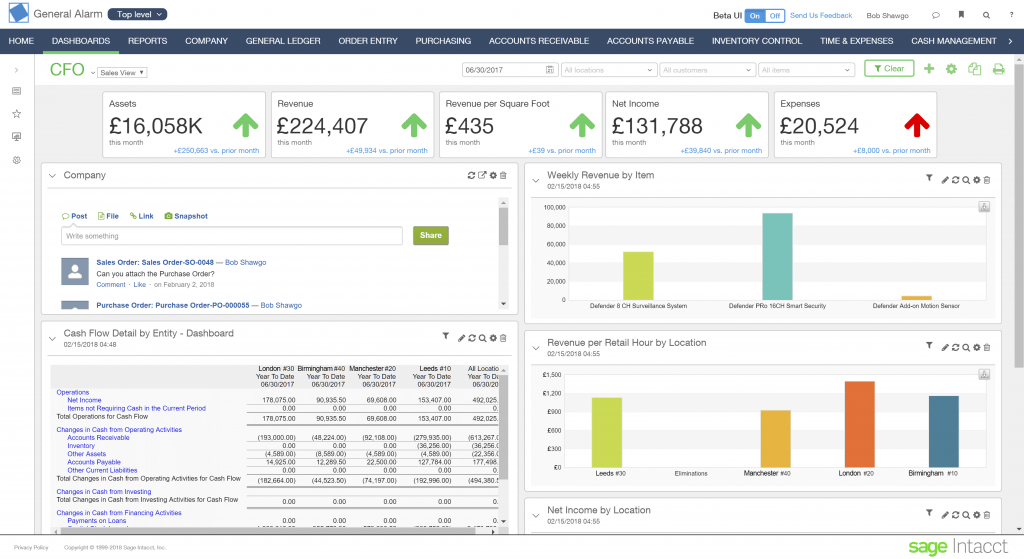 Celine Okoh, CFO, White Ribbon Alliance
We can help you explore the wide range of Sage Intacct Dashboards and Reports with a personalised demonstration for your business.
Sage Intacct Powerful Reporting and Dashboards
How Much Does Sage Intacct Cost After Your Free 30-Day Trial?
The cost of Sage Intacct accounting software is dependent on the number of users you require and add-on Intacct modules you need for your business. Costs also vary based on the user access level you require.
As well as the cost of Sage Intacct software you will need to factor in costs for implementation, customisation, support and training.
The cost of the Sage Intacct licenses are based on a subscription only plan (SaaS) and you do not have the option to buy a perpetual version, Sage Intacct is designed to run in the Cloud only, see our Intacct pricing guide where you can request detailed pricing for your requirements.
Sage Intacct, Best-in-class Cloud Accounting and Financial Management Platform
Contact AlphaLogix to Discuss Your Sage Intacct Requirements or to Book a Demonstration, Meeting or Consultation Call
The implementation of Sage Intacct requires working with a certified Intacct partner like AlphaLogix.
Our certified Sage Intacct accounting experts will help you discover how Sage Intacct can be setup to improve your financial processes within your business.
We will provide you with a free initial meeting and consultation call as well as fully justified costs and pricing for your requirements.
Call us today on 0208 050 3216 to organise a meeting, demo or to speak with one of our Intacct experts, alternatively email us at info@alphalogix.co.uk.
Our dedicated Sage Intacct consultants are committed to ensuring you get the most from your software investment and we offer the following services.
What Sage Intacct Professional Services Do We Provide?
Related Information