---
Sage Intacct Reviews
---
The large number of very positive Sage Intacct reviews is helping Cloud-based Sage Intacct accounting software gain further market share. Sage Intacct is consistently achieving very favourable reviews and customer satisfaction ratings from a wide range of accounting sources and software review sites.
These Sage Intacct reviews and scores are not just collected from one source, Sage Intacct is reviewed both professionally (site owners, industry bodies and accounting software review sites) and by tens of thousands of users alike as a great Cloud-based accounting software product.
Sage Intacct Accounting Software — #1 in Customer Satisfaction Ratings
Sage Intacct earned the highest customer satisfaction in the industry from G2 since the focus is delivering an integrated accounting solution that puts your success first.
What Makes Sage Intacct Different?
#1 in customer satisfaction
Market leading Cloud accounting solution for SMB's and medium sized businesses
Able to consolidate 100's of entities in seconds
Gartner Review - Sage Intacct Received the Highest Score in Core Financials
The AICPA preferred financial management solution
Sage Intacct Customers Achieve on Average
250% return on investment (ROI)
6 months payback
65% increase in productivity
Guides and Product Brochures
Download the New Sage Intacct Brochure in PDF format
Buyers Guide to Selecting an Accounting Solution Download​
The Digital CFO (Chief Financial Officer) Guide Download
The Data Driven Finance Leader E-Book

Sage Intacct Cloud Financial and Accounting Management
Reviews and Ratings for Sage Intacct
Listed below is a list of reviews, ratings and scores from various professional bodies, software review sites and customer review sites for accounting software.
Gartner Review - Sage Intacct Received the Highest Score in Core Financials
Gartner for the 5th year in a row, Sage Intacct has received the highest score in Core Financials for the Lower Midsize Enterprises Use Case in Gartner's Critical Capabilities Report. You can read the full report.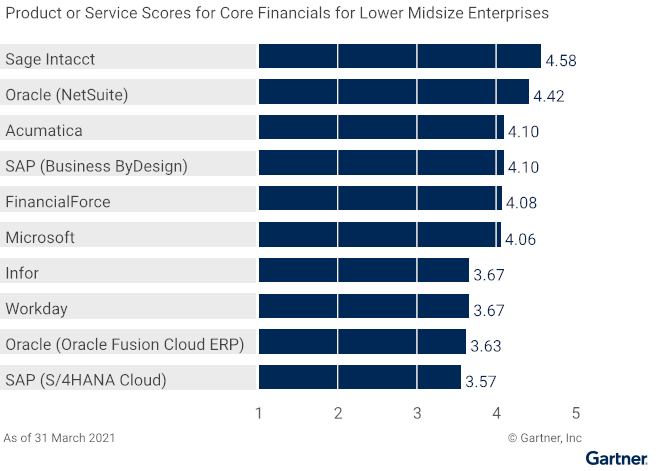 AICPA – American Institute of Certified Public Accountants (US)
Sage Intacct is the first and only preferred financial applications provider recommended by the AICPA, read the preferred financial management solution report and review.
IFAC – International Federation of Accountants (Swiss)
Sage Intacct is one of a small number of recommended finance solutions. It also happens to be their preferred solution and is used by the IFAC themselves, read customer success awards from IFAC.
"I have saved 80% of my time at quarter-end using Sage Intacct and Adaptive Insights"
Russell Guthrie, Chief Financial Officer (CFO), IFAC
Trusted CFO Solutions Recommendation
Trusted CFO Solutions rigorously tested and compared 35 alternative finance solutions. Sage Intacct is their number 1 recommended choice and just like the IFAC, they choose to use Sage Intacct themselves, read review.

Sage Intacct Customer Success Case Study – L W Cole
L W Cole specialises in supplying and installing appliances to the UK house building community across England and Wales.
The company has recently grown so rapidly, it was clear its financial management processes needed an overhaul to keep up. It chose Sage Intacct for its finance and business management system.
The business needed a cloud-based system that could communicate with its existing infrastructure and fit within budget.
Before Sage Intacct, the financial outlook had to wait until the end of the month. Now, financial insights and projections can be generated at any given moment.
"I genuinely think Sage Intacct is the best finance software I've ever used. The depth and power of the reporting make it a stand out system"
Mike Newton – Finance Director - L W Cole (Distributors) Limited
Sage Intacct Customer Success Case Study
G2 Crowd - #1 Rated
Sage Intacct is the number 1 rated financial application with a 4.5/5 customer satisfaction rating with G2 Crowd for both Mid-Market Companies (51-1000 employees) and Enterprise sized companies (>1000 employees) from 1,273 reviews. It is a 'Winter Leader' 2021, read the Sage Intacct reviews.
More recently Sage Intacct has picked up 37, 18 of which were leader badges in a 2021 spring review.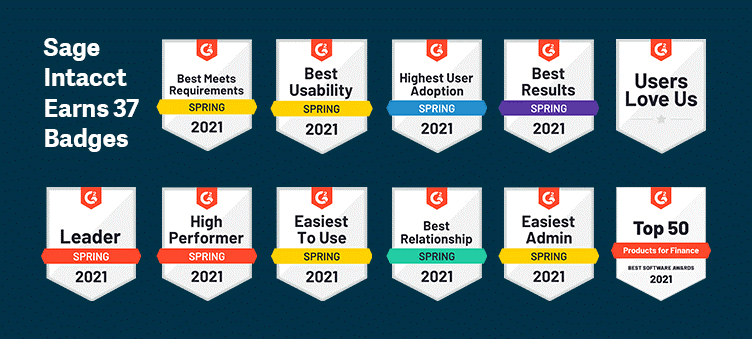 Finances Online Satisfaction Rating
Sage Intacct carries a rather impressive 99% user satisfaction rating and a 5/5 user rating. The site scores Intacct at 9.4/10. Read the reviews.
Sage Intacct Demo
TrustRadius Reviews and Scores
TrustRadius score Sage Intacct as 8.6/10 and has a user review of 4.5/5 (1,124 reviews).
Interestingly TrustRadius also places Sage Intacct the 'TR True' category. This is explained as 'The TRUE program recognises vendors who are Transparent, Responsive, Unbiased and Ethical in sourcing and using customer reviews'. TrustRadius Best of Finance Software 2021
What are the Benefits of Working with a Sage Intacct Partner?
Implementing a new Cloud based accounting system can be a time-consuming and difficult task. Ensuring a successful implementation outcome needs careful planning, documentation and easy access to a certified Sage Intacct Partner who have the right skillsets.
Our certified Sage consultants at AlphaLogix have successfully implemented hundreds of Sage sites across the UK and we understand the need for a well-planned and smooth implementation process so you have a much less stressful and much more successful end result.

Why Choose AlphaLogix as Your Sage Intacct Partner?
AlphaLogix was founded in 1995 and today we are a leading Sage strategic partner in the UK. We have a diverse team of talented Sage Intacct product specialists and consultants who are passionate about delivering value and exceptional customer experiences and technical support to our Intacct clients.
We provide exceptional customer service and technical support
We deliver value and build strong relationships with our clients
Our Sage Intacct team are all highly trained and certified by Sage
Quick resolutions to technical issues
Quick and easy access to our friendly team of Sage Intacct specialists by phone, email and online
We provide advice and workarounds on problems
AlphaLogix have a huge amount of Sage experience and knowledge
Our technical support help desk has a dedicated contact phone number to call us on, we always aim to get the problem fixed with you whilst you are on the phone
Our goal is to make sure you get the most out of Sage Intacct
We offer a wide range of Sage Intacct Partner services
We will provide you with free initial meetings, demos and consultations as well as fully justified costs and pricing for your requirements.
Call us on 020 8050 3216 to speak with a product specialist or email us at info@alphalogix.co.uk, alternatively request a call back.