Company Consolidation is a feature within Sage 200 for organisations that are made up of several Subsidiary Companies and can be used to produce Management Reports at a Parent Company level. It might be, however, that Subsidiary Companies represent individual departments within a company, in which case the Parent Company is the only dataset where Management Reports would need to be produced.
Each nominal account within the Subsidiary Company is linked to a nominal account in the Parent Company. The balance of all accounts at the end of a selected period is transferred from each Subsidiary to the Parent, posted in the Parent Company as a single consolidation transaction.
Setting up Company Consolidation
There are a few steps that need to be followed in order that this feature can be used.
Setting up a Parent Company
Having created a Company that will be used as the Parent, you must create your Chart Of Accounts. Most of the Nominal Accounts and Report Categories should be the same across all Parent and Subsidiary Companies which makes the linking of Nominal Accounts easier. The Suspense Account must also be specified before any data consolidation can take place.
Setting up a Subsidiary Company
Before anything can be done on the Subsidiary Company, you must first access the Subsidiary Company settings from the System Administrator and choose the Parent Company.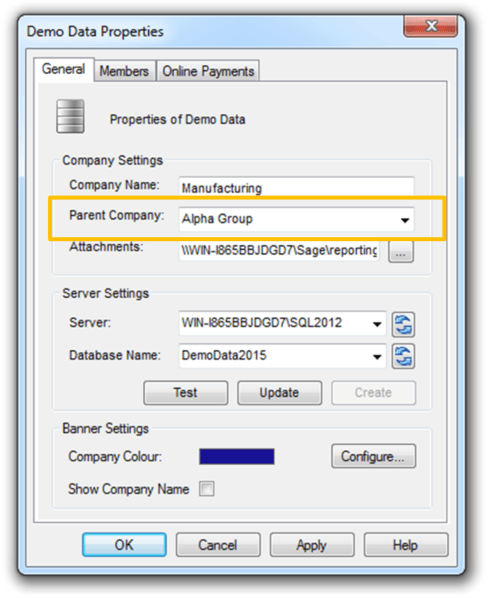 Once this has been done, you will see new options such as Nominal Ledger > Utilities > Ledger Set Up > Ledger Settings > Consolidation.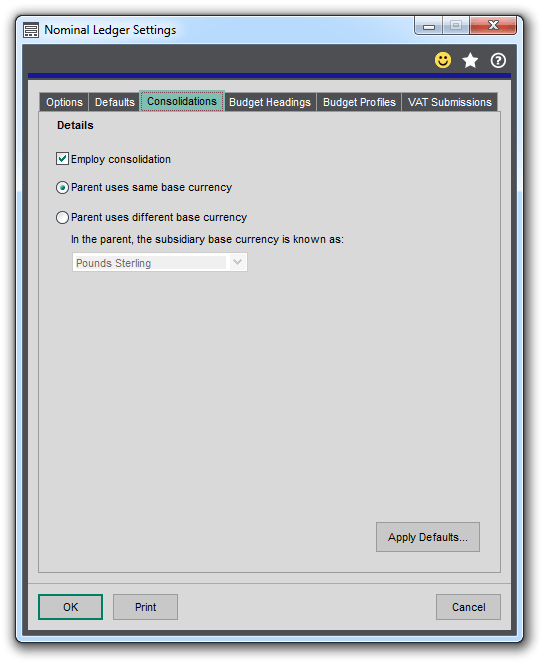 Having enabled Consolidation from the Subsidiary Company, you must now link the Subsidiary Nominal Accounts to the Parent Company. The key to successfully consolidating Subsidiary Companies is to ensure all Nominal Accounts are appropriately linked. The easiest way to do this is to make sure that the Subsidiary and Parent Companies use the same Chart Of Accounts.
Nominal Accounts can be linked using one of the following three methods:-
1. Automatically set all accounts to link to the same as the Subsidiary Accounts:
Open Settings > Cash Book/Nominal Ledger > Nominal Ledger Settings.

Select Edit.

Select the Consolidations tab.

Select Set consolidated nominal accounts.
2. Select the accounts to link from a list:
Open Settings > Cash Book/Nominal Ledger > Amend Report Categories and Consolidation Settings.

Click Display to display the Nominal Accounts, to filter the list select Code, Cost Centre or Report Category, then select the range to display.

Link the Nominal Account in the Subsidiary to the account in the Parent by selecting Cons, Code column for the account.

Choose the matching account to link to in the Parent Company and click Save.
3. Link an individual Nominal Account:-
From your Subsidiary Company, open Settings > Nominal > Amend/Create New nominal account.

Choose the account Code from the Consolidated Account list and click Save.
 .
Company Consolidation – Sage Licensing
It's important to note that an additional company licence will need to be purchased from Sage if a company does not reside within the group structure.
Companies within a group structure will appear as such on Company Check. Enter a company name or company registration number and then click on the 'Structure' link, all companies within that group will be listed.
If a Company is not listed here then you should check if the Company is listed under Shareholders. If it is then it will show a percentage of the share ownership; this needs to be 51% or over in order to be classed as part of a group.
Any Companies outside of this are not classed as a part of the group as far as the Sage 200 Licence is concerned, and so an additional licence would be required. 
At AlphaLogix, our team of Accredited Sage 200 product specialists provides on-site and telephone support to companies using Sage 200, helping them to resolve issues from basic to much more complex levels. 
Keep an eye out for future blogs from the team at AlphaLogix!
---
If your Organisation wishes to gain a better understanding of your data, get in touch with AlphaLogix. Our team of Specialists will slice and dice until we've discovered each and every pattern and trend. We have many years of experience and are here to help.
Send us an email: Info@alphalogix.co.uk or call us: 0845 259 3141.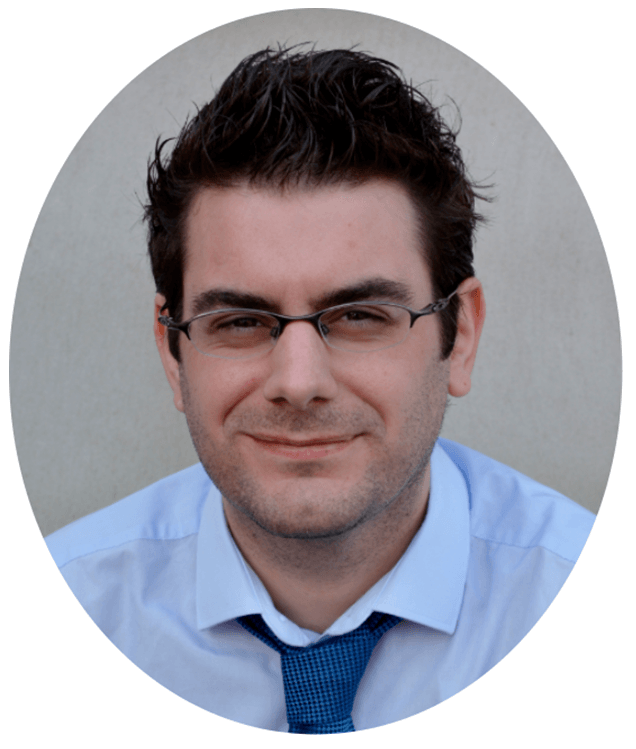 Kind Regards,
Richard Owens | Product Specialist