---
What is Sage Accounting Software?
---
Sage accounting software is a term commonly used by businesses who use one of the many Sage accounting software solutions. Sage is the market leading accounts software provider in the UK. Businesses use Sage accounting to manage their finances and accounting transactions.
The majority of businesses that use Sage accounts software are small to medium sized businesses (SMB's), they use Sage accounting software to record and process accounting transactions using modules such as accounts receivable, accounts payable, sales order processing, general ledger and purchase order processing.

The Sage accounts software range of products is typically composed of various modules, with different modules dealing with particular areas of accounting. The most common modules found in the range of Sage software products include:
Accounting Core modules
General ledger (commonly referred to as the Nominal ledger)
Accounts payable
Accounts receivable
Sales order processing
Invoicing (commonly referred to as Billing)
Purchase order processing
Stock and inventory management
Cash Book and bank reconciliation
Financial period close management
Online VAT submissions and MTD
Buyers Guide to Selecting an Accounting Software Solution Download
Sage 50 Cloud Accounts Brochure Download
Download the Free Sage 200 Brochure.
Sage Accounting Brochure Download
Download the New Sage Intacct Brochure in PDF format

Raise Your Game with Sage Intacct
What Sage Accounting Products Are Available for Small to Medium Sized Businesses?
The most popular Sage accounts software products for smaller companies include the online accounting product Sage accounting (previously known as Sage one) and Sage 50cloud (previously known as Sage 50 accounts) which is used by over 400,000 businesses in the UK.



Larger smaller companies and medium sized businesses use Sage accounting products such as Sage 200cloud (previously known as Sage 200) and Sage Intacct (previously known as Intacct). Sage 200cloud is available as both an online accounts solution as well as On-premise , whilst Sage Intacct is only available for use in the Cloud.

The Sage products for medium sized businesses Sage 200 and Sage Intacct are highly configurable, scalable and flexible which enable you to manage complex accounting processes. They also run-on high-performance databases such as Microsoft SQL and Oracle which means they can handle extremely large amounts of data, and speed and performance are unaffected by the number of accounting transactions or data in the core database.
Sage 50 Accounts Overview
Many of the Sage accounting products have core modules as part of the base package, but there are also many non-core modules that can be added for the various software products, these might include:
Electronic payment such a Opayo (previously known as Sage Pay)
Time and expense management
Debt collection
Ecommerce accounts integration
Manufacturing and Bill of Materials
Project accounting
Fixed assets
HR software
CRM Integration such as Sage CRM and Salesforce
Multi company multi entity consolidation
Integration with external apps
Document management
There is a wide range of Sage accounting add on applications available that have been developed by 3rd party developers, these apps can found on  Sage Marketplace.


Why Use Sage Accounting Software?
Sage accounting software is the market leading accounts software provider in the UK and has become the industry standard, and offers a very diverse range of accounts products for every accounting and financial management task.
Sage is trusted by millions of customers worldwide to deliver the best cloud accounting technology and support, with their network of partners, to manage finances, operations, and people.
Sage software can be used for everything from the simplest accounting requirements to managing complex processes, the software enables you to streamline processes, cut admin costs, increase user productivity and boost business growth.
Intacct Won the Award for Best of Breed for Core Financials.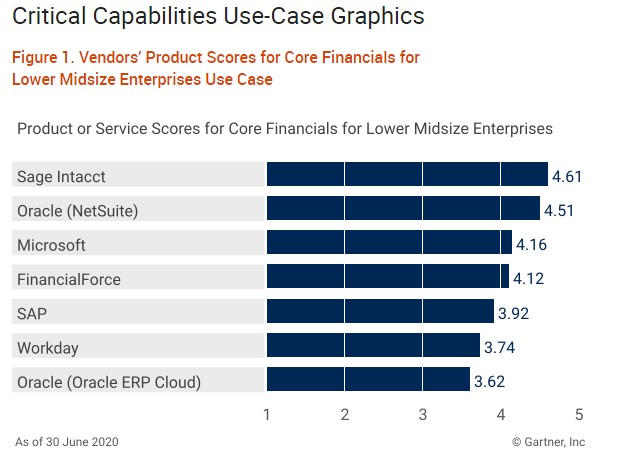 Many people choose Sage because of the brand and their software are best of breed. The products have won many awards and accolades because of the innovative technology. Sage Group is also a massive company with over 12,000 employees and is very financially secure.
One of the key strengths of Sage accounting software is its ability to integrate with other Sage products and leading payment technologies, business applications and technologies which enable you to get the most out of the account's software, examples of integration include:
E-invoicing
Payments Integration such as Opayo
Integration with Microsoft Power BI
Sage Payroll Integration
CRM integration with Salesforce (Intacct)
Salary and Employee Payments
GoCardless Integration
CIS Module
Sage 200 Accounts Overview
Why Choose a Cloud Based Sage Accounting Software Solution?
Sage is focussed on becoming the global market leader for Cloud accounting software and technology that helps small and medium businesses perform at their best. Sage is now trusted by millions of customers worldwide to deliver the best cloud technology and support.
Benefits of Cloud Accounting Software:
Lower cost of ownership
Pay monthly rather than paying a large up-front cost
Mobile access to accounts data at any time
Your accounts data is stored in a secure environment
No time-consuming backups
Share accounting data easily across your business
Improved collaboration across your business
Access data 24/7 from any location with internet access
Software that is intuitive and easy to use
The software is consistently updated and improved without you having to do anything
See your current financial position at any time
Collaborate easily with your accountant
Enables you to quickly add or remove users, and change permission rights
Powerful online interactive dashboards that reduce your paper use
Using accounts software in the Cloud helps you to avoid investing in expensive servers or backup hardware
Data about your sales or income and purchases can flow straight from your bank to your accounts
Better control of your financial processes
For more information regarding other online accounting software benefits.
What are the Benefits and Features for Sage 50 Accounting?
Sage 50cloud enables you to take control of your business finances, Sage 50cloud accounts combines the convenience of the cloud with the power of desktop accounting software, giving you a complete view of all your business finances in one place, just some of the features in Sage 50 accounts includes:
Manage income, cash flow, expenses and payments
Connect to your bank account for easy reconciliation
Create quotes and professional looking invoices
Seamless integration with Office 365
Submit VAT returns online to HMRC
Manage stock and product information
GoCardless integration
Powerful dashboards and financial reports
Create purchase orders and sales orders
Trade in multiple currencies
Manage multiple departments and budgets
Secure cloud access and backup
Track project expenses, profits and project revenue
Connected Users
Whistle Stop Tour of Sage 50cloud Accounts

What are the Benefits and Features for Sage Accounting?
Sage accounting is an entry level online accounting software solution that helps to drive your small business forward. Quick to set up, easy to use, and the software helps automates billing and invoicing. Sage accounting syncs with your bank software and offers a real-time overview of your business finances, just some of the features include:
Create and send invoices
Track what you're owed
Automatic bank reconciliation
Calculate and submit VAT
Supports unlimited users
Manage and submit CIS
Run advanced reports
Send quotes and estimates
Forecast cash flow
Manage purchase invoices
Snap receipts with AutoEntry
Invoice in multiple currencies
Manage inventory
Related Information

Sage 200 Accounts Features
Sage 200 is a powerful accounting, ERP and business management software solution from Sage for small to medium sized businesses. Sage 200 enables you to manage your finances and customers across your business. Sage 200cloud is highly configurable, scalable and flexible which enables you to manage complex accounting processes.
Sage 200 Accounting Modules
Financials - The Financials module contains the 4 essential ledgers to help you manage your business accounts
Commercials - Manages stock, Purchase Order Processing (POP), Sales Order Processing (SOP) and price lists
Workspaces and Connected User - Enables you to use dashboards and customisable views to find the information you need
Excel Reporting - Better reporting and more detailed analysis, accessible online
Sage Payments - Manage and make supplier payments straight from your software
E-Invoicing with Sage Pay - A safe and easy way for customers to pay you, using a range of simple, secure and reliable payment solutions
Bill of Materials – Manages simple manufacturing processes for your business
Integrated add-ons - There are hundreds of add-ons available to choose from that enhances the software. The add-ons are available from Sage's network of trusted developers, and Sage Marketplace.
Client Relationship Management (CRM) - Manage all interactions with customers and contacts
Manufacturing - Comprehensive Manufacturing Resource Planning (MRP) solution for managing complex manufacturing processes
Business Intelligence - Provides powerful reporting and trend analysis, its intuitive design allows you to easily create your own dashboards and reports
Project Accounting - Helps you control your costs and maximise your profits by understanding the detail of each and every project you manage
Web Timesheets and Expenses - Enter, print and authorise timesheets and expenses online, data is linked to Sage Payroll
Sage 200 Financials Overview
Sage Intacct Benefits and Features
Sage Intacct is the market leading Cloud financial management and accounting software targeted for businesses of any size, but predominately it is used by small to medium sized businesses. Sage Intacct is a modular Cloud-based software solution that offers a range of innovative features that automates the complete array of accounting processes. Intacct customers achieve a high ROI and Intacct can help accounts close time by up to 79%.
Intacct Modules and Features:
Intacct Core Financials
General Ledger.
Accounts payable
Accounts receivable
Purchasing Order management
Cash Management
Intacct Billing Software
Contract and subscription billing
Project costing and billing
Revenue recognition
Dashboards and reporting
Intuitive financial dashboards
Flexible accounting reporting

Sage Intacct Platform
Salesforce integration
Web Services API
Platform Services
Advanced Functionality
Fixed assets
Time and expenses
Spend management
Revenue recognition
Inventory management
Introducing Sage Intacct
How Much Does Sage Accounting Software Cost?
Virtually all of the accounts products from Sage are now based on a subscription pricing model, you now pay for the software monthly. Costs vary depending on whether you choose an entry level product such as Sage Accounting or a more expensive platform such as Intacct, we have listed below links to our pricing guides.
Costs and pricing for Sage 50 accounts
Prices do change so feel free to contact us for an accurate up to date quote.


Contact AlphaLogix to Discuss the Best Sage Accounting Software for Your Business
Our accounting experts will help you discover which Sage accounts product is best suited for your financial requirements and improve your accounting processes within your business. We will provide you with a free initial personalised demo as well as fully justified costs and pricing for your requirements.
Our dedicated accounts experts are committed to ensuring you get the most from your software investment and we offer the following services:
Implementation
Support from our technical help desk
Development services
Consultancy
Training
Migration from other accounts systems
Software integration
A proactive and dedicated support team
Ecommerce and website integration
Call us today on 0208 050 3216 to organise a demo or quote, alternatively email us at info@alphalogix.co.uk. We will help you through every step of the selection process, implementation process, including training and support.
Related Information