---
CRM Software for Mac
---
Apple Mac computers and mobile devices are fast becoming a popular platform for businesses of all sizes
Finding a comprehensive CRM solution for the Mac can be a challenge as many of the leading CRM software systems were initially developed for the Windows operating system.
Many businesses also rely heavily on mobile devices such as iPhone's and iPad's and require a mobile CRM solution that enables users to access customer information whilst working remotely or on the move.
Customer Relationships Management software for the Mac needs to provide users with a 360-degree view of all interactions with customers and leads, this helps improve customer relationships and drives sales growth.
Easy Scalability to Grow with Your Business
Many start-up's and fast-growing businesses choose Macs as their preferred computer platform. So, when choosing a CRM solution, you need a system that will grow with your business and can be easily scaled up to meet your future requirements.
Centralised Customer Data for Mac Users
Your Mac CRM Software should be able to store all data in a central database for users to easily record and access all interactions with customers and leads. Centralising all sales, marketing and customer service data leads to a more productive way of working with clients.


Easy to Customise and Flexible
Every company has unique business processes and data requirements and having the ability to customise your CRM software provides Mac users with data fields and screen layouts that work the way you want to.
As your business progresses and changes, the Mac CRM software should be flexible enough to add new data fields and screen layouts to make your staff work even more efficiently in the future.
Ease of Use
One of the unique qualities of Apple Mac computers and mobile devices is that they are easy to use and very intuitive. When choosing a CRM system, it also has to be intuitive and easy to use so user adoption is high. The system must also integrate with commonly used applications such as Outlook and Office.
Mobile CRM on iPhones and iPads
In today's fast-moving business environment, it's important to have access to the latest customer data whilst on the go. A large proportion of businesses now use iPhone's and iPads and your CRM Software should be able to access all customer data on these devices.
Choose a Well Tested and Proven Solution
The current marketplace for CRM has hundreds of solutions to choose from which can be confusing. It is best to choose a long-established CRM system that is well proven with a large user base.
Drive Sales and Manage Sales Opportunities in CRM
Historically most Mac computers were popular for use with design software, however as Apple devices have become more popular, they have been adopted by mainstream businesses and are now used in many sales departments.
When you choose a Mac CRM system it needs to track all sales activities and sales opportunities so you can accurately forecast future sales revenues. Salespeople should be able to update the pipeline on their computer as well as their iPad or iPhone, the data should be synchronised back to the main CRM database once they get a connection to a network or the internet.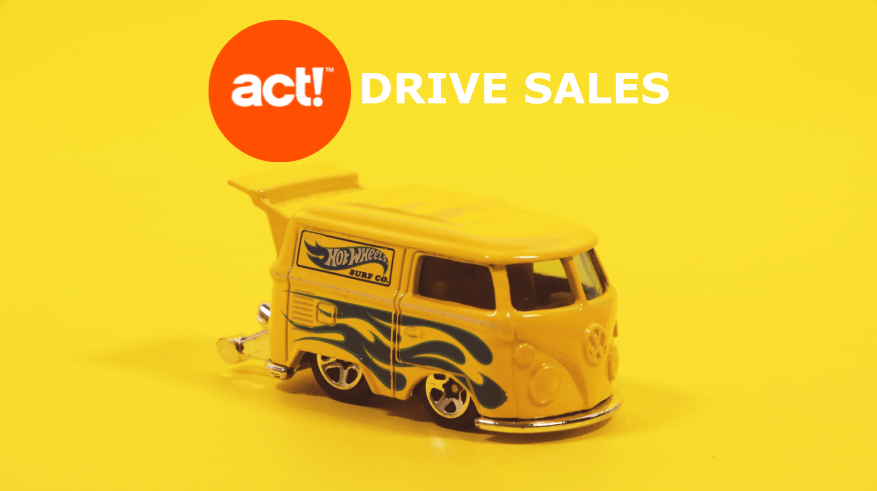 Marketing Automation
Generating new leads is crucial to keep driving your business forward, your CRM software should have sophisticated marketing automation features and email communication. The software should also be able to slice and dice customer data into groups for specific email marketing campaigns, which you can then launch from your Mac computer.
Make Sure Your CRM Data is Secure
Apple has a great reputation when it comes to security, the same high standards should apply to protect your customer data in your CRM software. Choose a system that you can apply security profiles in order to control user access, and if you are using a CRM system in the Cloud make sure the provider is certified for hosting data securely.
What is the Cost of Act! CRM?
The cost of Act! is dependent on which version you buy and how many users you need. We have produced an informative guide on pricing, which details the pricing structure for Act! Pro, Act! Premium and Act! Premium Plus.
There are a range of On-premise and subscription options to choose from depending on which version you want to buy.
Act! CRM for Mac
If you are looking for a CRM system for your Mac, one of the most popular systems available is Act! CRM for the Mac. Act! CRM has over 4 million users and is fast becoming a popular choice for Apple users.
It also offers mobility in the true sense via its secure cloud-based infrastructure and comes with a very rich set of features including sales automation and a custom table manager.
The software is flexible and integrates with hundreds of third-party applications including Google Contacts, Zendesk and FreshBooks using Act! Connect.
Act! CRM has all the features you need for your Mac CRM Software including:
Marketing integration
Lead management (including tools for lead generation)
Salesforce automation
Contact and opportunity management, workflow automation, territory management, sales forecasting, pipeline analysis, and reporting
Customer service
Field service management app is available
Channel management
Support for iPhones and iPads
And much more
Get in Touch
Call us today on 020 8050 3216 or email us at sales@alphalogix.co.uk to discuss ACT CRM or Infor CRM.