Comparison of Sage 200 Cloud Standard and Sage 200 Cloud Professional
---
The Sage 200 accounting product range is available in two different versions, Sage 200 Standard and Sage 200 Professional. Sage 200 Standard is only available online via the Cloud whilst Sage 200 Professional (previously known as Extra) is available in the Cloud and also as an On-Premise version.
Both versions of Sage 200 are the same software, however Sage 200 Professional has extra functionality available such as; Project Accounting, CRM, Business Intelligence and Manufacturing. The Professional version is also customisable whilst Standard only has out of the box features.
If you would like to organise a Sage 200 demonstration to see the differences between the two solutions, call AlphaLogix on 020 8050 3216, or email us at info@alphalogix.co.uk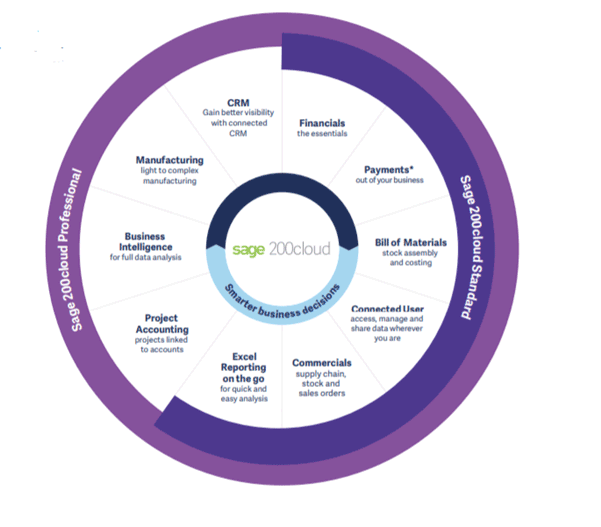 Highlights of the Product Benefits of Sage 200 Standard for the Cloud
---
Sage 200 Standard for the Cloud is the entry-level version of the Sage 200 product range. It is powerful, easy to use, and is a popular choice for businesses wanting to manage their accounts online.
A straightforward online version of the Sage 200 Accounts software
Complies with the Making Tax Digital legislation
Powerful financial and stock management features
Integrates with Microsoft Office 365 and allows you to manage your business on the move via the Cloud
Easy upgrade path from Sage 50
Manages bank feeds for bank reconciliations
Build powerful financial reports using Microsoft Excel
Update and delete records quickly with built-in reports, helping you with GDPR obligations
Helps with simple manufacturing processes using Bill of Materials
Highlights of Sage 200 Professional Features for On-Premise and the Cloud
---
The Sage 200 Professional version has all the features of Standard yet allows you to purchase extra modules such as CRM, Manufacturing, and Project Accounting. It is highly customisable and is ideal for businesses with complex processes. Professional is available to use either as an On-Premise version or hosted online in the Cloud.
All the power of Standard, plus customisable features
Enables you to meet GDPR obligations and also compatible with HMRC MTD legislation
Full inventory management features including serial traceability, batch control, and product replenishment
Use Sage 200 Business Intelligence to build powerful reports and dashboards
Integrates seamlessly with Microsoft Office 365
Highly configurable to suit your accounting business requirements
Available for use in the Cloud or install as an On-Premise version
Easy to upgrade from Sage 50 Accounts
Additional modules enable you to manage Project Accounting, Manufacturing processes, and CRM.
Sage 200 Cloud Professional was previously known as Sage 200 Extra.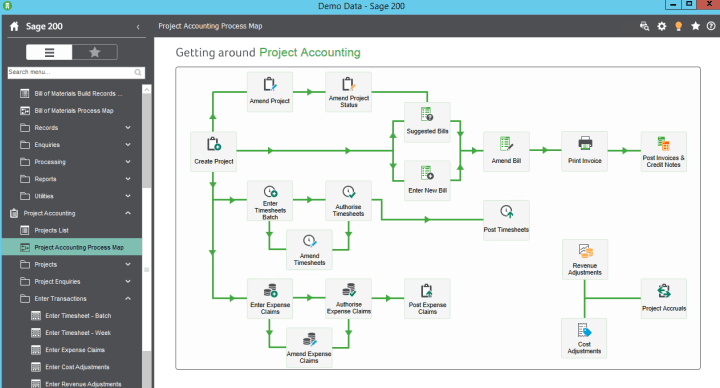 Feature Comparison between Sage 200 Standard and Professional
---
Both Sage 200 Standard and Professional use the same software, yet Professional is customisable and offers more features when compared to Sage 200 Standard. The guide below details common features found in both versions, as well as the extra features and functionality found in the Professional version.
Common Features Found in Both Sage 200 Standard and Professional:
Financials - The Financials module contains the 4 essential ledgers to help you manage your business accounts
Commercials - Manages stock, Purchase Order Processing (POP), Sales Order Processing (SOP) and price lists
Workspaces and Connected User - Enables you to use dashboards and customisable views to find the information you need
Excel Reporting - Better reporting and more detailed analysis, accessible online
Sage Payments - Manage and make supplier payments straight from your software
E-Invoicing with Sage Pay - A safe and easy way for customers to pay you, using a range of simple, secure and reliable payment solutions
Bill of Materials – Manages simple manufacturing processes for your business
Integrated add-ons - Sage 200 has hundreds of add-ons available that enhance the software. The add-ons are available from Sage's network of trusted developers, which includes AlphaLogix.
Additional Features and Functionality Found Only in Sage 200 Professional
---
Client Relationship Management (CRM) - Manage all interactions with customers and contacts
Manufacturing - Comprehensive Manufacturing Resource Planning (MRP) solution for managing complex manufacturing processes
Business Intelligence - Provides powerful reporting and trend analysis, its intuitive design allows you to easily create your own dashboards and reports
Project Accounting - Helps you control your costs and maximise your profits by understanding the detail of each and every project you manage
Web Timesheets and Expenses - Enter, print and authorise timesheets and expenses online, data is linked to Sage Payroll
If you would like to organise a Sage 200 demonstration to see the differences between the two solutions, call AlphaLogix on 020 8050 3216 or email us at info@alphalogix.co.uk