Customer Value
Understanding your customer's worth is a crucial part of a good business strategy and helps you understand how to put time and resources to the best use. It also helps you home in on the right opportunities and how best to grow the value of your customers.
A customer's value to your business can be measured in a few ways but the most obvious and undoubtedly most important is in monetary value. This isn't to say however that the customer contributing the most revenue to the business is the most profitable! Things like support, additional workload, difficulty communicating, excessive product returns among many other things can quickly turn a big turnover, into a BIG loss…
Having all the information to hand and being able to understand the full cost of servicing your customers can give you an invaluable insight that will allow you to make informed decisions.
The best way to track and collate this information is with a CRM (Customer Relationship Management) system. In the past, businesses attempted to track these metrics using spreadsheets but this does not give you everything you need and is extremely time-consuming.
A good CRM system will record all of your customer and prospect data and will handle the entire process from start to eventual sale. Additionally, you can track the time spent on the customer and even alert you when the system senses that your customer is about to leave you!
New VS Existing Customers

---
Its always more cost effective to sell something new to an existing customer than to sell something new to a new customer…
This has been said many times but is still true. Recruiting new customers can be an expensive and lengthy process that can affect your bottom line.
If you have already gone through the considerable effort to recruit a customer and they are happy to continue working together, it is far more economical to drop them a line about a new product or service. In fact, reaching out with a new product or service can be done right from inside your CRM with just a few clicks!
What's Your Time Worth?

---
Pareto's principle; sometimes referred to as the 80/20 rule is a great way to measure customer value as it allows you to view your customers subjectively based on a few simple factors.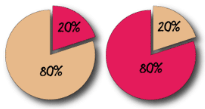 The 80/20 rule is used extensively to uncover a certain "best performing" cohort inside a wider group.
Pareto's principle states that, for many events, roughly 80% of the effects come from 20% of the causes.
When applied to businesses, it's often the case that 80% of your profit comes from just 20% of your customer base… This leaves a big group of customers that contribute far less to your bottom line but consume a lot of your time and resources.
A CRM system such as Infor CRM or Microsoft Dynamics can do this for you along with a whole host of other impressive functions such as marketing automation and powerful reporting that will help you segment your best customers and reach out to them.
So if you are looking to better understand your customer value, get in touch with AlphaLogix today where one of our CRM specialists will show you how CRM can revolutionise the way you interact with your customers and how it can make you more money, more efficiently!
Simply complete our form below and our CRM specialist will be in touch shortly to arrange a discussion and a Free CRM Demo. Alternatively, you can call us directly – 020 8050 3216