---
IT Services
---
AlphaLogix offers a wide range of services to support your business's IT and software systems. Our technicians are here to advise, train, install and support your business needs
---
---
IT Services
---
Our clients are from a diverse range of industry sectors so we are well versed in the demands of a wide variety of businesses and their IT requirements. This broad business knowledge has enabled us to develop a support structure that meets the specific needs of our clients. We have a flexible approach and can tailor a service package that meets your requirements if our Standard service package is not precisely what you need.
We use the powerful Infor CRM Customer Service Issue Management features that allow designated users to effectively track, qualify, and resolve customer questions and issues using the Infor CRM Client. With these features we can better analyse customer service issues to improve customer satisfaction and organisational efficiencies.
Clients may report calls and support issues to AlphaLogix by the following methods:
Helpdesk Telephone
Email to: support@alphalogix.co.uk 
Customer Service Portal on our website – from a secure link with authorised username and password
Upon receipt of support request we will create a unique ticket outlining the Area, Category and Issue. If the client has a Support Contract then the tickets are associated with that contract and can be reported on.
The support desk is manned between 9am to 5:30pm Monday to Friday excluding bank holidays. AlphaLogix is fully accredited for all the Sage products that we provide, including: Sage 200 Accounts, ACT! SageCRM and SalesLogix CRM and we invest heavily in staff training and product certification.
IT Support Overview
Backup Solutions.
We believe backups are very important which is why we offer many different solutions to meet your requirements. Our flagship product which we offer is Altaro. Altaro VM Backup is a full -featured and easy to use VM backup solution for Hyper-V and VMware, giving you all you need at unbeatable value, backed by outstanding support. You'll be up and running in a matter of minutes, protecting your VMs by using flexible features for automated backups and offering a host of granular restore options to recover quickly and safely from hairy situations.
A few of its capabilities at a glance:
Offsite Backup Replication, for disaster recovery protection
Instant Exchange Server Item-Level Restore
Supports Hyper-V Cluster Shared Volumes (CSV) & VMware vCenter great for SMB's
Remotely manage all VM backup/restore jobs across your Hyper-V and VMware hosts
Back up live VMs with zero downtime
Compression and Encryption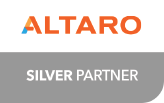 Our IT Services
Telephone & Remote Support
Our Telephone and Remote Support (TARS) package offers a cost-effective remote IT support service with 24 hour monitoring of your IT infrastructure and systems. Using leading remote-access technology, our>IT Services team can support your query as if they are physically on-site without having to visit your offices.
Our friendly, qualified and experienced IT support technicians service your end-users and cover anything from your computers, servers and networks. Each of our technicians and product specialists are assigned as an account manager for each customer allowing us to continually build a trusting relationship.
Your end-users can contact our service desk via email, online chat and phone. With no automated phone system you can be sure you will be connected to the person most suited to deal with your problem instantly, without having to hear a computer generated voice.
Our
mean you can choose the service best suited to your business needs. We're flexible so if you can't find a package that suits, we will design one bespoke.
Onsite Support
Hello
title
Response time



Support
Out of hours availability


Reports + Surveys
---
box fadeInUp Professional Recommended for....
1 working day but FAQ sent out with automated confirmation email
TARS
None


Annual
Request a quote
/request-a-quote/
table fadeInUp Enterprise
4 hours



TARS + Mission Critical
Endeavour to help where possible
Bi-Annual
Request a quote
/request-a-quote/
table fadeInUp Enterprise
2 hours



TARS + Mission Critical
Endeavour to help where possible
Quarterly
Request a quote
/request-a-quote/
table fadeInUp
Pro-active system monitoring