---
Infor CRM Business Alerts and Workflow
---
With Infor CRM, you'll never miss out on critical business opportunities or be unaware of urgent customer issues. You define the key business criteria and Infor CRM monitors your data proactively and sends alerts when conditions are met.
Infor CRM Support customers can add Integrated Service Alerts to notify staff or management of critical customer support issues requiring immediate attention.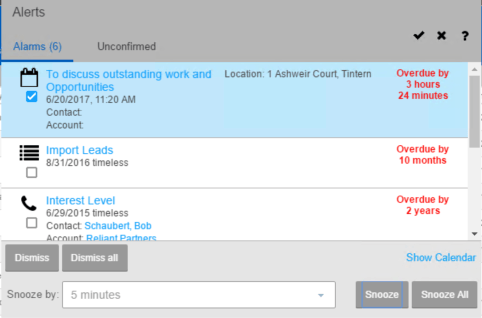 Business Alerts: Deliver Data - Now
Infor CRM allows you to actively notify employees, management, business partners or customers of critical, time-sensitive business information via e-mail, PDA, cell phone and/or Web browser — automatically.
So how does it work? Behind the scenes, Infor CRM proactively monitors your Infor CRM database, incoming e-mail, and even other business applications if you require.
Once a critical event or condition that may impact business performance or customer satisfaction is identified, Business Alerts automatically responds by sending notification messages, distributing reports, updating applications with new information and more.

Sample Business Alerts included are:
Sales Opportunities due to close this week, month or quarter
Key Opportunities that are won or lost
Open Opportunities with no activity for several days
New Leads recorded in Infor CRM
"Hot" Service and Support issues