---
Infor CloudSuite CRM CPQ Software
---
Infor CloudSuite CRM Configure Price Quote (CPQ) software allows Sales Representatives to quote complex and highly configurable products.
When you use Infor CloudSuite CRM Configure Price Quote (CPQ) software you can sell complex products more quickly while eliminating costly errors. The CPQ software helps speed up the sales cycle on complex products and provides a template where all quotes have the same format.
Download the Infor CRM CPQ Brochure or call us on 020 8050 3216 to arrange a demo
Cut Costs and Boost Profits with Infor CPQ
Increases Speed of Quotes
The majority of complex sales go with suppliers who are quick to respond to customers, as the customer feels the supplier cares and values their business. CPQ software such as Infor Cloudsuite CRM CQP is the ultimate software for speed and efficiency when producing quotes.
The system eliminates the need for manual quoting and simplifies complex quoting. It uses product and pricing information from a central CRM system meaning all quotes will be consistent for your whole company. The system ultimately helps sales reps to hit their revenue quotas.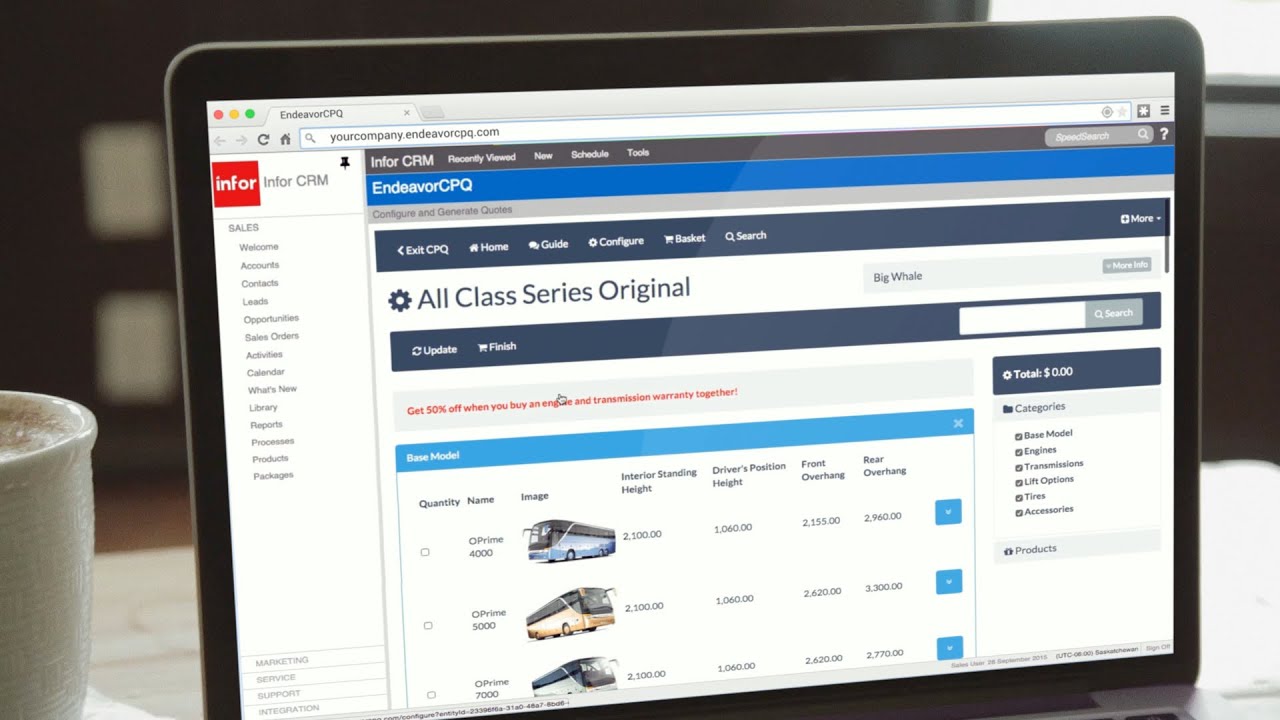 Eliminate Costly Errors
In many organisations, Sales Reps produce complex quotes manually which can be prone to errors, pricing mistakes, and incorrect product configurations. Infor CloudSuite CRM CPQ software helps eliminate errors when producing quotes, this also has a big impact on problems caused further down the sales cycle. Infor CPQ ensures automatic compliance with the product, pricing and business rules.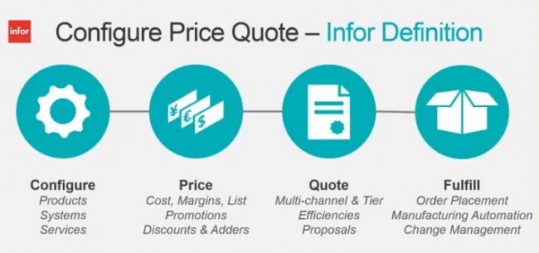 Maximise Every Deal
Infor CRM CPQ software helps prevent Sales Reps offering unnecessary deep sales discounts and instead, helps expand the value of your sales deals. CPQ gives your Sales Reps a quicker path from engagement to conversion, which provides an enormous competitive advantage and increases the conversion rate on every deal.


Create Cleaner Proposals and Contracts
Maintaining a consistent company brand is crucial in today's competitive business environment. Infor CRM CPQ ensures you submit proposals that look the way you want every time, which always includes the right collateral, terms and conditions, and even integrates eSignature for an easier buying experience.
Infor CRM Introduction
Infor CRM CPQ Helps Increase Sales
Increasing sales for your business is all about getting bigger, faster sales deals and a higher quote-to-order win rate. Infor CRM CPQ works with Infor CloudSuite CRM Sales to improve the time, it takes to close sales.
Infor CloudSuite CRM Configure Price Quote Software enables Sales Reps to get quotes to customers faster and presents quotes in a more professional and compelling format. This inspires customers, they see that their needs are being addressed and that the products will be manufactured accurately.
Highlights of Infor CloudSuite CRM CPQ
Improve sales efficiency
Show products in 2D or 3D models
Automated order pass-through and customer proposals
Optimise the buying experience
Guarantee fast and accurate orders
Accelerate new product introductions
To organise a demo of Infor Cloudsuite CRM or Infor CloudSuite CRM CPQ call AlphaLogix on 020 8050 3216 or email us at info@alphalogix.co.uk